Easy Salted Caramel Popcorn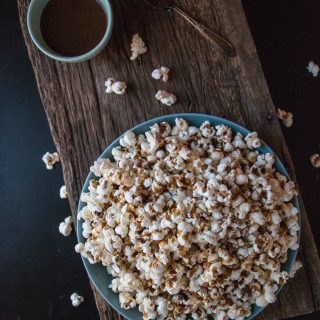 Author:
The Nut-Free Vegan
Serves:
About 2 cups of caramel
1 cup brown sugar
½ cup nondairy butter
½ cup nondairy milk
½ tsp. sea salt
1 medium-sized bowl popcorn, popped
Heat brown sugar in medium saucepan over low heat, stirring continually until melted.
Add butter and continue stirring until melted.
Slowly stir in milk and bring to a boil.
Continue cooking and stirring until caramel thickens.
Remove from heat and stir in salt. Let cool for about 10 minutes.
Drizzle over popcorn.
Don't drizzle too much caramel in one spot or your popcorn will get soggy. You can also stir with a spoon to mix caramel and popcorn together thoroughly.
Serving size:
1 cup
Calories:
About 130
Recipe by
The Nut-Free Vegan
at http://thenutfreevegan.net/easy-salted-caramel-popcorn/