Caesar Salad with Nut-Free Dressing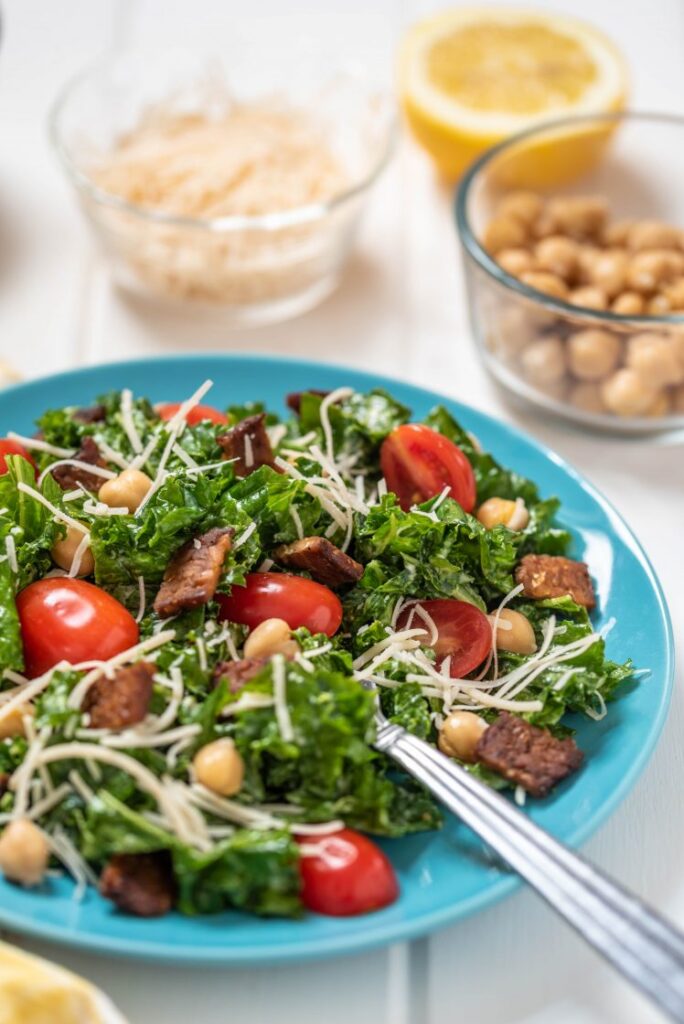 Author:
The Nut-Free Vegan
1 package Lightlife "Fakin Bacon" tempeh
2 tsp. lemon juice
1 tsp. Dijon mustard
2 tsp. vegan Worcestershire sauce
2 cloves garlic, minced
1 Tbsp. nutritional yeast
½ tsp. salt
½ tsp. pepper
1 Tbsp. water
1 bunch kale, stemmed, chopped and massaged
2 cups grape tomatoes, halved lengthwise
1 cup chickpeas, rinsed (see note below)
Cook tempeh according to instructions on package and set aside.
In a food processor or blender, pulse Vegenaise, lemon juice, Dijon mustard, Worcestershire sauce, garlic, nutritional yeast, salt, pepper and water until smooth—about 20 seconds.
Mix kale and desired amount of dressing in a large bowl. Toss until the kale is coated.
Add in tomatoes, chickpeas, parmesan and tempeh. Serve immediately.
Roast or dry-fry the chickpeas to add a little crunch to your salad.
Serving size:
¼ of recipe
Calories:
About 310
Recipe by
The Nut-Free Vegan
at http://thenutfreevegan.net/kale-caesar-salad-nut-free-dressing/