Instant Pot Stuffed Pepper Soup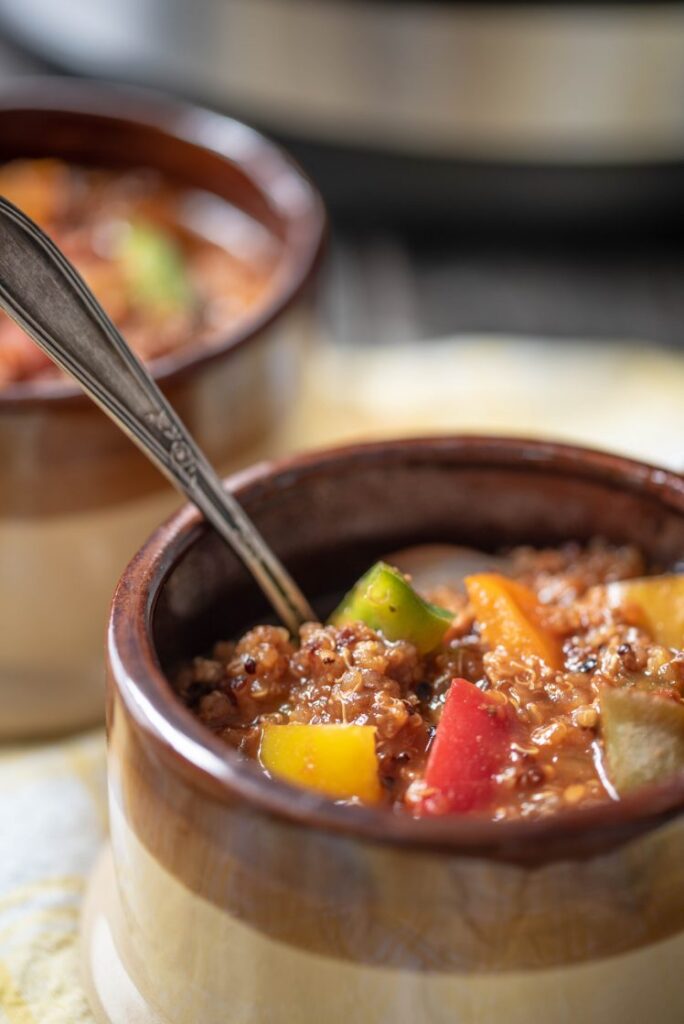 Author:
The Nut-Free Vegan
1 Tbsp. oil
1 onion, diced
2 cloves garlic, minced
4 peppers (I used 1 each of red, green, yellow and orange, but any combination will work)
2 medium tomatoes, diced
1 cup quinoa
1 package (12 oz.) LightLife Smart Ground or any vegan "meat" product
1 can (28 oz.) tomato sauce
1 box (32 oz.) vegetable broth
1 tsp. oregano
1 tsp. basil
½ tsp. salt
½ tsp. pepper
Set instant pot to Sauté and when it's ready add oil. When it's hot, add onion, garlic and peppers. Cook until onions become translucent, about 4 minutes. Stir frequently.
Add remaining ingredients and lock instant pot lid into place. Press Soup/Stew and set time to 5 minutes at High pressure.
Once the cooking is done, either open the steam valve to release steam or let it evaporate naturally for 15 minutes. Serve soup immediately or store in the refrigerator for up to 5 days.
You can make this "Southwest-style" by adding 1 cup of corn, 1 cup of black beans, 1 teaspoon of chili powder and ¼ cup of chopped cilantro.
Serving size:
1 cup
Calories:
About 225
Recipe by
The Nut-Free Vegan
at http://thenutfreevegan.net/instant-pot-stuffed-pepper-soup/