Lavender-Infused Lemonade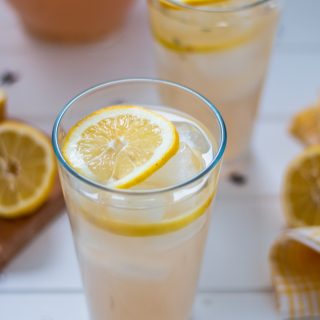 Author:
The Nut-Free Vegan
6½ cups water
2 cups sugar
½ cup lavender buds (or leaves, but buds work best)
2 cups fresh lemon juice (about 8 lemons)
Heat 4½ cups water in medium saucepan until boiling.
Add sugar and stir until dissolved. Stir in lavender.
Reduce heat to low, simmer for 5 minutes.
Using a strainer, pour liquid into pitcher.
Serving size:
1 glass
Calories:
About 250
Recipe by
The Nut-Free Vegan
at http://thenutfreevegan.net/lavender-infused-lemonade/