Aloo Matar Tacos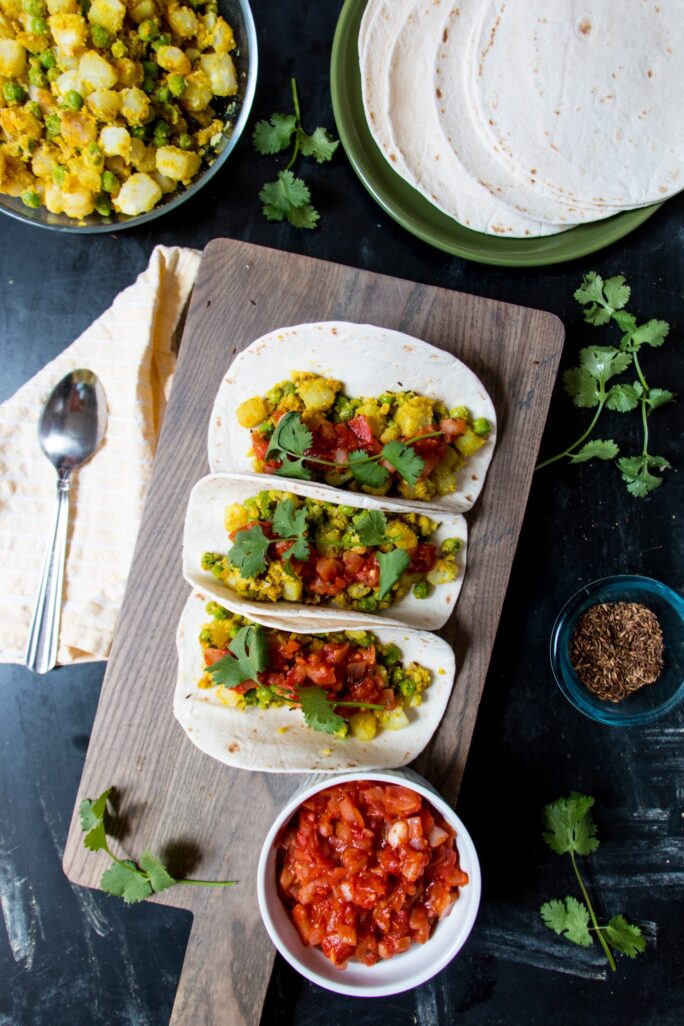 Author:
The Nut-Free Vegan
Potatoes and Peas
2 qt. salted water
4 large russet potatoes, cubed
1 cup peas
½ tsp. cumin
1 tsp. coriander powder
1 tsp. garam masala
1 tsp. turmeric
½ tsp. salt
Tomato Sauce
2 tsp. oil
1 tsp. ginger, minced
1 tsp. garlic
1 onion, chopped
1 green chile, chopped
2 tomatoes, diced
½ cup water
3 oz. tomato paste
½ tsp. salt
small flour tortillas
toasted cumin seeds
Cilantro
Heat pan of water and potatoes to boiling; reduce to simmer and cover. Cook about 6 minutes or until potatoes are soft.
Drain potatoes and return to pan; stir in peas and spices. Cook over low heat 4 minutes.
Meanwhile, heat oil in skillet over medium heat; add ginger and garlic and cook until fragrant, about 1 minute. Add onions and cook 3 minutes.
Add remaining ingredients and cook 5 minutes.
Put potato mixture in tortilla and top with tomato mixture, toasted cumin seeds, and cilantro.
Serving size:
1 taco
Calories:
About 200