Easy Chickpea Salad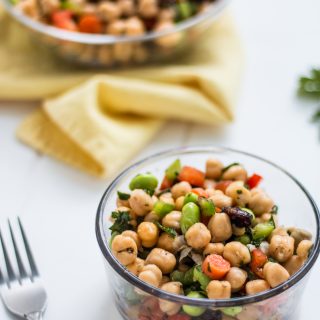 Author:
The Nut-Free Vegan
2 15-oz. cans chickpeas, drained
½ cup soybeans (edamame)
½ cup green pepper, diced
½ cup red pepper, diced
¼ cup carrots, chopped
¼ cup dried cranberries
2 Tbsp. olive oil
1½ tsp. apple cider vinegar
½ tsp. garlic powder
1 tsp. oregano
¼ tsp. cumin
¼ cup chopped Italian parsley
Salt and pepper to taste
Mix all ingredients together in bowl until combined, serve.
Serving size:
1 cup
Calories:
About 300