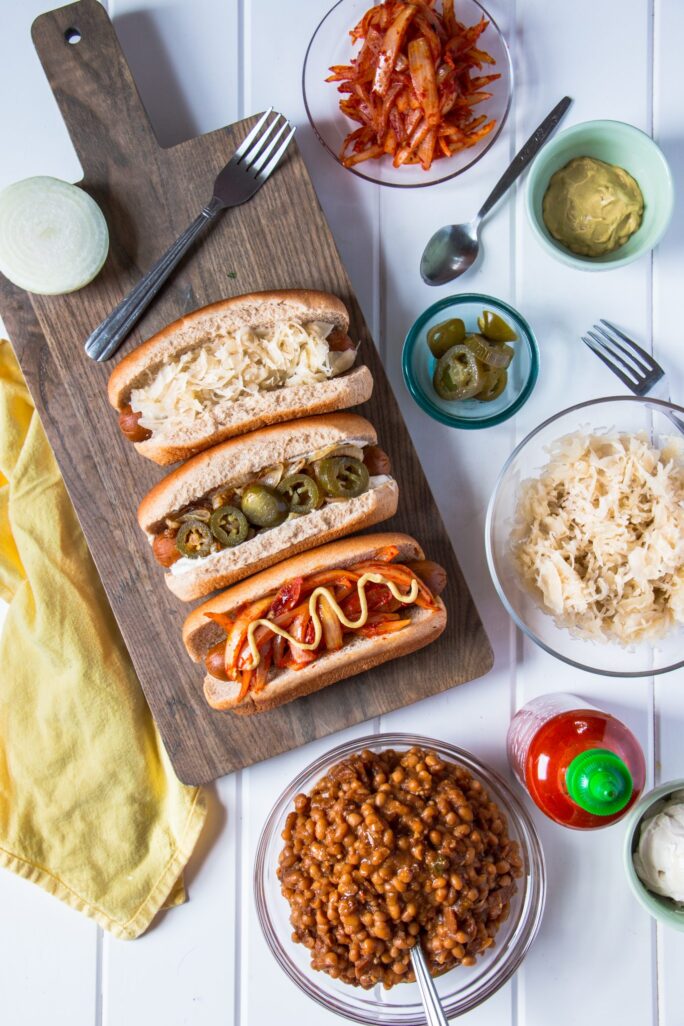 Summer means getting together with friends for cookouts over an open flame. For me, as a vegan, that often means bringing my own food, which is fine, because what I make is so much better than the usual burgers and hot dogs you see at these events. Even before I was vegan I was a big hot dog fan (gross, I know). And now that I don't eat the real thing anymore I'm even more excited about them because the Field Roast Frankfurters are so much tastier than those meat byproduct things I used to eat. My brother-in-law even dug into a pack of them last year, thinking they were hot dog−hot dogs and didn't notice the difference until I told him, hours later, that what he ate was vegan.
There are a lot of ways to cook up this all-American sandwich (we can debate if that's what it actually is in the comments below—I have no idea), but a lot of people go the standard ketchup, mustard, relish route, especially at cookouts. These three recipes, culled from cities across the country, will help you to break out of that mode and gussy up your backyard party. There are about a million city- or region-specific recipes for hot dogs in the United States, so I picked three that I love the most and veganized them for you. Let's dive in.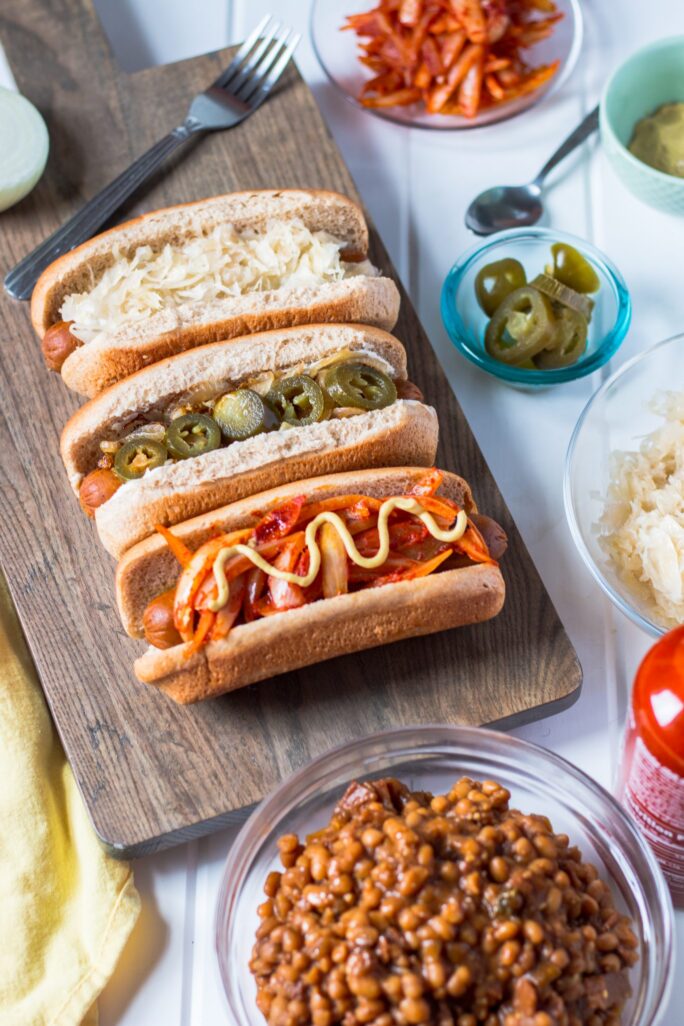 First, because I love the city so much, is the Seattle dog. I used to live in the Emerald City, but it wasn't until I left that I discovered this unique hot dog. It throws the usual condiments right out the window and instead uses something you'd never imagine on your bun: cream cheese. That's right, this isn't just reserved for bagels anymore. Now it's here to elevate your basic hot dog to Mt. Rainier−level elevation. Top that with grilled onions, jalapeños and a little sriracha, if you'd like, and you're talking high-end, baby. Oddly, there's no coffee involved.
Next up is something from the middle of the country. Kansas City is known for its amazing barbecue, but it also has a pretty killer hot dog. A tribute to the Reuben, this one sees that delicious Field Roast Frankfurter topped with vegan Swiss cheese and sauerkraut. There's no disputing that this is one delicious dog!
Lastly, let's bring it home (my home) with a classic New York−style dog. This one is simple: It's grilled onions cooked in a dollop of tomato paste and topped with spicy brown mustard. Down and dirty, but oh so good, just like the Big Apple.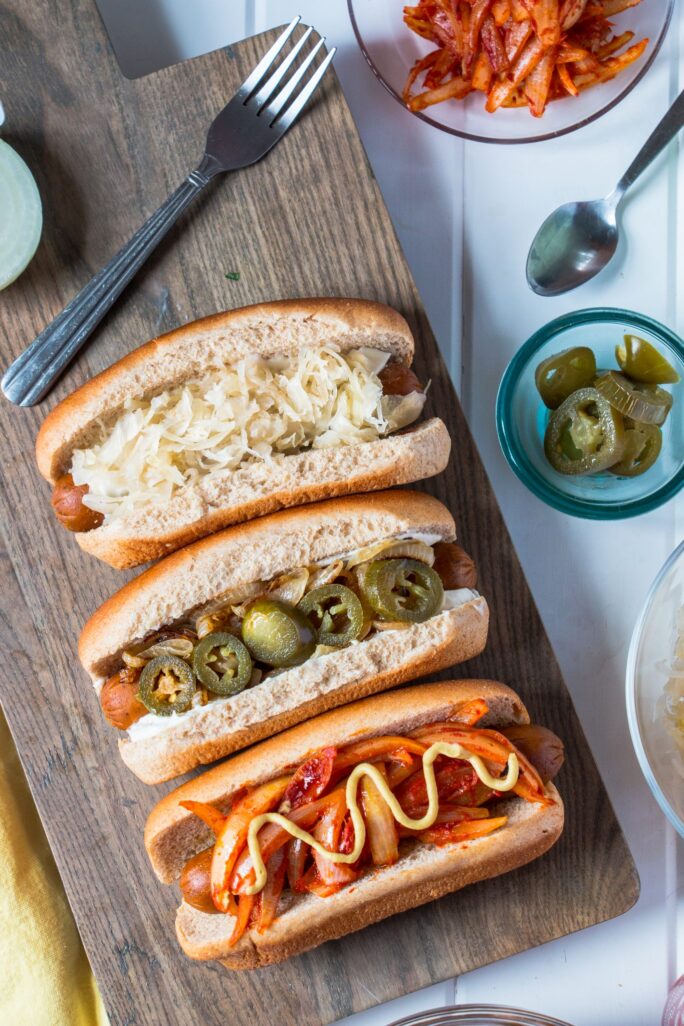 I hope you'll give these recipes a try this Memorial Day or anytime over the summer and see just how good your backyard barbecue can be. Even if you're not eating meat with the rest of the gang, you can make them jealous as you bite into these gourmet dogs! They also pair well with our recipe for The Best Baked Beans, so make it a vegan noms duo!
If you make these hot dogs, I'd love to see how they turned out. Hit me up at @nutfreevegan on social media and let me know.
Happy summer!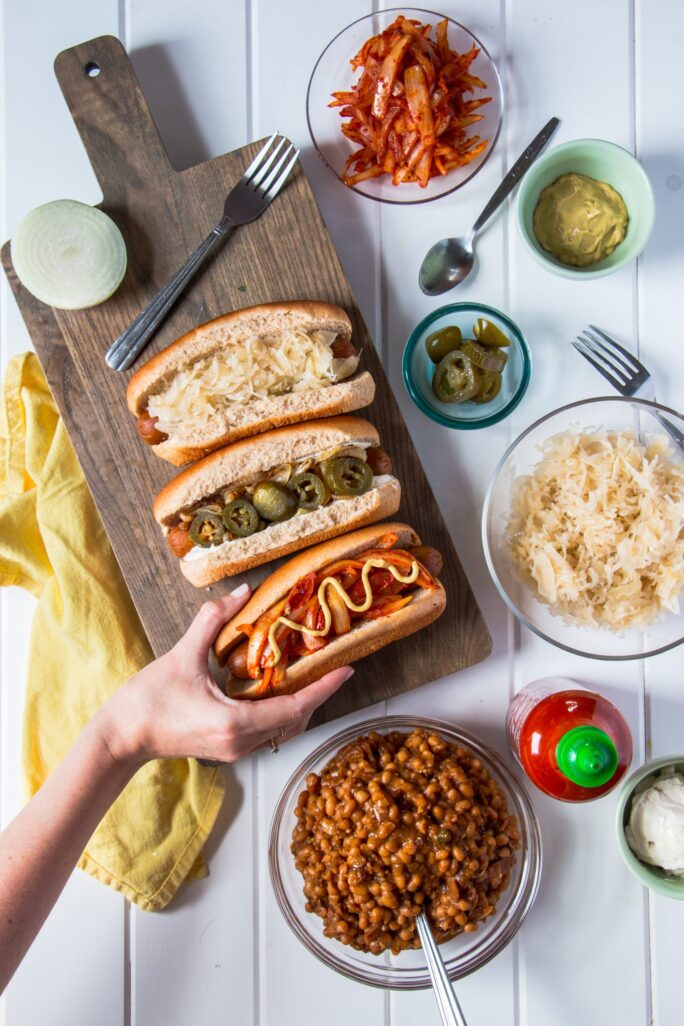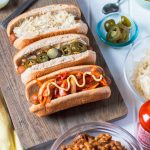 Print
All-American Hot Dogs, Three Ways
These three recipes from around America show you just how versatile the hot dog can be. Give them a try at your next cookout!
Materials
6

vegan hot dogs

I use Field Roast Frankfurters because they're amazing, but any will do

6

hot dog buns



SEATTLE DOG

1

Tbsp.

vegan butter

1

large onion

chopped

2

Tbsp.

vegan cream cheese

my preferred brand is Follow Your Heart

½

cup

pickled jalapeño



KANSAS CITY DOG

4

slices

vegan Swiss cheese

I use Daiya Swiss Style Slices

½

cup

sauerkraut



NEW YORK DOG

1

Tbsp.

oil

1

large onion

sliced

2

Tbsp.

tomato paste
Instructions
SEATTLE DOG
Heat butter in pan over medium heat until melted and add onion; grill until onions are soft and begin to brown.

Spread cream cheese on both sides of hot dog bun, and add hot dog.

Top with onions and jalapeño.
KANSAS CITY DOG
Heat sauerkraut over medium heat for 2 minutes.

Place hot dog in bun, top with cheese; place in pan and cover with lid, steam for 20 seconds or until cheese melts; top with sauerkraut.
NEW YORK DOG
Heat oil over medium heat; add onions.

Sautée onions until soft, about 5 minutes, and stir in tomato paste; cook 5 more minutes.

Cover hot dog with onions and top with mustard.
Notes
The Seattle dog tastes great with sriracha on top, too!
Nutrition
Serving:
1
g
|
Calories:
540
kcal