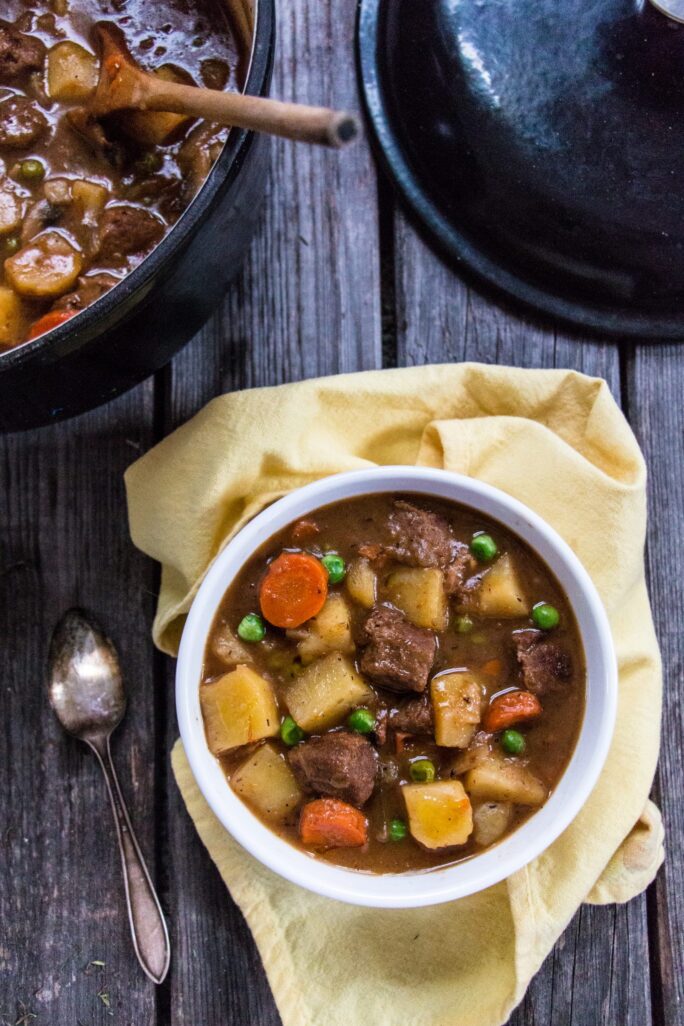 When I was little I loved Dinty Moore Beef Stew. Whenever I'd go grocery shopping with my parents I'd make sure a can or two always ended up in our cart. And when I transitioned to a vegan diet the craving for beef stew didn't go away. For a few years I just never ate it. But then it occurred to me to put together a version that I could eat—a beef-free traditional beef stew that, I have to say, rivals the real thing I loved as a kid. It might even be better! Apologies, Dinty Moore.
The key ingredient that sets this Beef-Free Traditional Beef Stew apart from its animal-based counterpart is the Gardein Beefless Tips. If you're not familiar, they're a soy- and wheat gluten-based product that can be found in the freezer section of most grocery stores. I wouldn't say they taste one-hundred percent like beef, but they're pretty close. And when you mix them with all the other ingredients here, you've got a really hearty recipe that even carnivores are going to love.
This recipe is pretty simple, but it does take a bit of work. Luckily it's a one-pot dish—yay for easy cleanup!—so there's just a lot of moving things in and out of the Dutch oven, stockpot or whatever you'll be making it in. And though there are some moving parts, it takes less than an hour from start to finish, so you'll be eating in no time.  Plus, even though this is a super hearty stew, you don't need to eat it exclusively during the winter months. It can be just as satisfying in spring or fall, too. But whenever you eat it, I know you'll get that wonderful feeling that comes along with a delicious comfort food.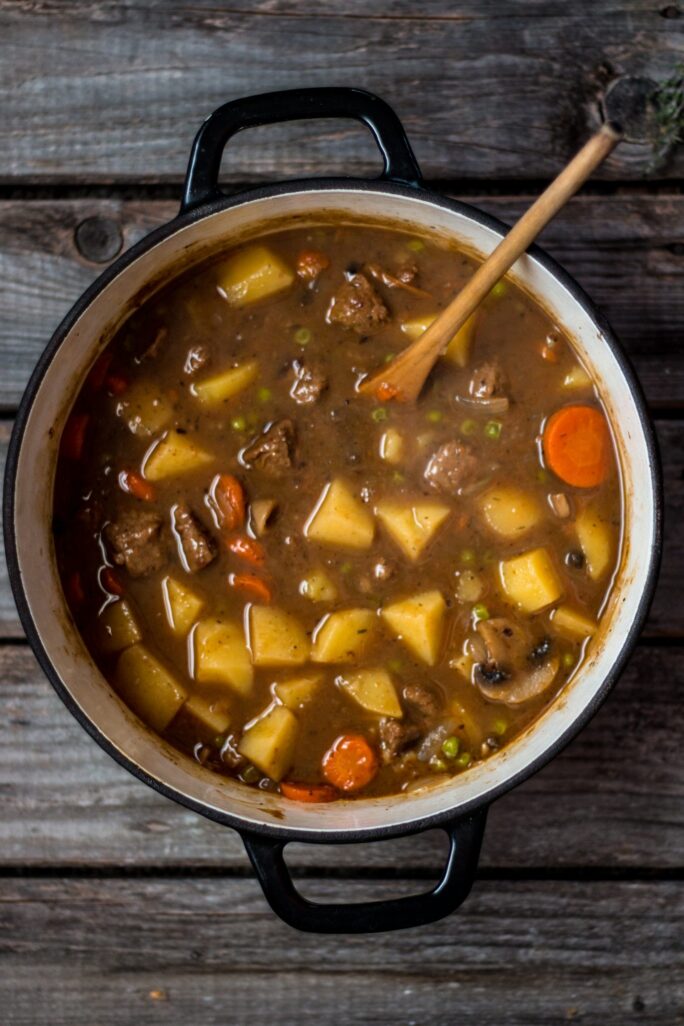 If you like this beef-free traditional beef stew you'll love these:
Tell Me What You Think
As always, I'd love to hear your thoughts on this Beef-Free Traditional Beef Stew if you make it. So drop me a comment below, and be sure to tag @nutfreevegan on social media if you're posting photos. It's always super fun to see these dishes out in the wild!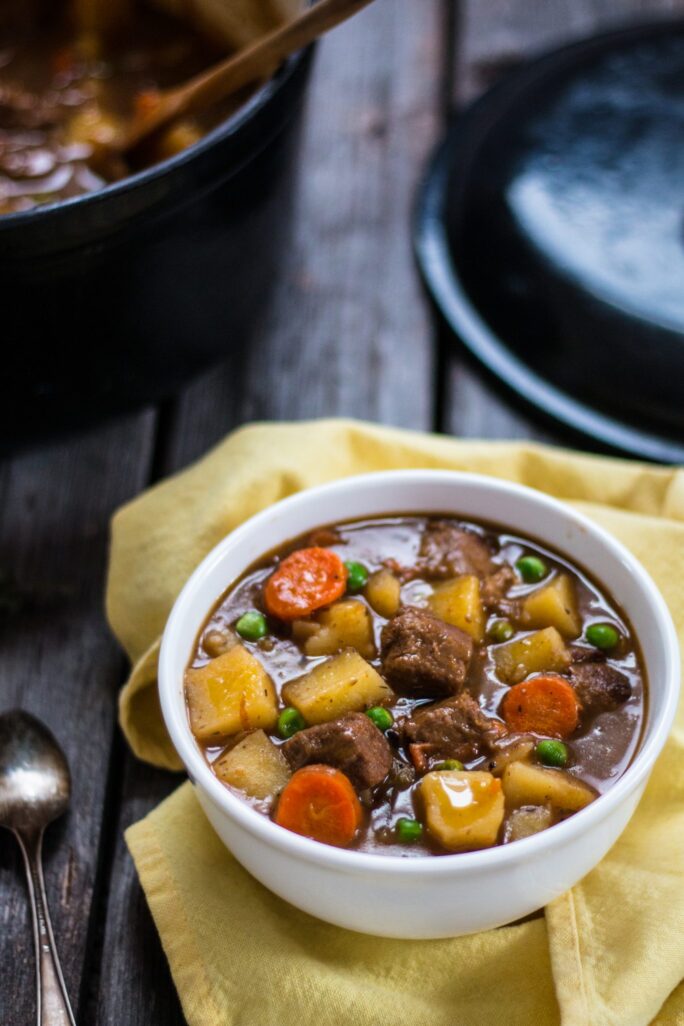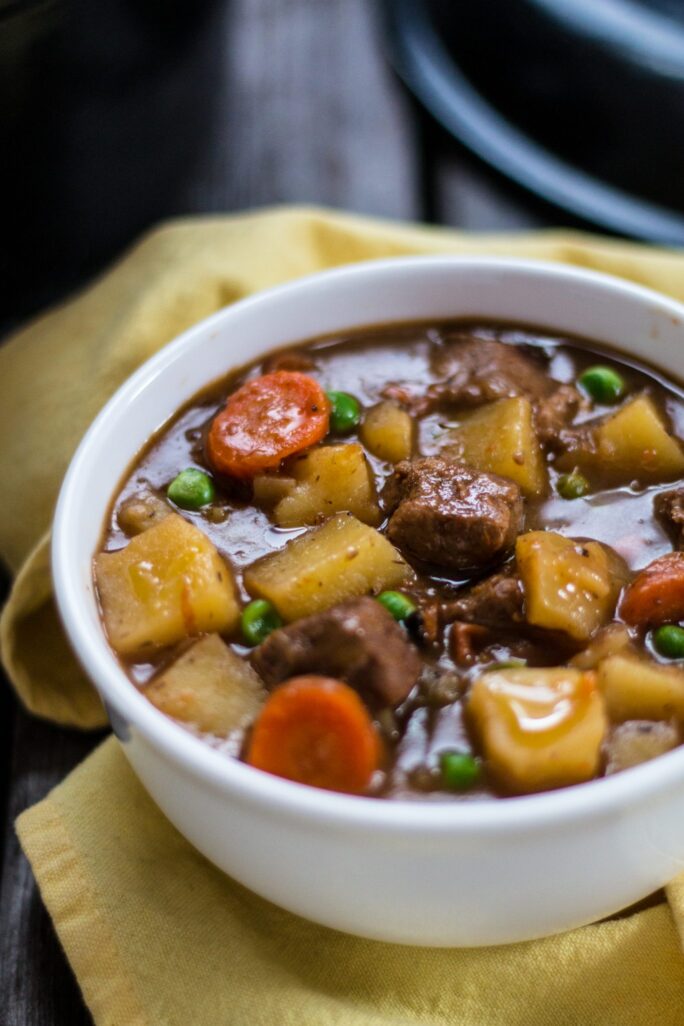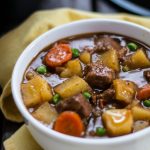 Print
Beefless Beef Stew
Keep warm this winter with a hearty cup of this Beefless Beef Stew. It's a vegan take on the traditional dish that's so good you'll never know it's meat-free.
Materials
½

cup

+ 1 Tbsp. flour

1

tsp.

salt

½

tsp.

pepper

2

bags Gardein Beefless Tips

2

Tbsp.

+ 1 tsp. oil

1

large onion

chopped

¼

cup

red wine vinegar

6

cups

vegetable broth

2

bay leaves

1

Tbsp.

thyme

3

medium carrots

sliced

4

Yukon gold potatoes

diced

1

cup

mushrooms

sliced

1

cup

peas
Instructions
Place ½ cup flour and salt and pepper into bowl. Stir to mix. Add Gardein Beefless Tips and toss to coat thoroughly.

Heat 2 Tbsp. oil over low-medium heat in Dutch oven or soup pot and add ¼ of flour-coated beef tips. Cook until browned on all sides, about 5 minutes. Repeat with remaining beef tips and set aside.

Add 1 tsp. oil to pan and heat; add onion and cook until softened and translucent, about 5 minutes. Set aside.

Add vinegar to pan and cook over medium heat, scraping pan with a wooden spoon to loosen beef remains. Add broth, bay leaves, thyme, carrots, potatoes and 1 Tbsp. flour. Bring to a boil and reduce to a simmer. Return beefless tips and onions to pan.

Cover and cook for about 10 minutes. Add mushrooms. Cook for 5 more minutes.

Add peas and cook for 5 more minutes or until all vegetables are soft.
Nutrition