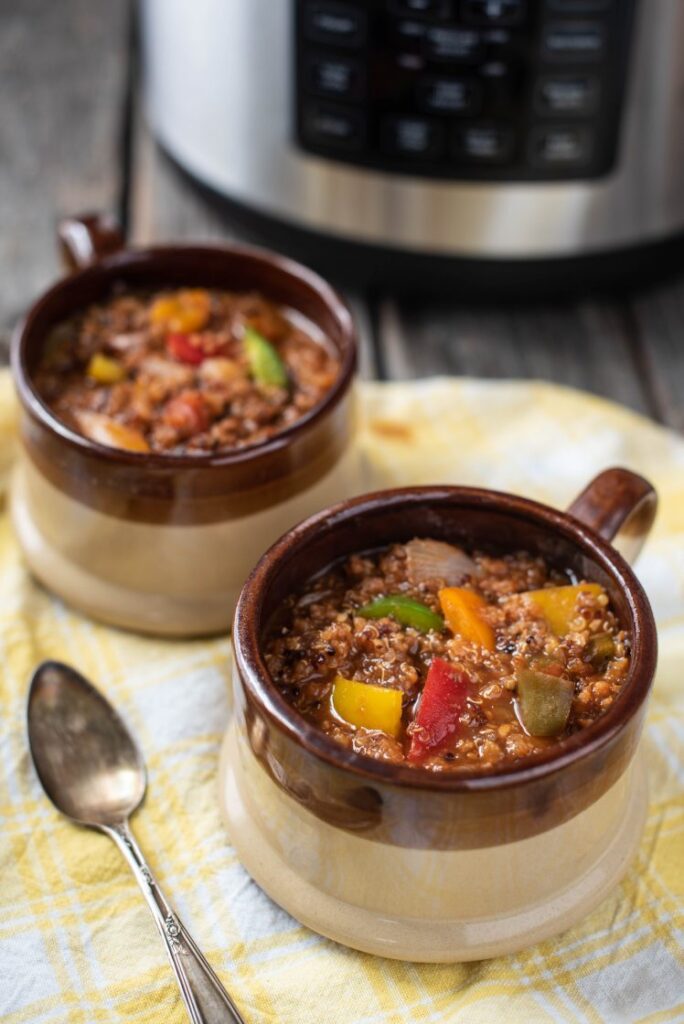 I'll admit that I haven't paid very close attention to the Instant Pot craze over the past year. I've seen it everywhere, but didn't have one so I kind of tuned out. I was aware of what it was, and that people seemed to love it, but that was the extent of my knowledge. Until recently, that is. A few weeks back my mom tipped me to a great sale on them and I decided to pick one up. Holy cats! Now I totally understand what all the hubbub was about. I love my instant pot and use it for all kinds of things from soups to breads to noodles, to whatever else I can stick in there and cook quickly. Needless to say, the recipe I'm sharing today will probably be the first of many on the site that uses this wonderful machine to make fast, delicious dishes. I know I'm late to the party, but I hope to make up for lost time.
Today's recipe is a soup adaptation of the first thing I ever ate that was made in one of these magic machines. When I bought mine, my mom also picked one up and when I was visiting her and my dad, she made stuffed peppers in it. It took like ten minutes and they were just as good as, if not better than, the really tasty ones she used to bake in the oven for an hour when I was a kid. (If you haven't already, check out my veganized version of her amazing pumpkin bread recipe here—it's perfect for fall.)
This Stuffed Pepper Soup combines all the flavors of the traditional recipe—along with a few new ones—in an easy and hearty soup. And because it's reversed with the peppers inside the filling, I was able to incorporate several peppers for a variety of both color and taste. Awesome.
One of the things that I always found frustrating about stuffed peppers is that if the pepper was too small, I didn't feel full at the end and wanted another one. That won't happen here because this recipe is about eight servings, so you can eat as much as you want. Plus, it's pretty low-calorie, which makes having a second helping even more enticing. And the best part is that the instant pot does all the work. Just press the Sauté button and add the onion, garlic and peppers, and the pot will go to work. Then throw everything else in there, close the lid and off it goes. Super easy! (And check out the recipe notes for a tip on how to make it "Southwest-style.")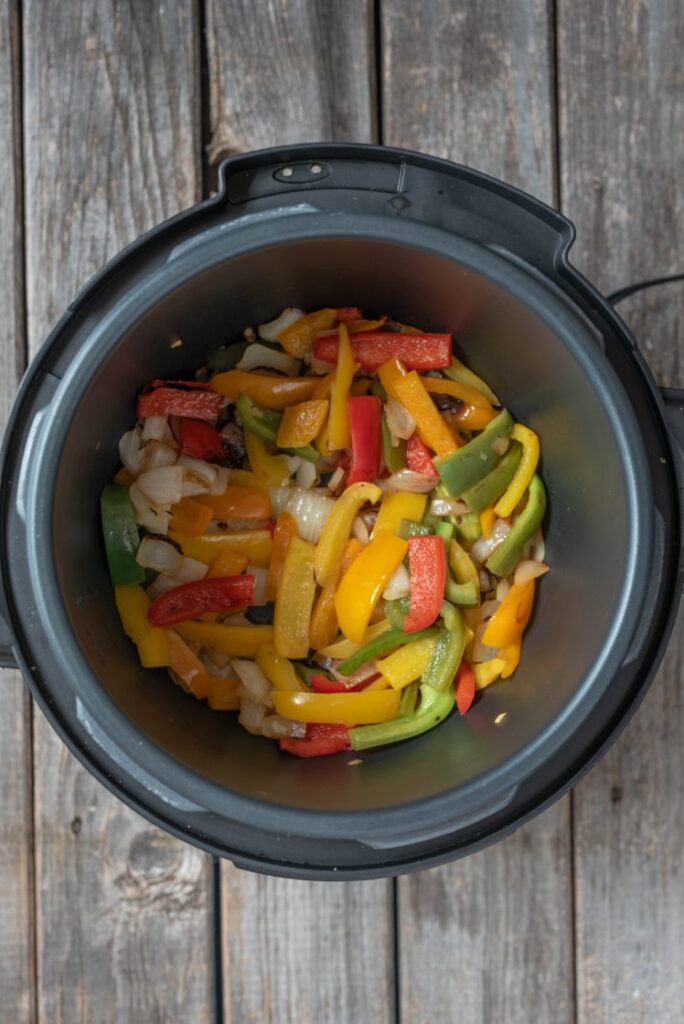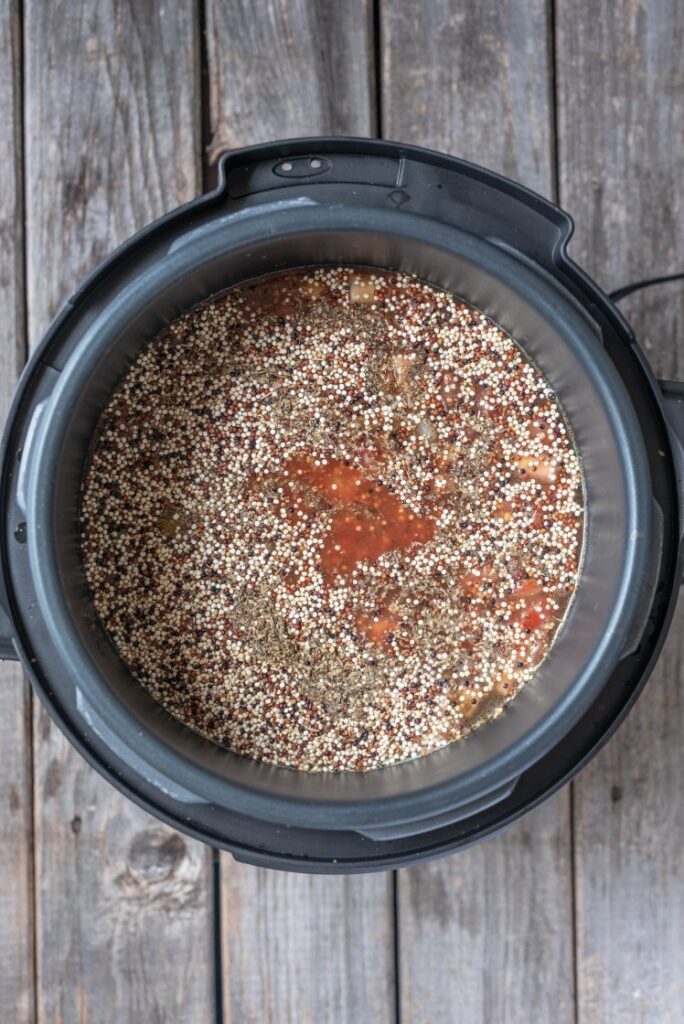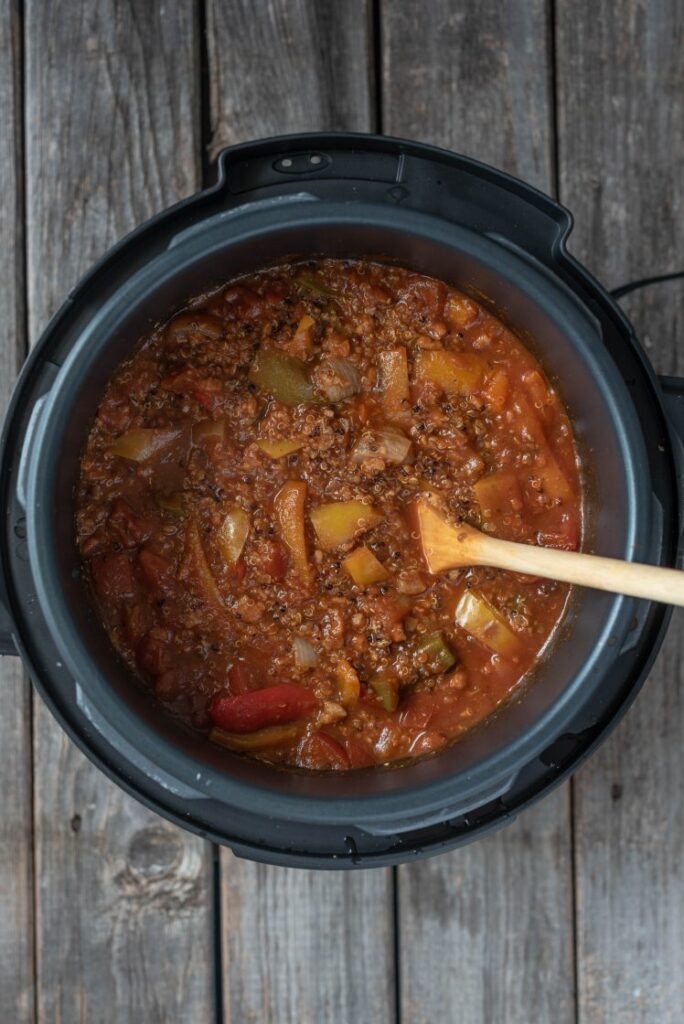 Normally I wouldn't post a soup recipe in August, but here in the northeast it's been raining pretty much every single day for the past month, so it seemed fitting. But even if you're not in this area I think this soup is light enough to have in warm weather, rain or not. So give it a try and let me know what you think in the comments below. I'd also love to hear what your favorite instant pot dishes are since I'm new to this I'm always looking for ideas.
Tell Me What You Think
As always, I'd love to hear your thoughts on this recipe if you make it. So drop me a comment below, and be sure to tag @nutfreevegan on social media if you're posting photos. It's always super fun to see these dishes out in the wild!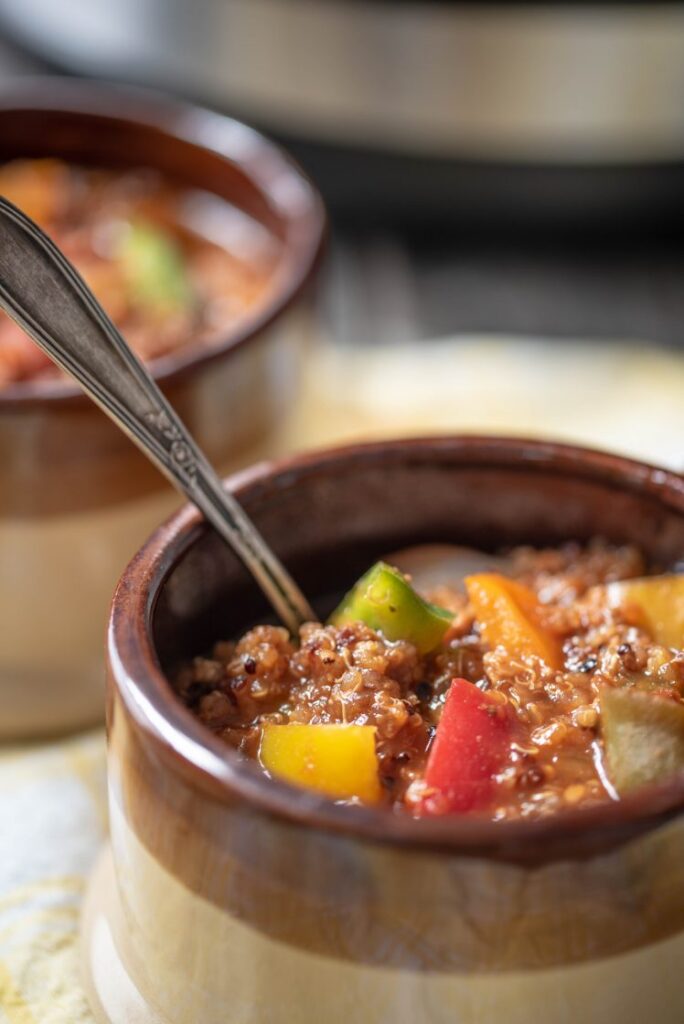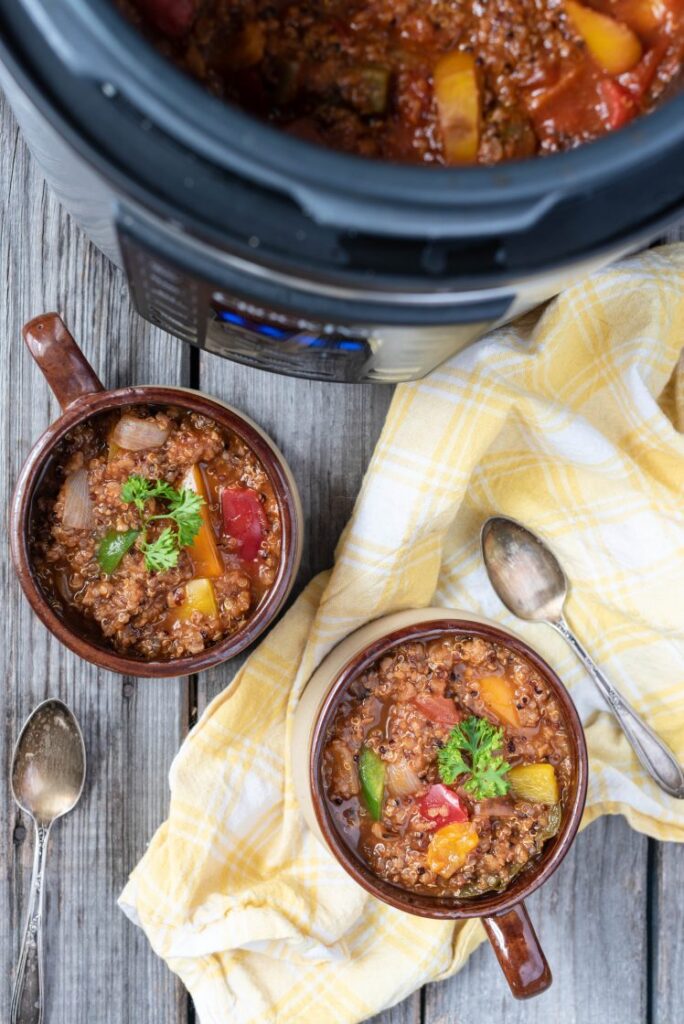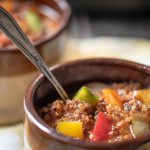 Print
Instant Pot Stuffed Pepper Soup
This Instant Pot recipe for Stuffed Pepper Soup is incredibly easy to make and full of the same great flavors as the traditional dish—veganized, of course.
Materials
1

Tbsp.

oil

1

onion

diced

2

cloves

garlic

minced

4

peppers

I used 1 each of red, green, yellow and orange, but any combination will work

2

medium tomatoes

diced

1

cup

quinoa

1

package

12 oz. LightLife Smart Ground or any vegan "meat" product

1

can

28 oz. tomato sauce

1

box

32 oz. vegetable broth

1

tsp.

oregano

1

tsp.

basil

½

tsp.

salt

½

tsp.

pepper
Instructions
Set instant pot to Sauté and when it's ready add oil. When it's hot, add onion, garlic and peppers. Cook until onions become translucent, about 4 minutes. Stir frequently.

Add remaining ingredients and lock instant pot lid into place. Press Soup/Stew and set time to 5 minutes at High pressure.

Once the cooking is done, either open the steam valve to release steam or let it evaporate naturally for 15 minutes. Serve soup immediately or store in the refrigerator for up to 5 days.
Notes
You can make this "Southwest-style" by adding 1 cup of corn, 1 cup of black beans, 1 teaspoon of chili powder and 1/4 cup of chopped cilantro.
Nutrition