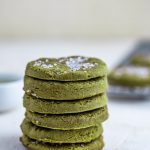 Print
Matcha Sugar Cookies
Give your holiday desserts table a little kick with these easy and awesome Matcha Sugar Cookies.
Preheat oven to 350°F.

Combine flour, baking powder and salt in large bowl and mix well.

In another large bowl, beat butter and sugar with electric mixer at low speed until blended. Increase speed to high and beat for another 5 minutes, until light and fluffy. Return speed to low.

Add eggs and vanilla and beat until incorporated.

Slowly add matcha and flour mixture to bowl and beat until blended.

Divide dough into 4 equal hunks. Place each between 2 pieces of wax paper and 1/8-inch thickness. Place in fridge for 30 minutes.

Use 3- to 4-inch cookie cutters to make as many cookies as possible. Repeat with scraps.

Line baking sheets with parchment paper and place in the oven until edges start to brown slightly, about 10 to 12 minutes. Rotate pans on upper and lower racks halfway through.

Let cool on baking sheets for 5 minutes before transferring to cooling rack.

Decorate as desired. I suggest either icing or coarse decorating sugar.