This weekend I'm heading to Austin for the first time. I've always wanted to visit the capital of the Lone Star state, but didn't get around to it until now. From what I hear, it's a real vegan food haven, so I'll probably overeat like I always do when I visit a new place. But Austin seems to be a walking town, so I'm sure I'll burn it off.
Before I head out I want to share with you this recipe for vegan Salisbury steak. It's something I've been thinking about for a while, and finally got around to testing last month. It took a few tries, but the composition and taste are where they need to be now.
One of the biggest challenges I faced was in creating a procedure that wasn't too far off from the one for cooking traditional Salisbury steak: mixing ground beef with the other ingredients to create hamburger-like patties. I didn't want to use vegan beef crumbles, so I instead went with seitan and came up with a sort of "breading" with the remaining items. It coats the seitan and makes a really nice outer layer that Salisbury steak traditionalists would be proud of.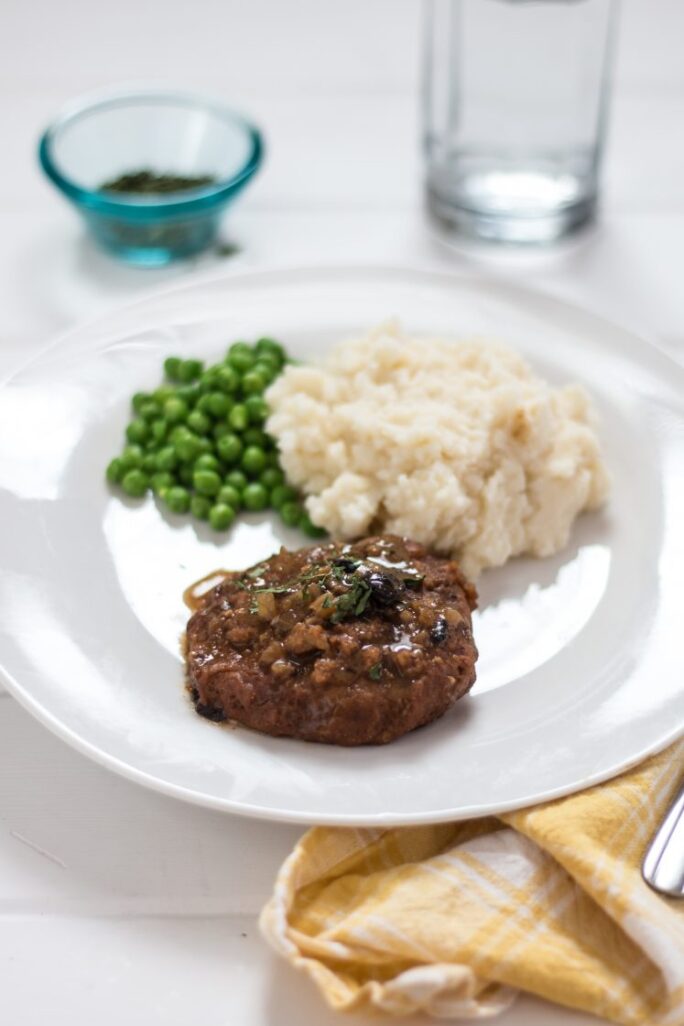 The rest of the steps are pretty much the same as they would be for the non-vegan version, and the result is similar, too: a super-tasty (and super-compassionate) hearty meal. Even your carnivore friends will love it!
Tell Me What You Think
As always, I'd love to hear your thoughts on this recipe if you make it. So drop me a comment below, and be sure to tag @nutfreevegan on social media if you're posting photos. It's always super fun to see these dishes out in the wild!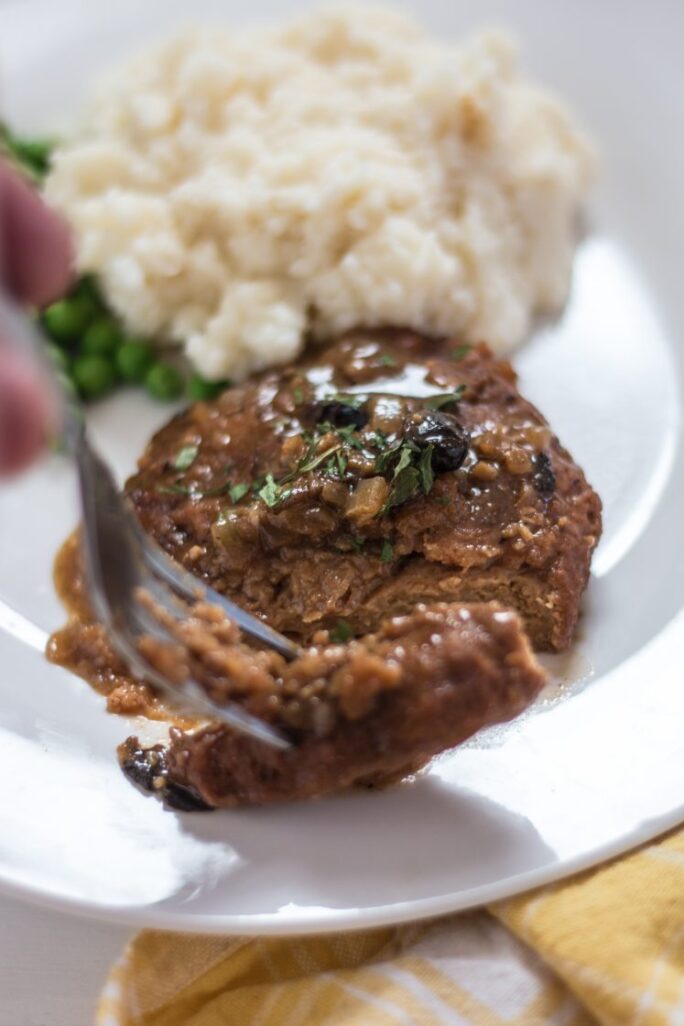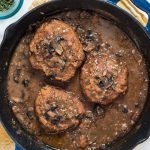 Print
Meat-Free Salisbury Steak
This veganized version of American classic entree, the Salisbury steak, is so full of flavor that even your most carnivorous of friends will be a fan!
Materials
1/3

cup

panko breadcrumbs

1

egg replacer egg

1

Tbsp.

ketchup

½

tsp.

vegan Worcestershire sauce

3

tsp.

Dijon mustard

3

loaves seitan

I used my "Tastes Like Chicken" Seitan recipe

1

Tbsp.

olive oil

2

Tbsp.

butter

½

onion

finely chopped

1

Tbsp.

garlic

minced

½

cup

mushrooms

sliced

3

Tbsp.

all-purpose flour

2

cups

vegetable stock

½

tsp.

salt

½

tsp.

pepper
Instructions
Mix breadcrumbs, egg replacer, ketchup, Worchestershire sauce, mustard and salt together in a large bowl. The mixture should start to thicken.

Add each seitan loaf to the bowl and pat mixture onto them so that they're covered on the outside.

Heat oil over medium heat in large skillet. Add the steaks and cook until slightly brown on each side. Remove and set aside.

Heat butter over low heat and add onions. Cook for two minutes and then add garlic. Cook for another minute and add mushrooms. Cook, stirring frequently, until they start to brown—about 3 minutes.

Add flour and stir until everything is coated. Stir in vegetable stock. Turn to high heat until gravy begins to boil and reduce to a simmer. Stir in salt and pepper.

Return steaks to skillet, cover and cook until gravy thickens, about 10 minutes.
Nutrition