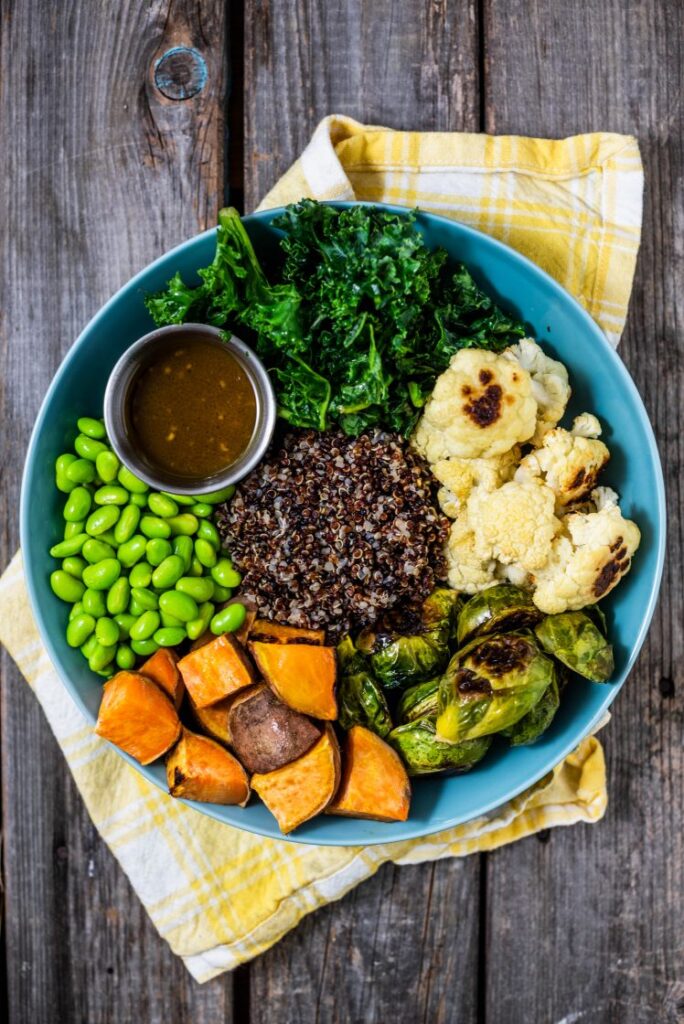 Hey all! I've been away for two weeks, but today I'm back with a new recipe that I think you're going to love. Before I get to it though, a bit about where the heck I've been.
Two weekends ago I was in California participating in my first sprint triathlon (shorter than a regular one, it's a 5k run, just over nine miles of cycling, and a short 150-meter swim), which seemed like a good starter distance for me. It took place at the Rose Bowl in Pasadena, which made it super fun. Laura and I went there last year to see the actual Rose Bowl football game as part of her My Father's List project, and I didn't imagine I'd get back there so soon. I'm glad I did though, because as part of my training for the Pasadena Tri I decided to raise money for the LA-based Farm Sanctuary, an incredible organization that rescues animals from awful conditions and rehabilitates them, allowing them to live out happy and healthy lives.
The day before the race we went to visit their headquarters in Acton, just north of the city. It was amazing to see all the animals running around and enjoying their day—even though it was unusually chilly. I got to understand where they money I raised would be used, and it made me so happy to know that all the grueling runs I did on those super cold winter nights led to helping these animals. This is my favorite photo from our visit: The big and gentle steer, Bruno, affectionately saying hello to Laura.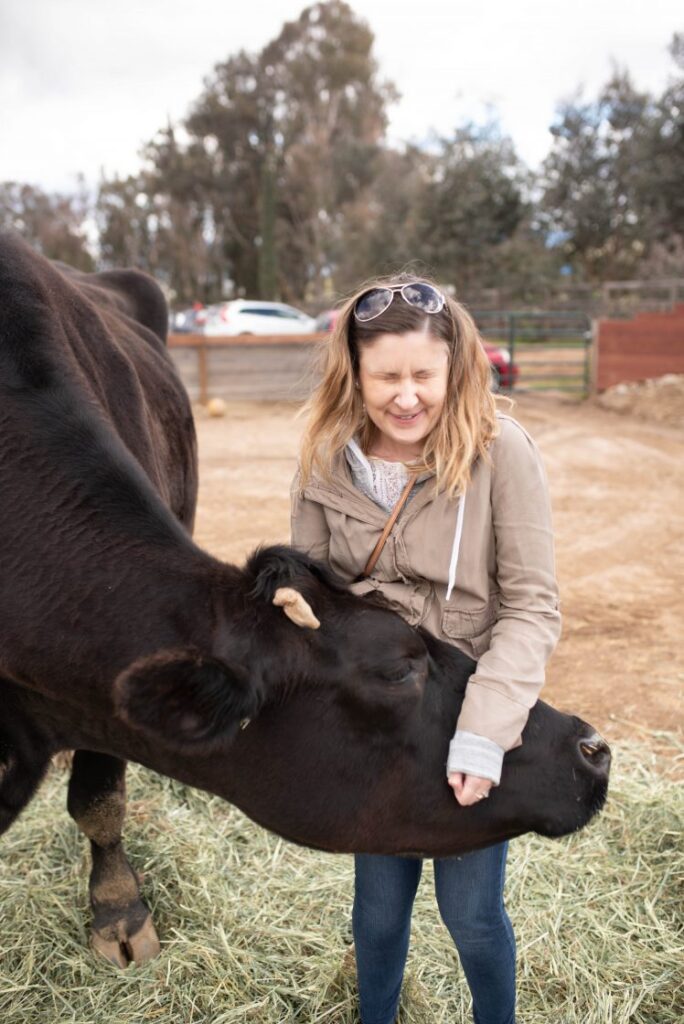 So, yeah, after the race—in which I did better than I thought I would, coming in 459th out of 765 participants—we got back to New Jersey last week and I spent some time re-acclimating to life on the east coast. Between the time zone differences and daylight saving time it was a lengthy process.
But now I'm back with a recipe that I've been enjoying quite a bit, so let's get to it!
After doing my first triathlon I've caught the bug. That means I'll probably be in a perpetual state of training for the next race from now on, which requires eating right. I could've made more nutritional choices in the lead up to the Pasadena Tri, but from now on I'm dialing in my plate so that the food is always healthy (That's not to say the recipes here will always be what I'm making for myself). This one, however, fits the bill for both training food and a delicious dish everyone can enjoy whether they're athletic or not.
This Roasted Vegetable Buddha Bowl is really simple: it's a few vegetables, some quinoa and a superb maple-Dijon dressing. Basic, but really nutritious with a lot of superfood goodness. And making it couldn't be easier. You simply roast the three main vegetables, mix the dressing and assemble! That's really great after a workout or when it's the middle of the week and you want an awesome dinner but don't want to spend a lot of time in the kitchen. It's great hot or cold, too! And if you need a beverage to go along with it, I suggest this Kombucha Sangria.
Tell Me What You Think
As always, I'd love to hear your thoughts on this recipe if you make it. So drop me a comment below, and be sure to tag @nutfreevegan on social media if you're posting photos. It's always super fun to see these dishes out in the wild!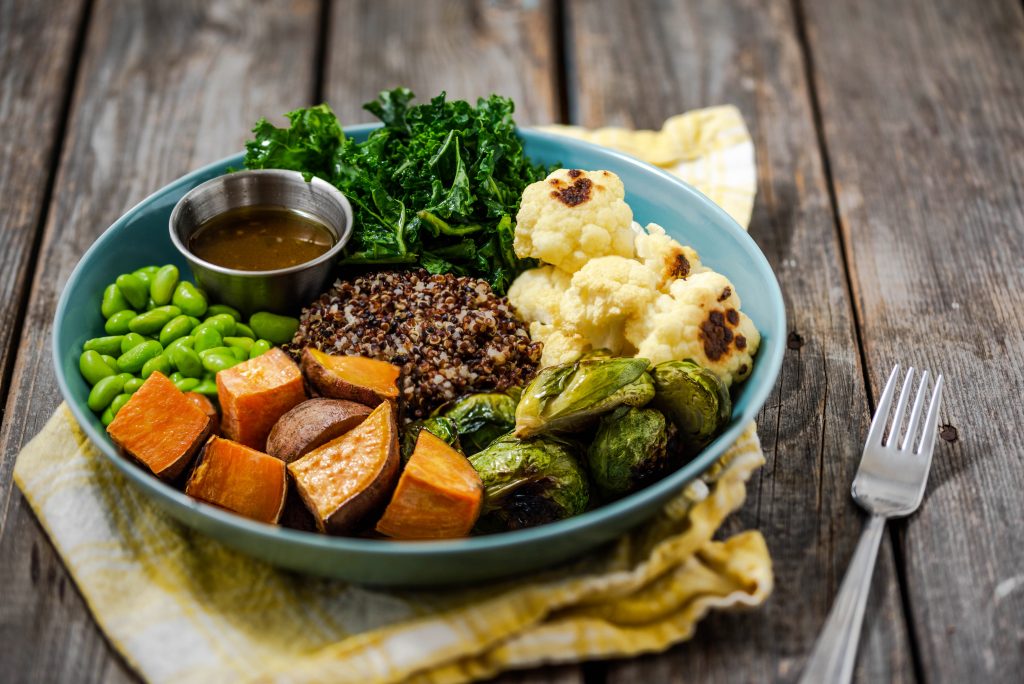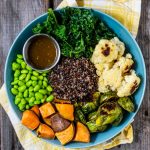 Print
Roasted Vegetable Buddha Bowl with Maple-Dijon Vinaigrette
This simple Roasted Vegetable Buddha Bowl with Maple-Dijon Vinaigrette is nutritious, hearty and super good. It doesn't require a lot of effort, but the payoff is high.
Materials
1

cup

quinoa

cooked

2

sweet potatoes

cut into large cubes

2

cups

Brussels sprouts

halved lengthwise

1

head cauliflower

cut into bite-sized chunks

2

Tbsp.

olive oil + 1/3 cup

1

tsp.

rosemary

1

tsp.

thyme

2

Tbsp.

maple syrup or Agave

1

Tbsp.

Dijon mustard

2

Tbsp.

apple cider vinegar

3

cups

kale

roughly chopped and massaged

2

cups

edamame
Instructions
Preheat oven to 400° F.

Cook quinoa according to package and set aside.

Add sweet potatoes, Brussels sprouts and cauliflower to a large bowl. Drizzle with 2 tablespoons of olive oil, rosemary and thyme. Toss to coat thoroughly and place on 1 or 2 large sheet trays.

Put vegetables in oven and cook for 20 minutes or until everything is soft.

While vegetables cook, prepare the dressing: Stir together maple syrup, Dijon mustard, vinegar and 1/3 cup of olive oil until mixed thoroughly (the oil will sit on top, but the other ingredients should join together below it).

Split kale, quinoa and edamame among two bowls. Add roasted vegetables, top with dressing and serve.
Notes
This recipe is gluten-free.
If you want to omit oil from the recipe, use vegan butter on the roasted vegetables and double the vinegar and add a teaspoon of sugar or agave to the vinaigrette.
Nutrition