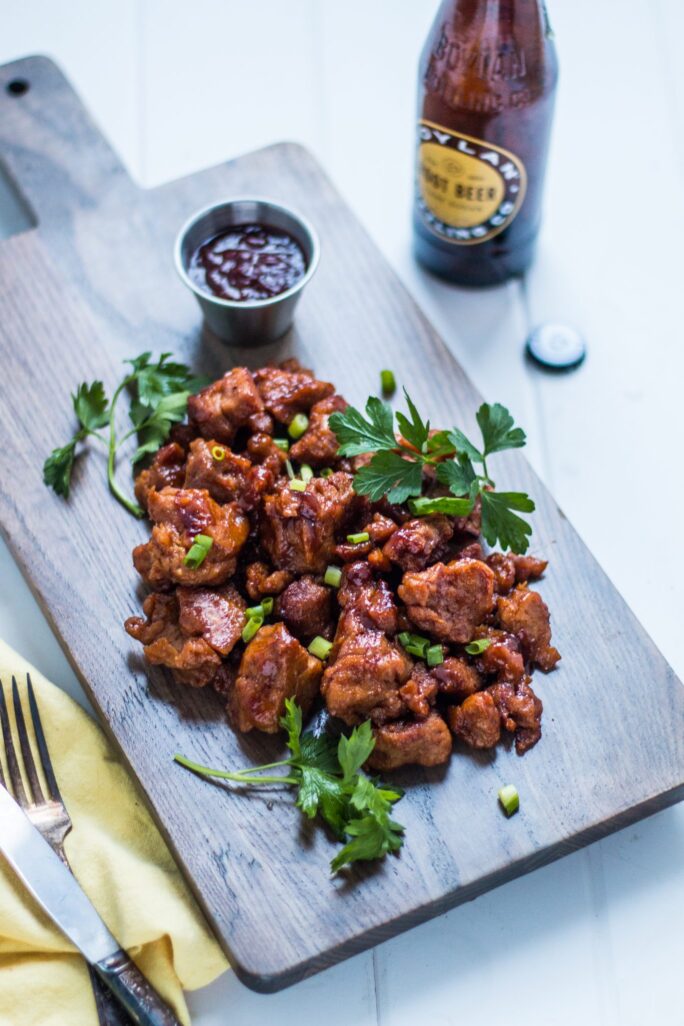 Hot wings are pretty much a staple here in America. I heard some insane statistics about how many are sold or consumed—I can't remember which—on Super Bowl Sunday and it was a staggering number. Sadly, most of those come from chickens and that bums me out.
Even before I was vegan I wasn't a fan of the bone-in wings—probably because I was already a vegan at heart and the thought of sucking meat from a dead animal's bone creeped me out. I admit that I did like the boneless wings though, and still do to this day. But now, it's only vegan variations for me!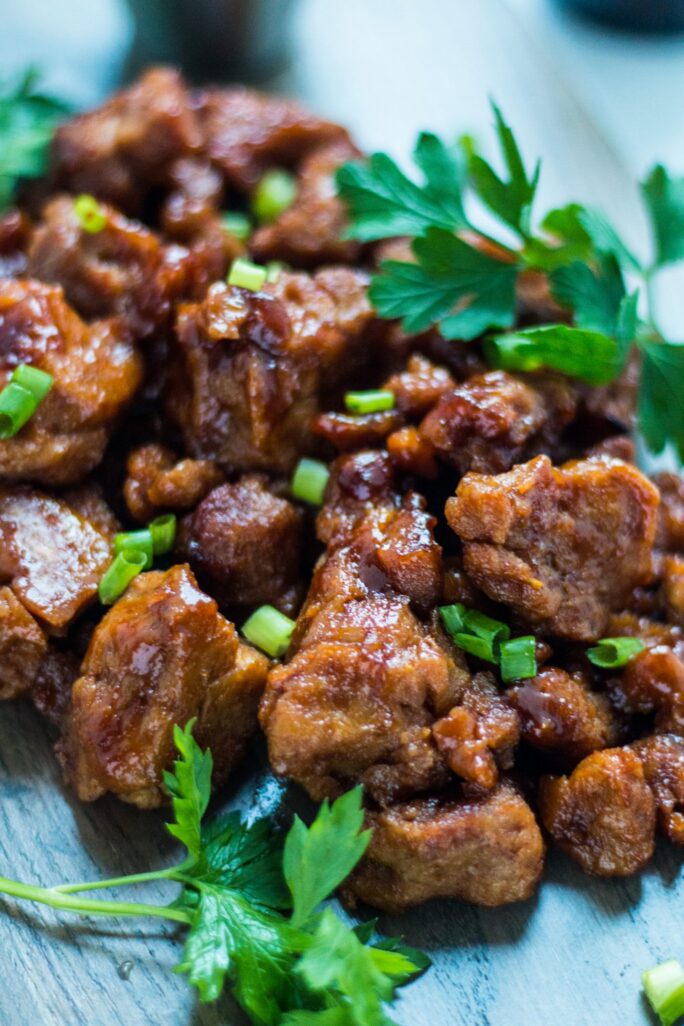 Up until about a year ago I made wings at home by using some premade nuggets that I doused in homemade wing sauce and baked in the oven. Then I found Blackbird Pizzeria in Philadelphia. Holy cats is that place amazing! Not only do they serve up the best vegan pizza I've ever had, but they also offer seitan "wings," served several different ways. Their barbecue version is where the idea for this dish came from.
I didn't try to deconstruct their recipe or anything—though I did learn that they deep-fry theirs—but I did draw inspiration from it. I have no idea what's in their barbecue sauce, so I tweaked a recipe I've been using for several years now by adding a few things. One of them: root beer!
I'm sure there are a ton of root beer barbecue sauce recipes out there—I've seen Coke and Dr. Pepper versions, so this seems reasonable. The sweetness of the drink makes it a perfect ingredient. I mixed it with some spice and heat to form the perfect triangle of flavor for these delicious "wings."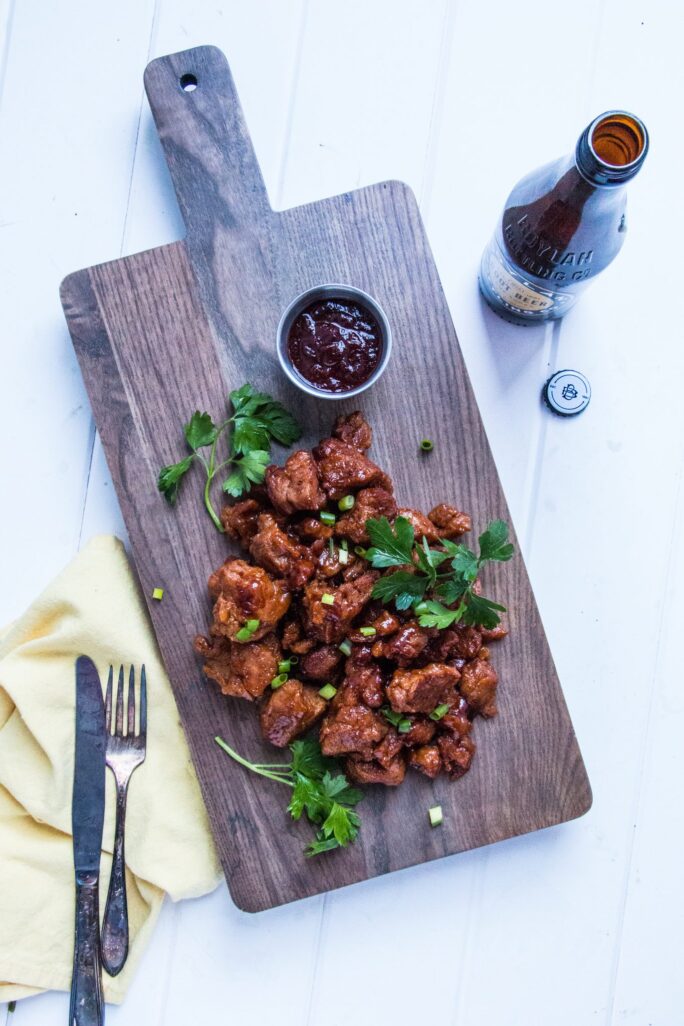 Ultimately, I think seitan is not much more than a delivery system for the various sauces I've seen Blackbird and other places put on their "wings." But I think without breading and through baking, the protein ups its importance a bit to create a pretty balanced bite. See for yourself and let me know how it goes. I'm @nutfreevegan on social media, or just comment below!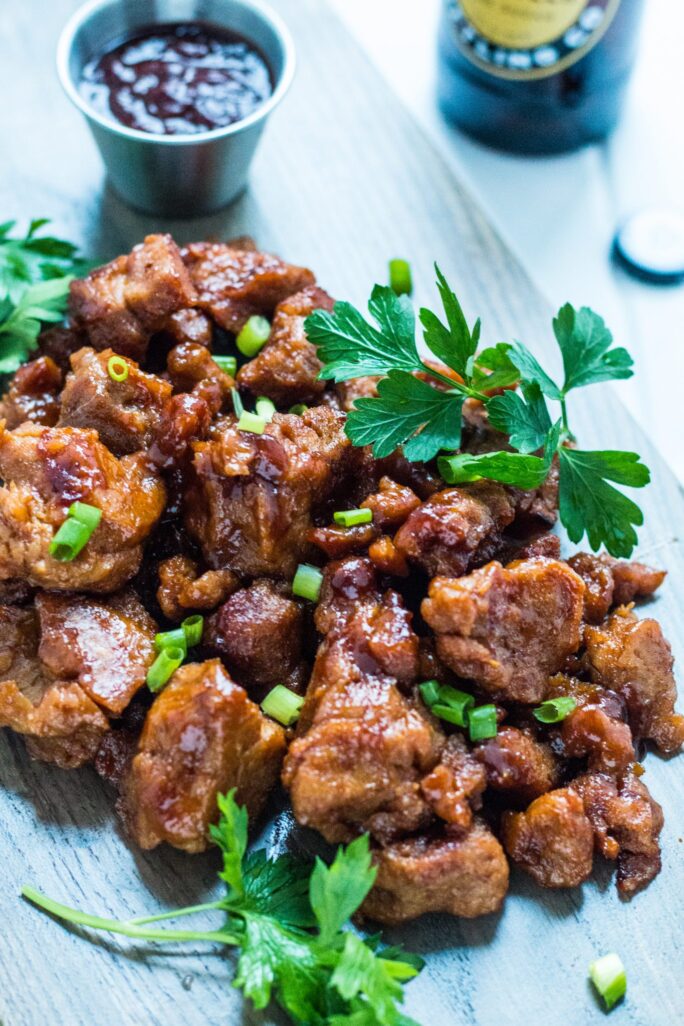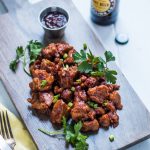 Print
Root Beer Barbecue Seitan "Wings"
Ditch the chicken and dig into these meat-free seitan wings! They're baked in root beer barbecue sauce and they're amazing.
Materials
For the root beer barbecue sauce

1 ½

cups

root beer

¼

cup

apple cider vinegar

¼

cup

brown sugar

½

tsp.

cumin

½

tsp.

cayenne pepper

½

tsp.

garlic powder

1

tsp.

onion powder

1

tsp.

agave

2

Tbsp.

oil

¼

tsp.

liquid smoke

½

Tbsp.

ground mustard

2

Tbsp.

ketchup

2

packages seitan

I used Upton's Naturals Traditional Seitan
Instructions
Preheat oven to 400°.

Add sauce ingredients to small mixing bowl and whisk until combined.

Bring sauce to boil in saucepan and reduce to a simmer. Heat until it starts to thicken, about 15 minutes.

Mix sauce and seitan in mixing bowl until thoroughly coated.

Line baking sheet with parchment paper and place wings in single layer.

Bake until wings begin to crisp, about 25 minutes.
Nutrition