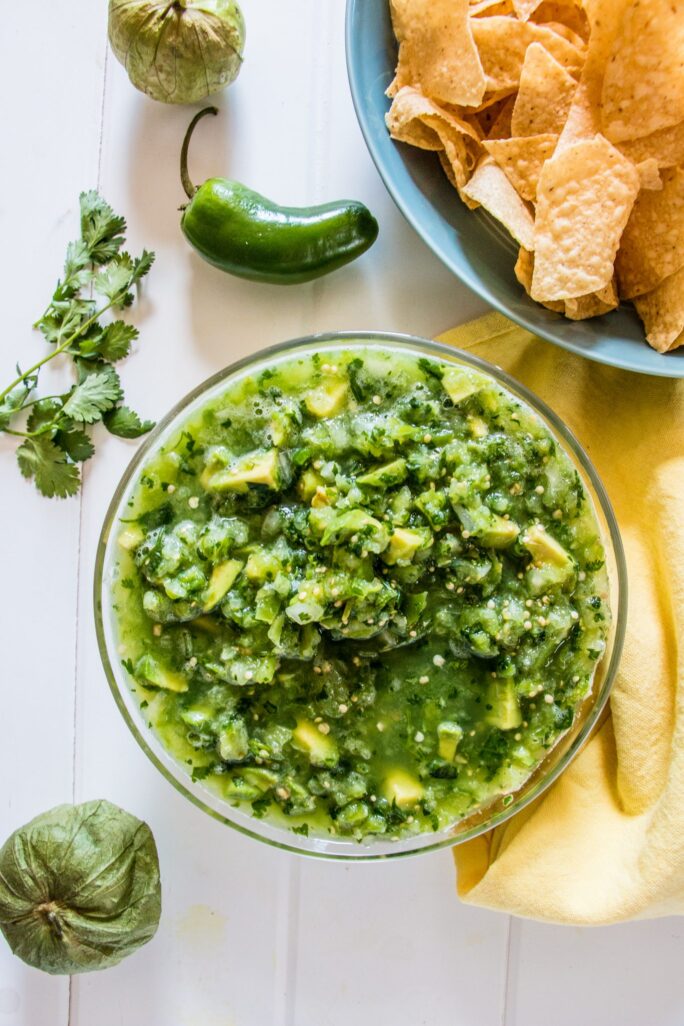 Next week my wife Laura and I are headed to Santa Fe, New Mexico. Last year, right around this time, we got married there. Everybody from Laura's family could make it except for one of her cousins, who was in the late stages of pregnancy and unable to fly, and her husband. So this year, to celebrate our one-year anniversary we thought we'd go back to Santa Fe and take them with us. I'm super excited about it because they're some of my favorite people in the world.
There's a lot to see in Santa Fe…and a lot to eat. As we're planning our return, I've found myself focused mostly on restaurants. Where can I get this? What's the best place for that? Luckily Eater helped out today with this handy list of seven spots to hit for green chiles. That's what the town is known for, so it definitely plays a big part in where we'll be eating.
Leading up to the trip I guess all this research and thoughts of chiles has seeped into my kitchen, because I created this awesome Salsa de Aguacate over the weekend. It's primarily a salsa verde with avocados added. How cool is that? It's like salsa and guac in one delicious bowl.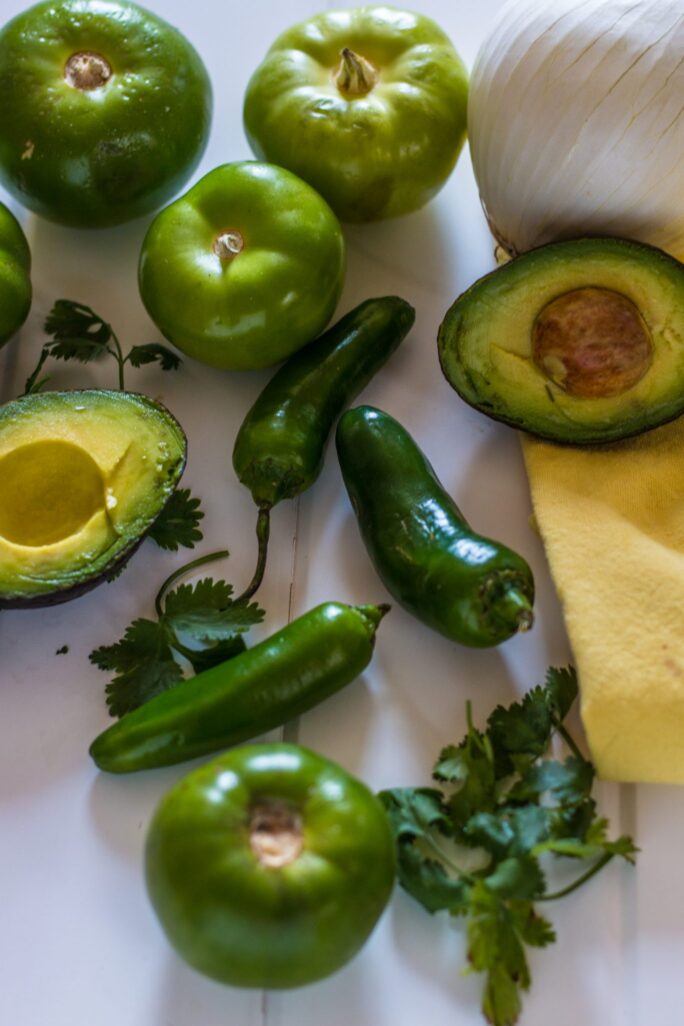 This recipe is a variation on one I found recently in Street Food of Mexico, by Hugh Ortega. I initially purchased this book because it was photographed by one of my favorite food photographers, Penny de los Santos. But I quickly came to love almost everything in it. So chances are you'll see some veganized Mexican street foods showing up on the blog in the upcoming months. But for now I simply adapted this already-vegan salsa recipe by toning down the heat a bit (the original recipe calls for Serrano chiles) and upping a few other ingredients. It turned out really well for me, and I think it will for you, too. Give it a try, and be sure to report back on social media—I'm @nutfreevegan. And, if you get the opportunity, head to Santa Fe for a few days. It's an amazing place, and you might fall in love with it like Laura and I did.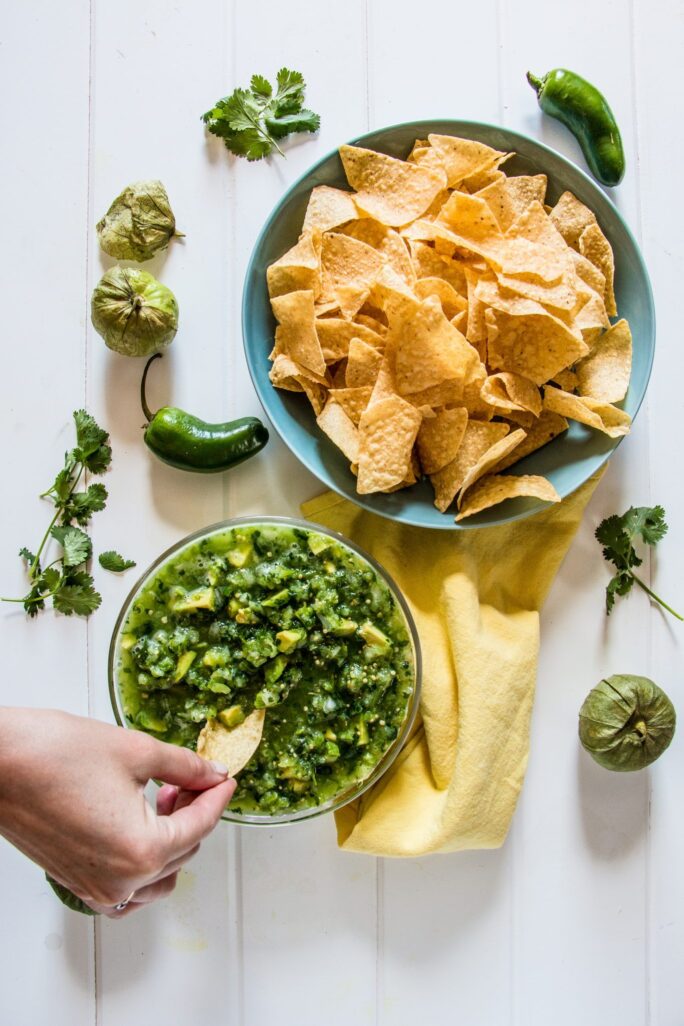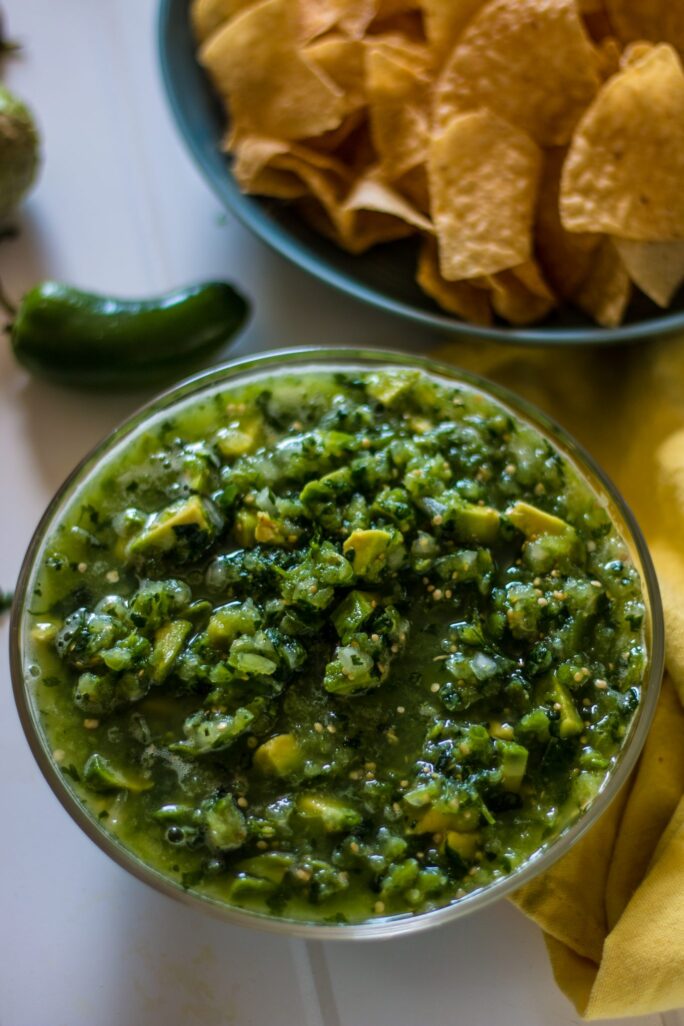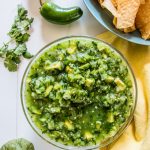 Print
Salsa de Aguacate
This "green sauce" is a different take on the traditional salsa. It uses tomatillos and avocado to provide a unique experience for your tortilla chips.
Materials
6 to

matillos

husked, cut in quarters

1

cup

cilantro

chopped

½

large white onion

diced

3

medium jalapeño peppers

chopped

1

large avocado

pitted, cut into ½-inch cubes

1

Tbsp.

fresh lime juice

1

Tbsp.

salt
Instructions
Place tomatillos, cilantro, onions and peppers into blender, pulse five times.

Pour into bowl and fold in avocado, lime juice and salt; stir until mixed thoroughly; serve immediately.
Notes
This recipe is gluten-free!
If you'd like to kick up the heat, replace the 3 jalapeños with Serrano chiles.
Nutrition