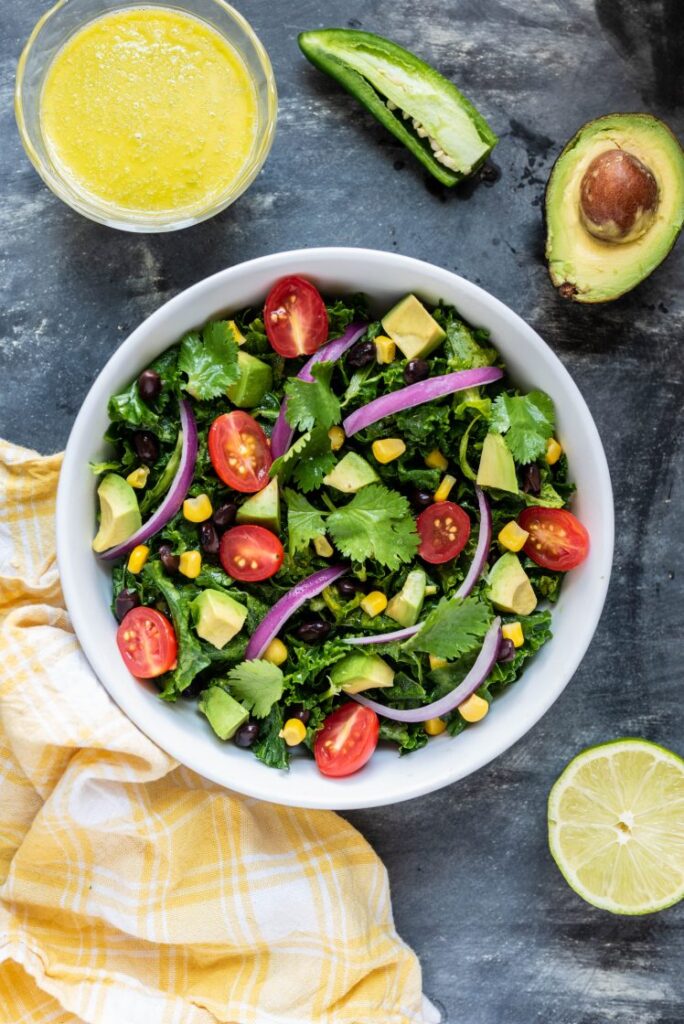 It recently occurred to me that a lot of the recipes I post on The Nut-Free Vegan incorporate processed foods like fake meat and dairy-free cheese. These—especially the latter—are important ingredients that I think those just starting a vegan diet appreciate. For those of us with nut allergies, the cashewless cheese is super helpful so that we can enjoy things like a Caprese Salad Grilled Cheese or some Slow Cooker Mac 'n' Cheese. But these items aren't always the healthiest, and that's something I want to start considering more.
A few weeks ago I discovered Rich Roll, somebody I'm sure everybody but me was aware of. He has an amazing podcast where he interviews thought leaders in just about every area of life, and wrote Finding Ultra, a memoir about how he went from being fifty pounds overweight to one of the fittest men in the world—all while eating a plant-based diet. After a few weeks of listening to his story I started eating in a way that's more aligned with how he does—mostly whole foods with no sugar or processed products—and exercising regularly. There's also meditation and a few other things, but suffice it to say the results have been amazing. I've lost six pounds in the last week and am feeling a lot better about a lot of things. Cutting out the store-bought products has been a real game changer for me, and I want to incorporate less of those into this site going forward. The great part about it is that it'll force me to get more creative and experimental. I know there are whole food-based ways to make all the things I buy, so I'm excited to dive a little deeper. This isn't to say I'm cutting those things out of my recipes altogether, but I do think I can offer better dishes if they're healthier overall. I want all of my readers to be the best they can be, and providing food that can help is something I'm excited about. So keep an eye out for things like Daiya Foods cheese or Field Roast sausages from time to time, but maybe only every other week or two. What will replace them are whole, healthy recipes like this one, which is a Southwestern Detox Salad.
If you're a regular reader of the site you'll know that I'm very influenced by foods from the southwest, so I obviously wanted to spice up a detox salad with some of the flavors from there. This dish is incredibly easy to make and includes a lot of really nutritious things like kale, avocado and black beans. That's a lot of healthy vitamins and protein. And there's a jalapeño-lime dressing on top that really adds a flavorful kick.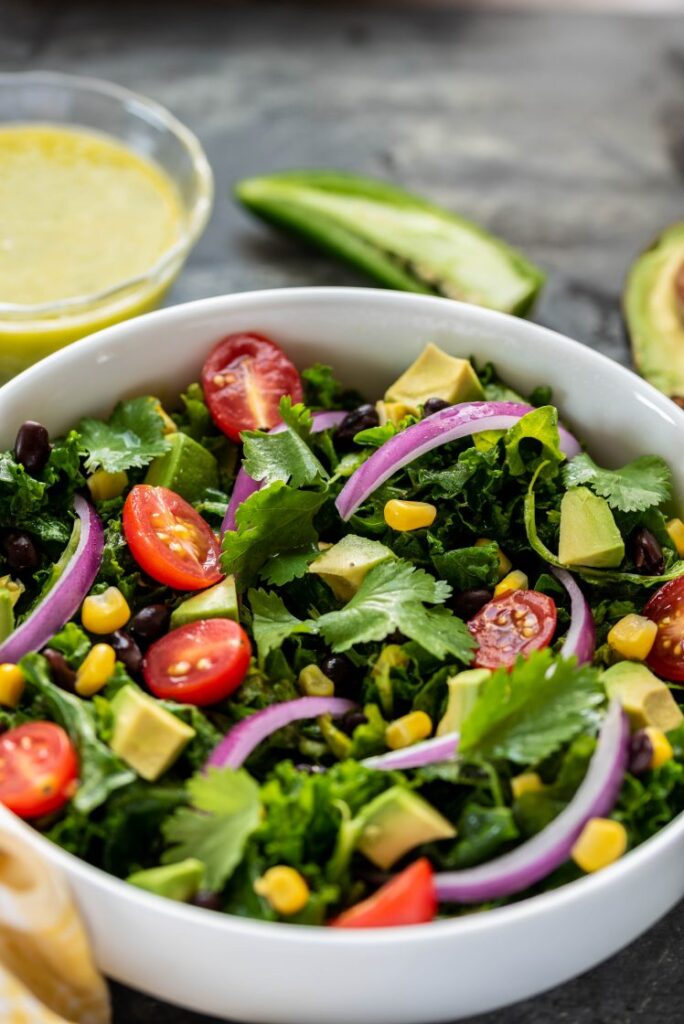 I really hope you enjoy this recipe, especially as summer comes closer. It's refreshing and healthy. I also hope that you'll embrace the healthier direction the site is going to go from now on. Again, there are definitely going to be some delicious comfort food recipes in there too, but there will also be a focus on whole foods, too. It's going to be great and I'm really happy you're here to join me as I go forward.
And as always, if you like this dish (or have any thoughts on what I wrote above) let me know in the comments below.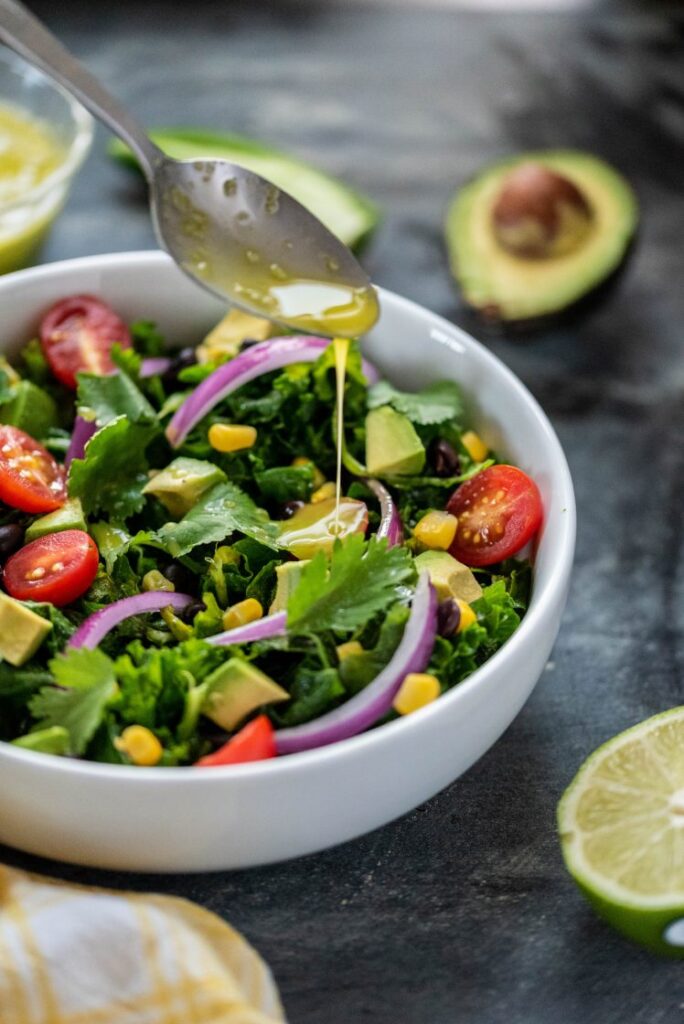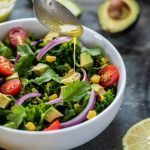 Print
Southwestern Detox Salad
This Southwestern Detox Salad is the perfect dish for when you want something light but full of nutrients. It's easy to make and rich with flavor.
Materials
1

jalapeño pepper

seeded and chopped

Juice from one line

1/3

cup

olive oil

¼

tsp.

cumin

¼

tsp.

salt

1

bunch of kale

massaged and chopped

½

red onion

sliced

1

cup

black beans

1

cup

corn

8

grape tomatoes

halved

1

avocado

chopped

½

cup

cilantro

chopped
Instructions
Add jalapeño, lime juice, olive oil, cumin and salt to a blender. Blend until smooth.

Put remaining ingredients into large bowl. Pour in dressing and toss. Serve immediately.
Notes
This recipe is gluten-free.
Top with tempeh bacon for additional texture.
Nutrition