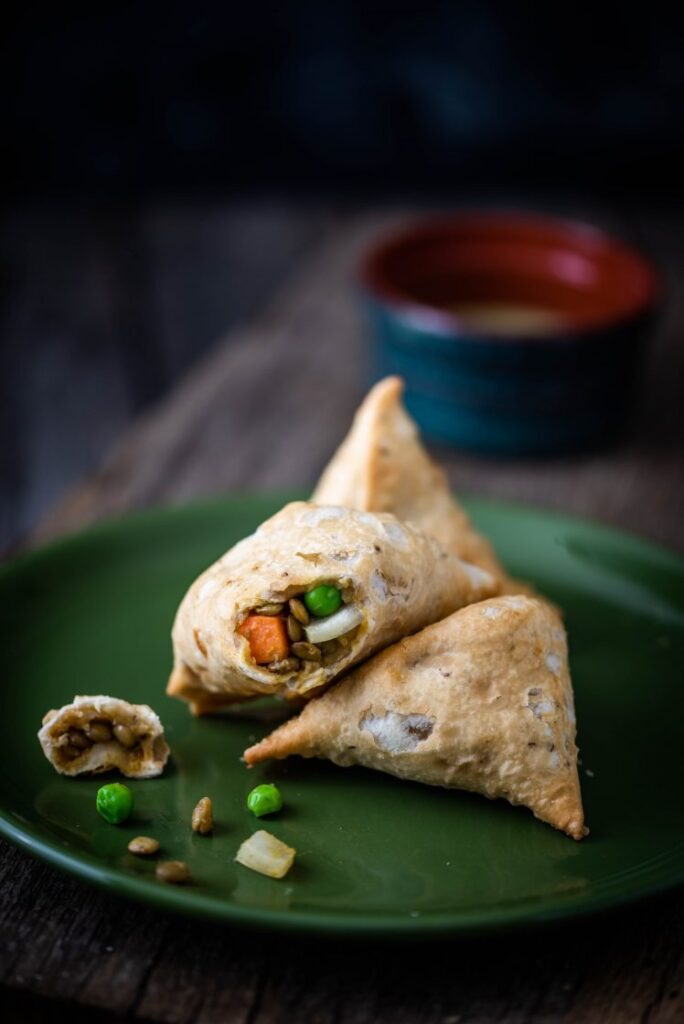 If I had to pick a favorite cuisine it would probably be Mexican. The spices and flavors really jibe with my palate more than any other kind of food. But, to be sure, Indian comes in a very close second. Like Mexican, it has amazing tastes and varying degrees of heat that I just love. Both are pretty easy to make for the most part, too—even this recipe, which was slightly tricky for me in the beginning, but after three tries I finally found a way to simplify it so that you don't have to worry about it taking up a lot of your time.
Today we're making sweet potato and lentil samosas. They sound pretty great, right? I have to tell you, these things are fantastic. I'm a huge fan of the classic potato samosas, but I wanted to superfood them up a bit with some fun ingredients that are full of nutrients and are known to help treat and prevent lifestyle diseases and conditions. That's why I stuffed them with sweet potatoes, lentils, garlic, ginger and olive oil—all considered superfoods. There are onions in there, too, which have their own benefits as well. And since I'm spending 2019 doing a lot of athletic events (starting next weekend, when I'm running a sprint triathlon in Pasadena as a fundraising effort for the amazing Farm Sanctuary—you can donate to my campaign here), these are the kinds of things I'm eating a lot of. That's usually what inspires the recipes I post here.
Making the filling for this delicious Indian appetizer was the easy part. It was the dough that tripped me up the first two times. Initially I worked with phyllo dough, Which quickly became my mortal enemy. I don't know if you've ever worked with it, but if you have you know that it's a delicate and easily destroyed wrapper that is almost impossible to fold. Maybe my technique is just that of a bull in a China shop, but after reading a few things online, I don't believe I'm alone in my troubles with this dough. After my second try I gave up and opted instead for Pepperidge Farms Puff Pastry Sheets. It took losing a lot of soldiers for me to give up on the phyllo dough, but these are slightly thicker and are also more malleable. Folding them into samosas was an adventure onto itself, too. But after scouring the internet I found a much easier method: instead of folding long strips of dough, simply cut it into squares and fold the sides up. Had I done this earlier, it would've saved me so much time and frustration!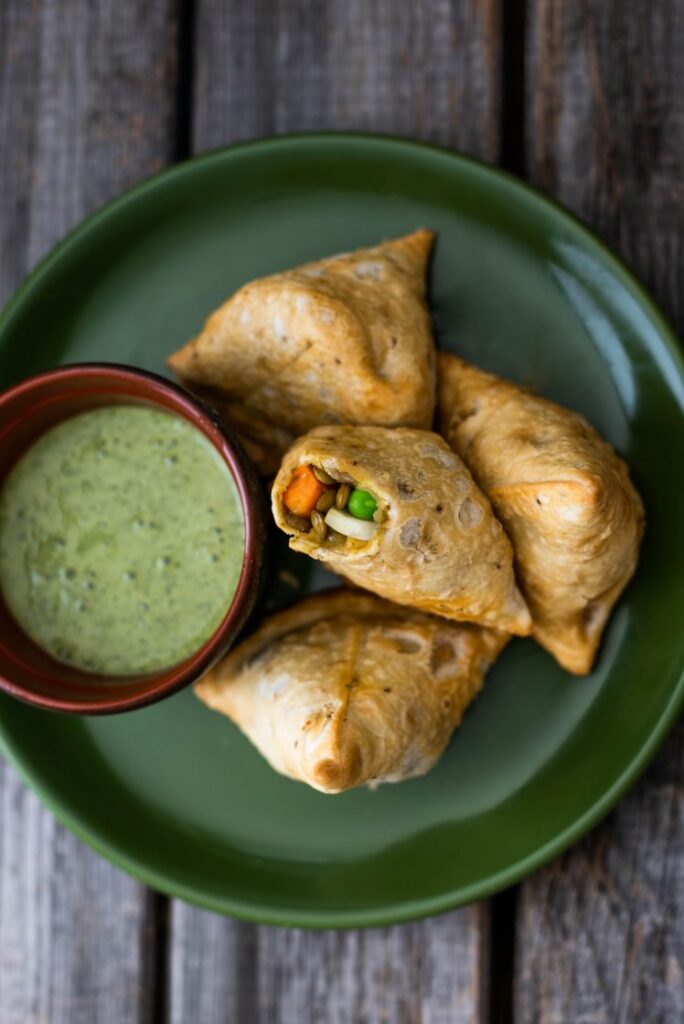 Hopefully I didn't scare you off with dough woes I encountered. It really isn't that hard to make these—especially with the Pepperidge Farms pastry sheets I ended up using. And once you've folded one or two it gets pretty simple. The recipe yields six samosas, so by the time you're done you'll be a pro and you'll have a delicious superfood appetizer that everybody will love. Well worth the effort. And these pair nicely with my Dairy-Free Mango Lassi, too!
Tell Me What You Think
As always, I'd love to hear your thoughts on this recipe if you make it. So drop me a comment below, and be sure to tag @nutfreevegan on social media if you're posting photos. It's always super fun to see these dishes out in the wild!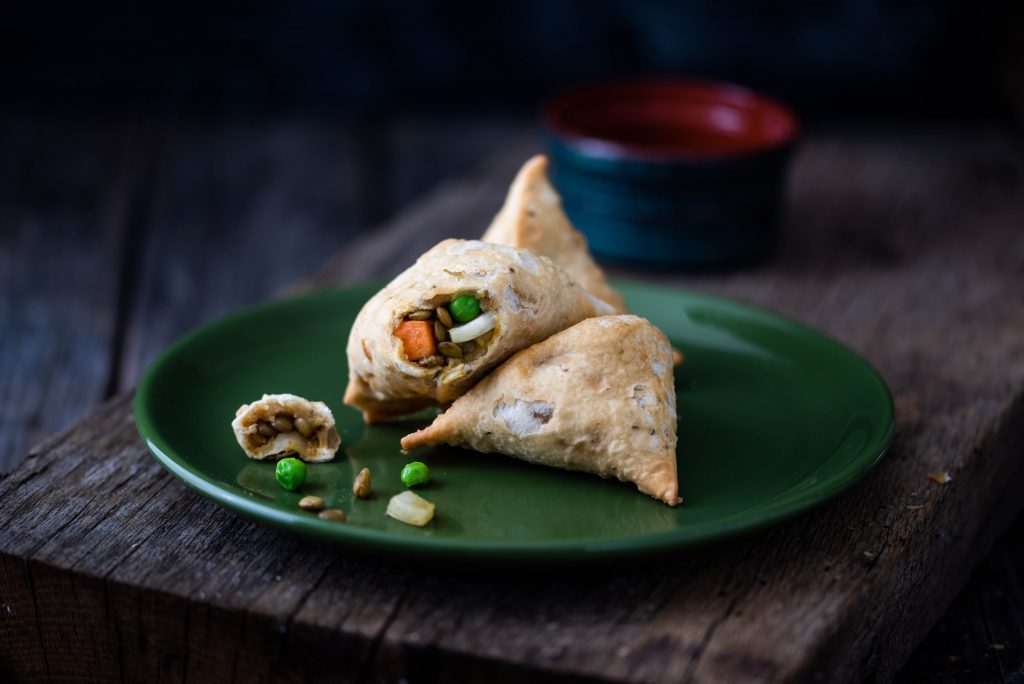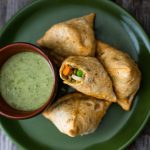 Print
Sweet Potato and Lentil Samosas
These Sweet Potato and Lentil Samosas are filled with superfoods that are great for your health, and they also taste amazing. They're the perfect appetizer or party snack.
Materials
1

package Pepperidge Farms Puff Pastry Sheets or your favorite phyllo dough

1

Tbsp.

oil

1/2

yellow onion

finely diced

3

cloves

garlic

minced

1/2

large sweet potato

finely diced

1

cup

lentils

3

cups

vegetable broth

1

tsp.

ground corriander

1

tsp.

cumin

1/2

tsp.

ground ginger

1/2

tsp.

salt

1/2

tsp.

pepper

1

cup

peas
Instructions
Perheat your oven to 400°F.

Thaw puff pastry according to directions on box.

Heat oil over low-medium heat in a deep skillet or Dutch oven. Add onions.

Cook until onions are translucent, about 5 minutes. Add garlic and cook for another 1 minute.

Add sweet potatoes, lentils, vegetable broth and spices. Bring just to a boil and then reduce to a simmer. Cover and cook until lentils soften, about 15 minutes. Stir in peas and cook for another 1 minute. Remove from heat.

Line a baking sheet with parchment paper.

Cut dough along perforations so that you have long strips. Then cut them into squares and brush the edges with water or more olive oil.

Place 1 teaspoon of filling in the center of each square and fold the edges over it to make a triangle. Seal the edges tight with a fork.

Place on baking sheet and bake for 18–20 minutes, until dough is cooked through and golden.
Nutrition