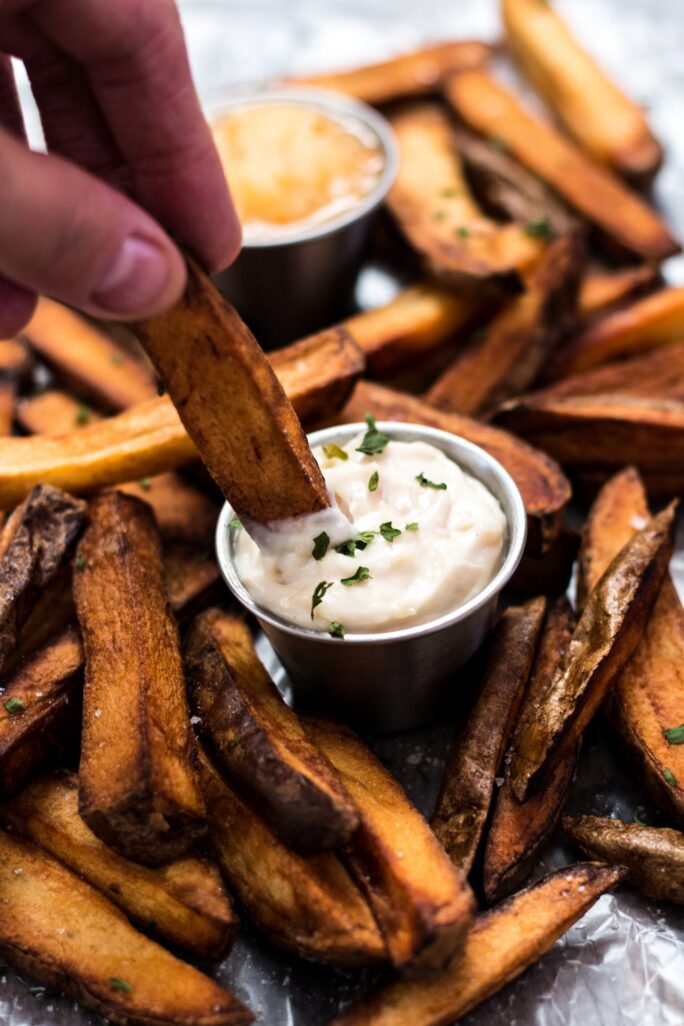 If you're a living human with blood flowing through your veins you're surely a fan of French fries. They're the perfect accompaniment to any sandwich, and they also make a great stand-alone snack. Sadly, they're not a salad so they're probably not the healthiest thing to eat. But as a die-hard fan I didn't let that stop me from taking a French fry tour of Los Angeles several years back. This isn't something I'm proud of—I'm not not proud of it, either—but it happened, and I'm here to tell you it was wonderful. I don't do that in every city I visit, but chances are I'll have an order of fries somewhere along the way.
One of the first times I visited New York, years before I moved to the area, I came upon Pommes Frites, an authentic Belgian fry shop in the East Village. It was my first time having these double-fried delights—and the smorgasbord of dipping sauces—but definitely not my last. Now, any time I'm nearby I'll stop in for a small cone of frites and be happy the rest of the day. I don't get to that neighborhood too often though, so I decided to replicate these delicious fries at home.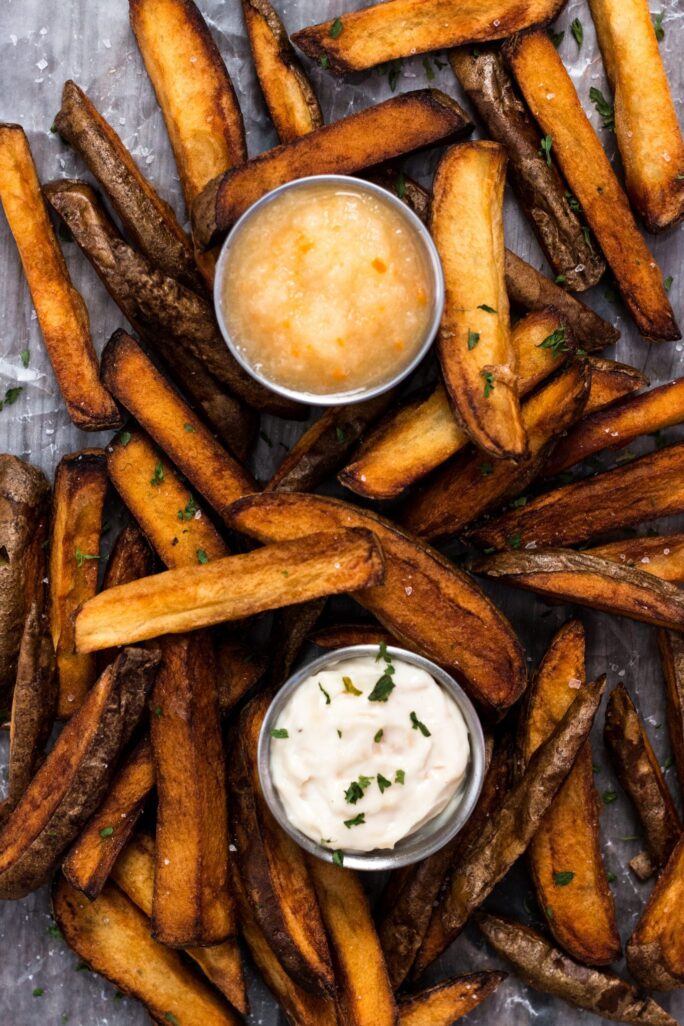 There are a few keys to making authentic frites. The first is the potato itself, a Belgian spud known as the bintje. Well, I can't find those locally so I subbed in russet potatoes. They work just as well and you won't have to go on a scavenger hunt to find them. The other thing that makes frites so great is that they're fried twice. That's right, twice. According to this article from The Salt, the double-frying eliminates moisture and closes up air pockets to give you the crispiest, most perfect fry you'll ever find.
I don't know if the frites my recipe makes are as good as the frites I had on that early trip to New York, but they're still really tasty and perfect for when you don't have a Belgian shop nearby. And the two dipping sauces—Pineapple Habanero and Roasted Garlic Aioli—definitely make the experience a little more shop-like. Plus, pro tip: These frites make a great side for my All-American Hot Dogs or Deconstructed Big Mac. Don't' forget to tag #nutfreevegan on social media and share your photos if you make these!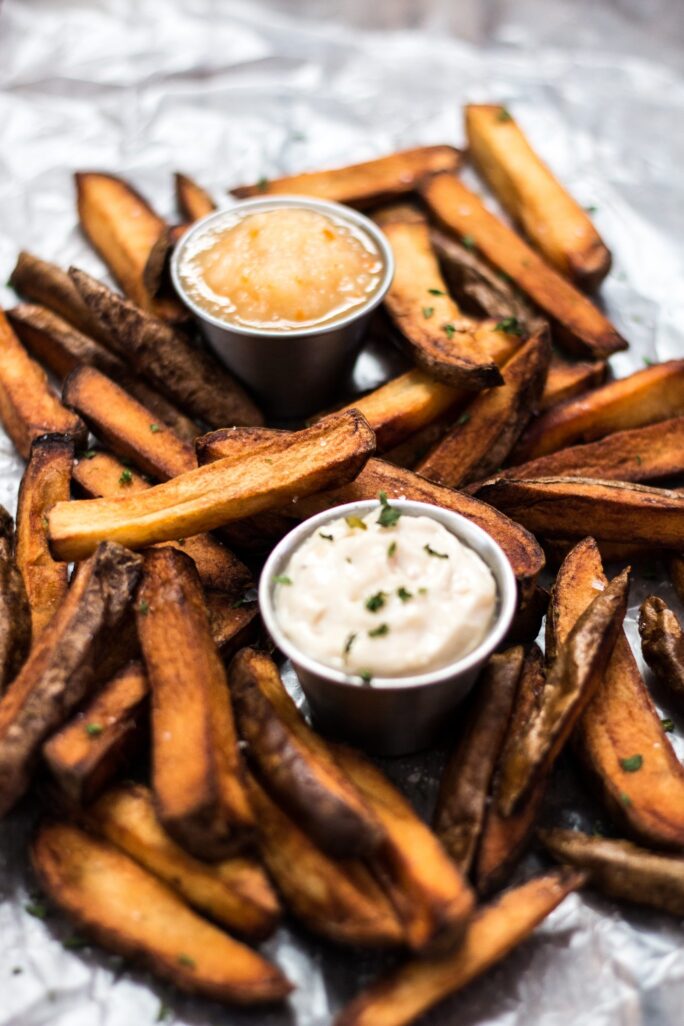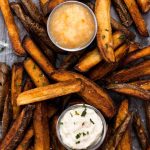 Print
Twice-Fried French Fries with Two Dipping Sauces
Get a taste of Belgium with these twice-bakes French fries and their two incredible dipping sauces.
Materials
5

medium russet potatoes

48

oz.

vegetable oil

1

Tbsp.

sea salt

1

head garlic

1

cup

vegan mayonnaise

1

Tbsp.

olive oil

1

tsp.

lemon juice

5

pineapple rings

2

habanero peppers

seeded

1

tsp.

garlic

minced
Instructions
FOR THE FRIES
Cut potatoes into batons (French fries).

Place batons into bowl of cold water for 30 minutes, then dry.

Fill deep pot with vegetable oil and turn heat to medium-high.

Once oil is hot, add handful of potatoes. Cook for 5 minutes.

Remove potatoes and pat dry with paper towel to absorb excess oil. Repeat until all potatoes are cooked.

Turn heat to high and fry each batch of potatoes again, for 1 minute.

Remove from oil and salt lightly.
FOR THE ROASTED GARLIC AIOLI
Preheat oven to 350°F.

Cut top off garlic and coat cloves in olive oil. Wrap in aluminum foil and bake for 45 minutes. Remove from foil and let cook for 5 minutes.

Scoop out garlic cloves and mix in bowl with remaining ingredients until smooth.
FOR THE PINEAPPLE HABANERO SAUCE
Place ingredients into food processor and pulse until desired consistency is reached.
Nutrition