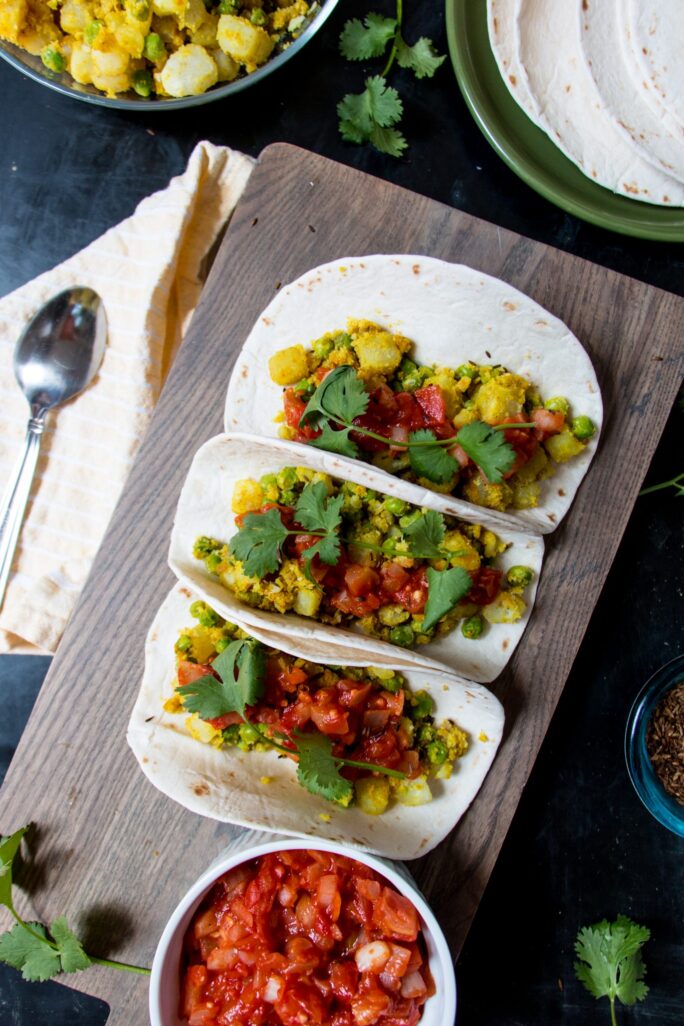 My workday is always pretty busy. The books I am asked to make never seem to stop coming. I often pack a lunch so I don't have to leave the building and can keep working. Or, if I do venture outside, I try to make it quick. My office is in the Flatiron District of Manhattan, where there are so many options it can get overwhelming. Fortunately, there's never a shortage of food trucks stopped on Fifth Avenue serving their wares. So I can pop downstairs, hit a food truck, and be back at my desk in 20 minutes most days.
Doing this has given me an incredible fondness for the food truck culture and a great respect for food truck chefs. They're innovative and oftentimes find ways to make traditional dishes more portable for customers who are on the go. I love this so much.
A lot of the things I enjoy making are "to-go" foods—things you can eat while walking. I think there will be more and more of that here on the site, starting with this recipe.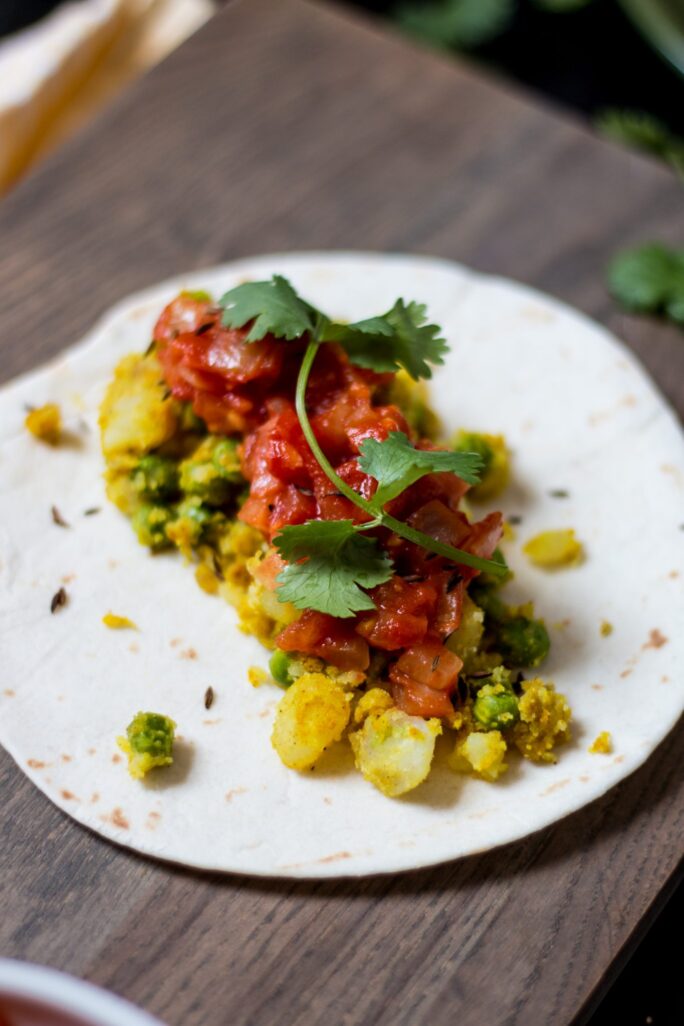 I really love Indian food. I'd say it's in my top three for international cuisines (the others being Ethiopian and Mexican). So whenever I get a chance to have it, I take advantage. It's not super portable, though. Usually, there's a bed of rice or some sort of simmering sauce. But given my love of portable things, I wanted to adapt something I could take out the door. Enter Aloo Matar Tacos.
Aloo Matar is a traditional Punjabi dish consisting of potatoes and peas in a spicy tomato sauce. For this recipe I deconstructed it and created a base (potatoes and peas) with a topping (tomato sauce) that works well for the taco format. All the same flavors you'd get if you went to an Indian restaurant and ordered a bowl of Aloo Matar. It's just that now you can walk by that restaurant while chowing down.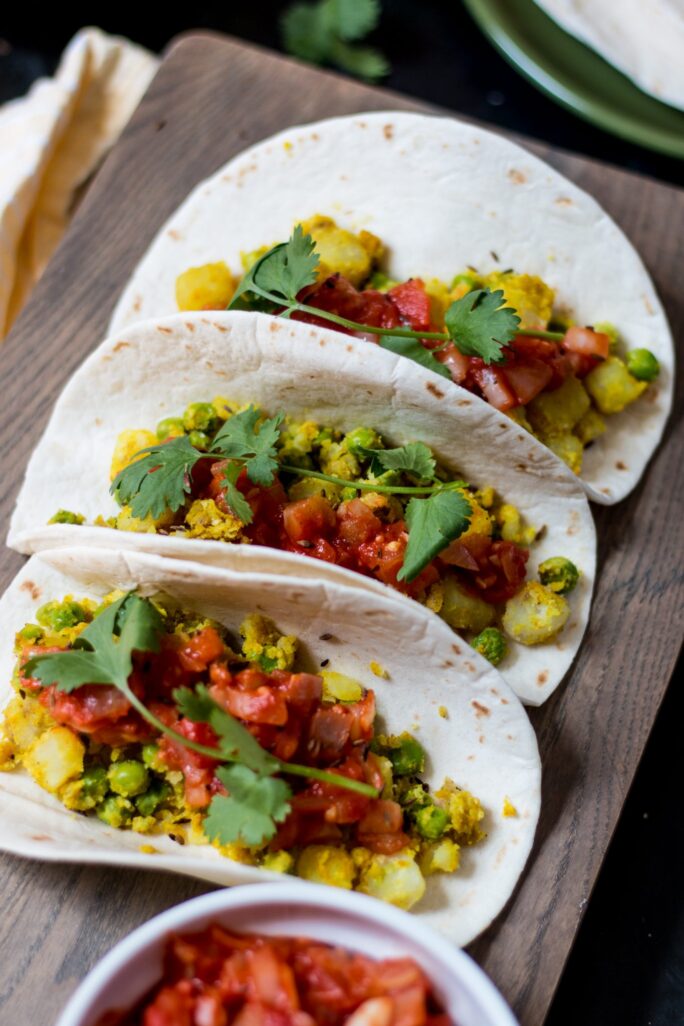 I think you'll really love these tacos if you're a fan of Indian food. So please give them a try and let me know how it goes! I'm @nutfreevegan on social media.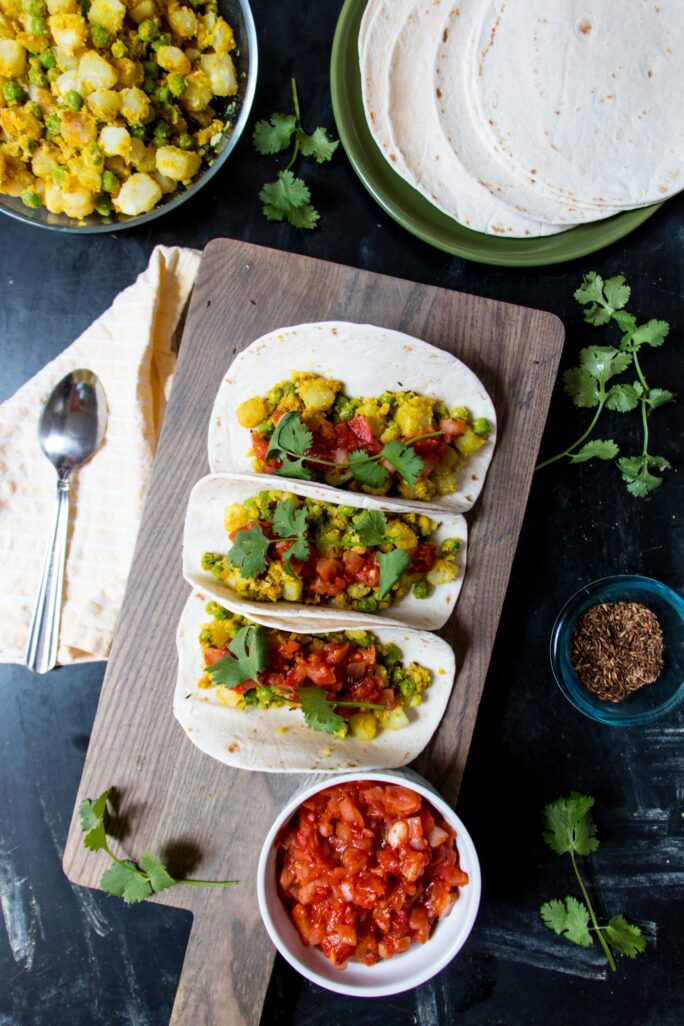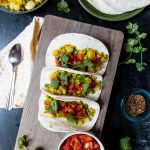 Print
Aloo Matar Tacos
A portable take on the traditional Punjabi dish Aloo Matar—potatoes and peas in a spiced tomato sauce.
Materials
Potatoes and Peas

2

qt.

salted water

4

large russet potatoes

cubed

1

cup

peas

½

tsp.

cumin

1

tsp.

coriander powder

1

tsp.

garam masala

1

tsp.

turmeric

½

tsp.

salt



Tomato Sauce

2

tsp.

oil

1

tsp.

ginger

minced

1

tsp.

garlic

1

onion

chopped

1

green chile

chopped

2 to

matoes

diced

½

cup

water

3

oz.

tomato paste

½

tsp.

salt




small flour tortillas

toasted cumin seeds

Cilantro
Instructions
Heat pan of water and potatoes to boiling; reduce to simmer and cover. Cook about 6 minutes or until potatoes are soft.

Drain potatoes and return to pan; stir in peas and spices. Cook over low heat 4 minutes.

Meanwhile, heat oil in skillet over medium heat; add ginger and garlic and cook until fragrant, about 1 minute. Add onions and cook 3 minutes.

Add remaining ingredients and cook 5 minutes.

Put potato mixture in tortilla and top with tomato mixture, toasted cumin seeds, and cilantro.
Nutrition