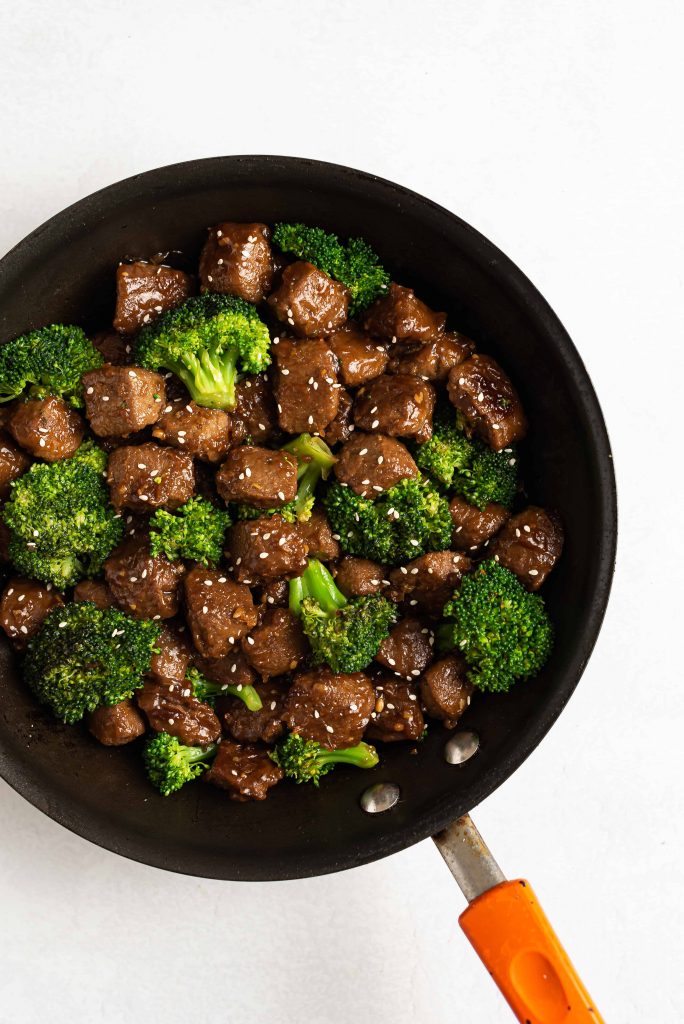 I'm excited to share a new recipe with you during this very strange time—I think it's the first one from the quarantine zone. Since I'm inside all the time now (though I'm toying with the idea of 5 A. M. runs when nobody is around), I hope to have a lot more content to share here and on social media (if you're not following along, I'm @nutfreevegan everywhere and I'd love to connect!), and I'm also in the middle of a site redesign, which I hope to have done over the next couple of weeks. But the main goal is to share some really easy dishes that you can make with limited supplies, which is probably a concern for all of us right now, like this Beefless Beef and Broccoli.
I've been having groceries delivered from Amazon/Whole Foods for the past two weeks, and something—maybe the only thing—they don't seem to be running short on is frozen vegan items. So I've stocked up on Beyond Meat, Amy's and Field Roast products. I don't typically eat a lot of these things anymore, but it seemed like a good idea to have some things on hand because who knows how long we'll all be stuck inside. Also, I grabbed a bunch of Gardein products and am using their Beefless Tips as the foundation of this recipe.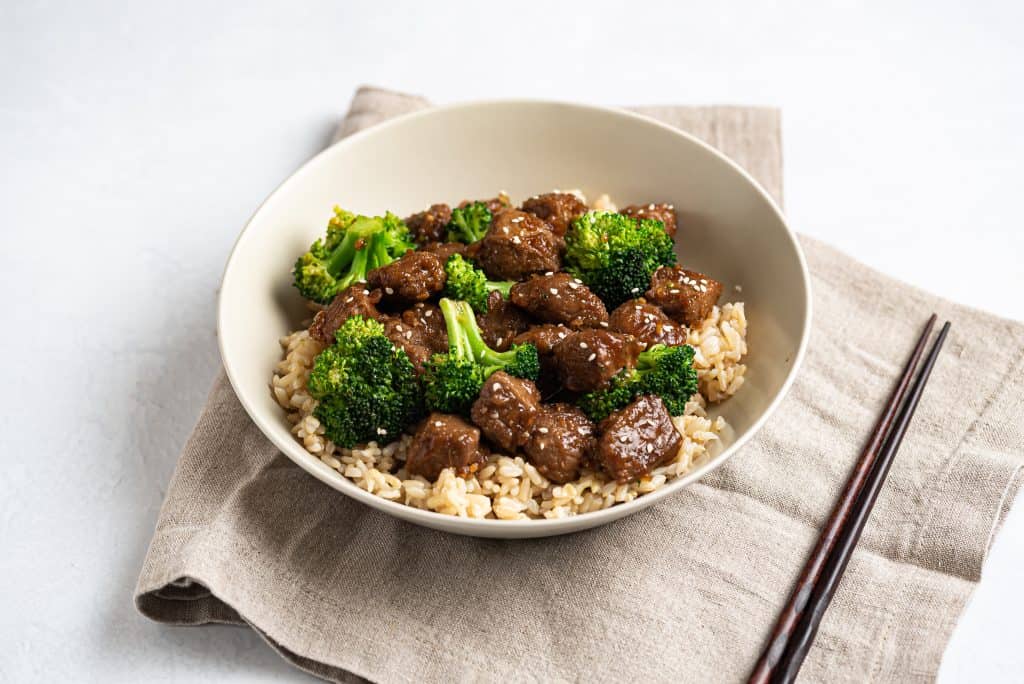 Since we're keeping things simple right now, this Beefless Beef and Broccoli is a cinch to make with only three steps: mix the sauce; steam the broccoli; sauté the tips and mix it all together. Easy peasy. There is a lot of stirring involved though, especially if you're using a wok; my ingredients got a little sticky when I didn't do this for a minute or so. But overall it's very little work for a lot of delicious flavor.
Substitutions are easy in this Beefless Beef and Broccoli
The versatility of this recipe is very helpful when you're low on supplies, too. If you don't have sesame oil, no problem. No cornstarch? That's OK; use flour. Even if you don't have the Gardein Beefless Tips, you can use seitan, tempeh or just about any meat replacement you have on hand. Ideally you'd use the ingredients listed below. But improvisation is such a beautiful thing!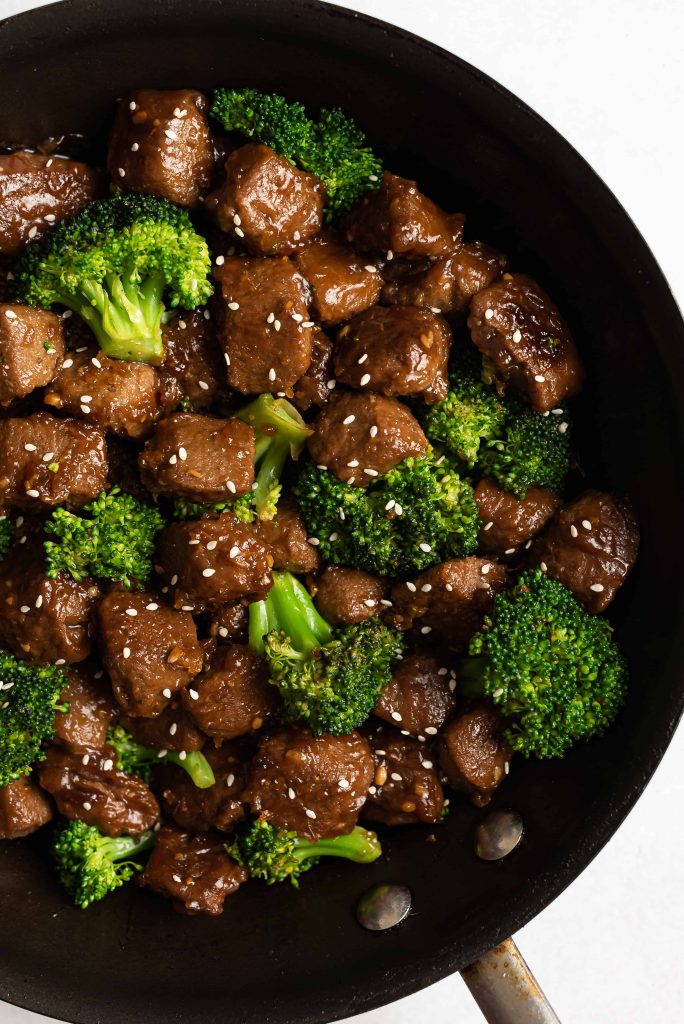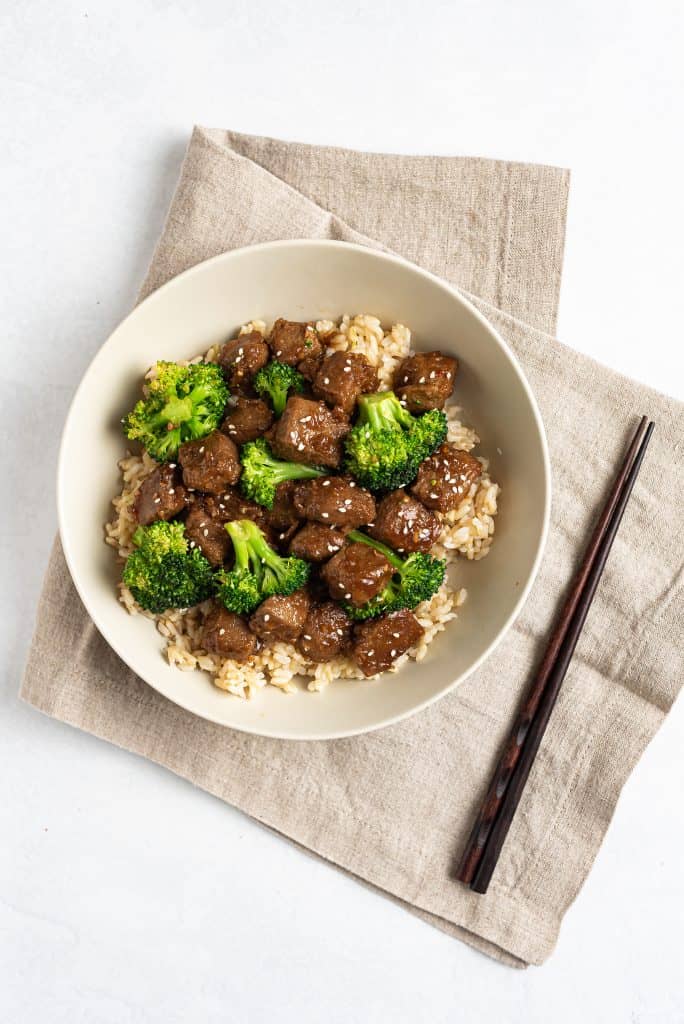 A few other easy "beefless" beef dishes you might like
Tell Me What You Think
As always, I'd love to hear your thoughts on this recipe if you make it. So drop me a comment below, and be sure to tag @nutfreevegan on social media if you're posting photos. Plus, it's always super fun to see these dishes out in the wild!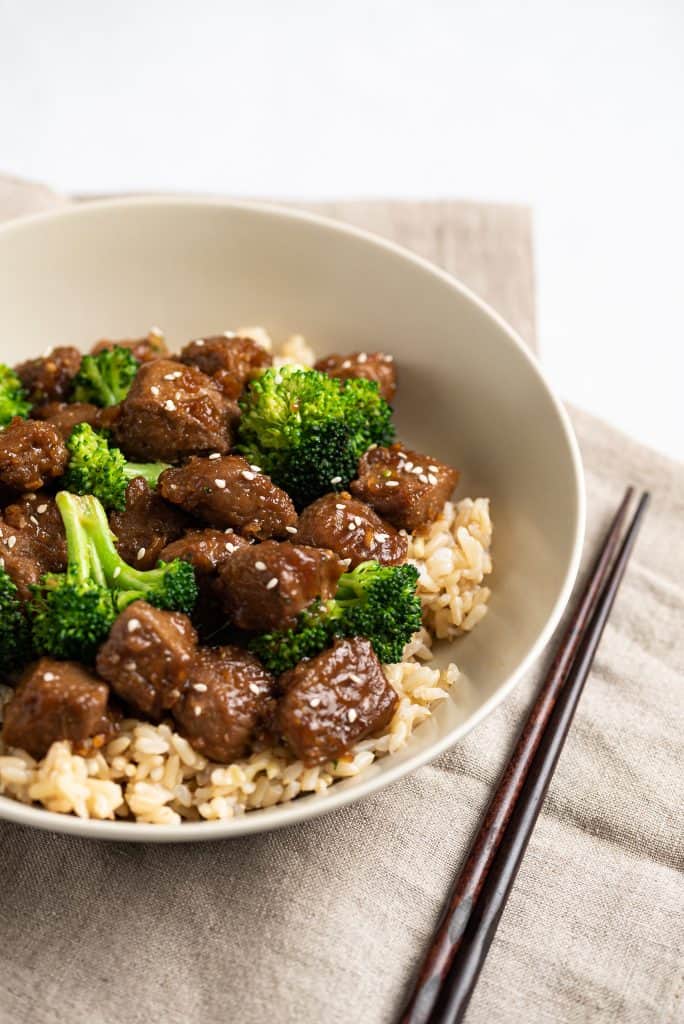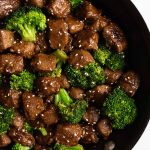 Print
Beefless Beef and Broccoli
This easy vegan recipe is full of familiar Asian flavors. It's meat-free, but you'd never know it. And there are very few ingredients (they're also replaceable), which is perfect for when you're low on supplies.
Materials
2

Tbsp.

oil, separated

1

head

broccoli, cut into florets

1/3

cup

cornstarch

1

tsp.

fresh ginger, grated or minced

1/2

cup

soy sauce

1/2

cup

brown sugar

4

cloves

garlic, minced

1/2

cup

water

2

tsp.

Sriracha

2

tsp.

rice wine vinegar

1

tsp.

sesame oil

2

bags

Gardein Beefless Tips

2

cups

cooked rice

optional
Instructions
In a wok or deep-sided skillet, heat 1 tablespoon oil over low-medium heat. Once hot, add broccoli and partially cover pan. Cook for 5 minutes, stirring regularly. Set aside.

Mix remaining ingredients except for Beefless Tips and rice in a medium mixing bowl and set aside.

Heat second tablespoon of oil over low-medium heat in same pan. Add Beefless Tips and cook for 5 minutes, stirring regularly, or until tips begin to brown.

Stir in sauce and mix thoroughly. Bring just to a boil and reduce heat to a low simmer. Cook for 5 more minutes, stirring regularly. If sauce gets thick, you can add water a little bit at a time to thin it out.

Turn off heat and mix in broccoli. Serve immediately over rice.
Notes
Cornstarch can be replaced with flour.
Brown sugar can be replaced with coconut sugar or regular white sugar.
Sriracha can be replaced with chili oil or hot sauce.
Rice wine vinegar can be replaced with white wine vinegar.
Gardein Beefless Tips can be replaced with your favorite meat substitute.
Rice can be omitted or replaced with your favorite grain.