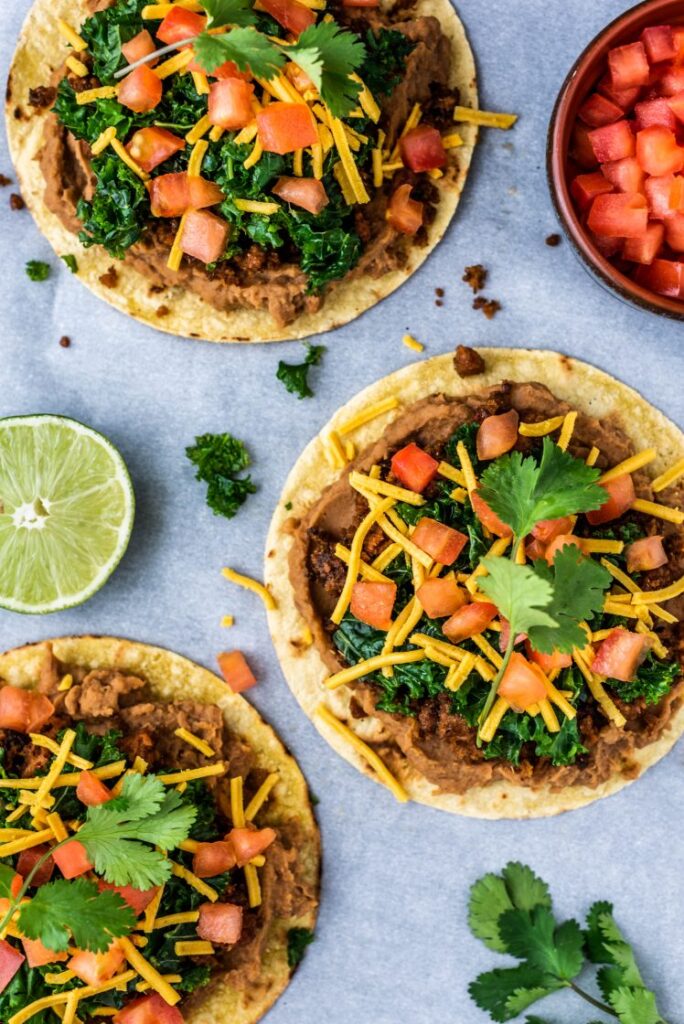 I had to amend this recipe introduction. It was locked and loaded, scheduled to go live today, and then yesterday Beyond Meat made a big announcement that I felt like I had to include here. This recipe is for Beyond Meat Tostadas with Marinated Kale, and it uses crumbled up Beyond Burgers as its base. Well yesterday the company made this dish easier for future cooks to make by announcing their latest release, Beyond Beef. It's a ground beef-like product that takes the place of what I've done here with the burgers. So simple! I'm glad they're putting this product out because I've crumbled up their burgers for a lot of different things over the past few years. Now my only hope is that it isn't $20 per pound . . .
OK, back to our regularly scheduled programming!
I'm a huge fan of tostadas. They're basically a combination of tacos and little pizzas, two of the best foods in the world. Who wouldn't love that? My only problem with them is that I'm a pretty sloppy eater when it comes to them. If that crispy tortilla breaks off in a weird way when I bite into it, I'm wearing most of the ingredients. Maybe I just need to eat more carefully, but that's hard to do with tostadas—especially the ones I've made here—because they're so darn good!
As I mentioned above, this recipe uses Beyond Burgers that are crumbled up. That's my preference, but any plant-based meat would suffice. And as good as the "meat" is, what I love most about these tostadas is the marinated kale. It's a very simple blend of lime juice and olive oil, but I think that elevates the flavors a lot more than the usual iceberg lettuce you find of other versions. And if you read this site with any regularity, you know that I'm a sucker for kale.
Tell Me What You Think
As always, I'd love to hear your thoughts on this recipe if you make it. So drop me a comment below, and be sure to tag @nutfreevegan on social media if you're posting photos. It's always super fun to see these dishes out in the wild!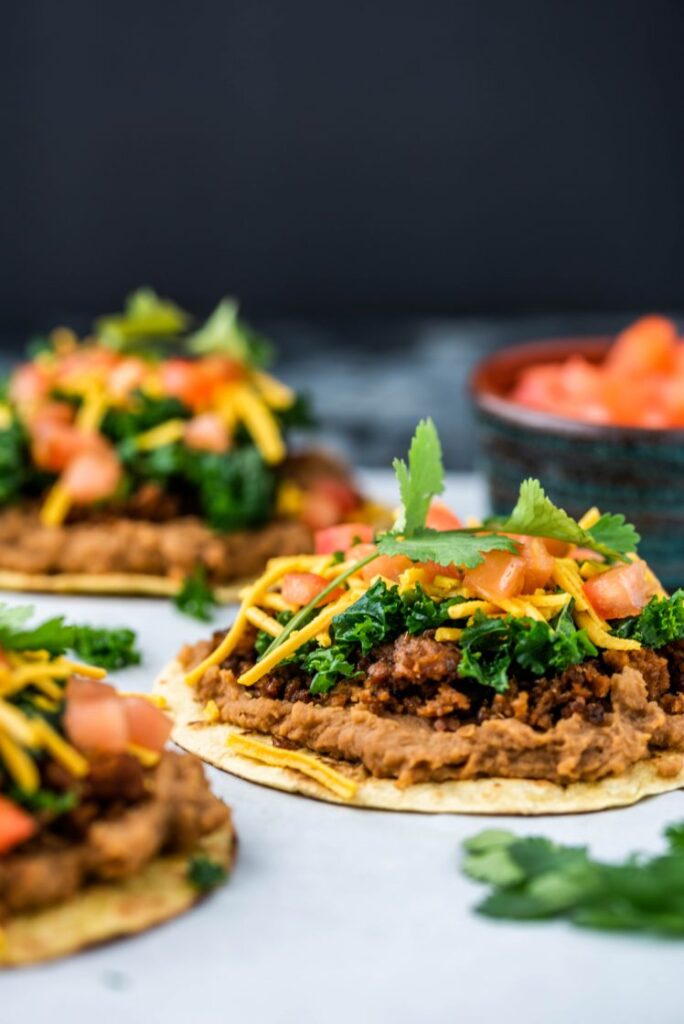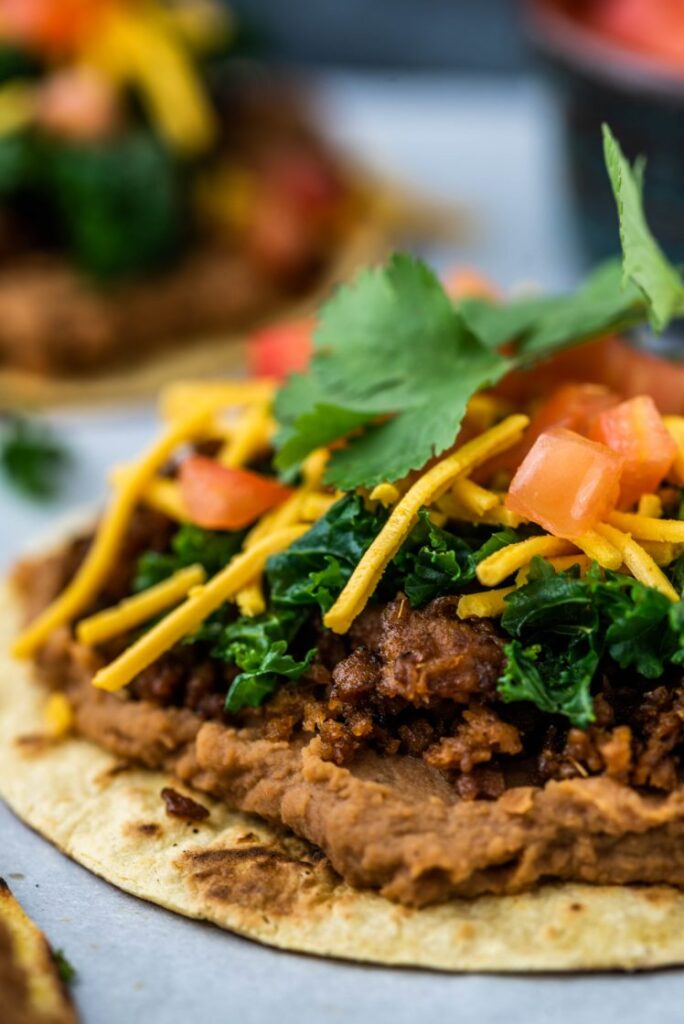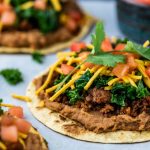 Print
Beyond Meat Tostadas with Marinated Kale
Materials
3

Tsp.

olive oil

separated

4

corn tortillas

2

Beyond Meat burger patties

1

tsp.

cumin

1/2

tsp.

paprika

1/2

tsp.

chili powder*

1/2

tsp.

salt

2

cups

kale

chopped

Juice from 1 lime

1

can vegan refried beans

2

cups

vegan cheddar cheese shreds

1 to

mato

diced
Instructions
Heat 1 Tbsp. oil over medium heat in a skillet and fry the tortillas, turning over after about 2 minutes. Cook for another 2 minutes until both sides start to brown and they're crispy. Set aside.

Heat 1 Tbsp. oil in same pan and add Beyond Burger patties, cumin, chili powder and salt. Break up into crumbles with a wooden spoon while it cooks. Once the "meat" is fully browned, set aside.

Put kale into a large bowl with remaining oil and lime juice. Massage together until the kale begins to turn brighter green and release its essence, about 1 minute.

Heat refried beans according to can instructions (I just nuked them in the microwave for 2 minutes).

Assemble tostatas with refried beans, Beyond meat, kale, vegan cheese and tomatoes. Add any other toppings you desire and enjoy.
Notes
*You can replace the chili powder with cayenne or any other kind of pepper (I actually used New Mexico Pepper Powder) for a little more heat.
This recipe is gluten-free.
Nutrition