Today I'm super excited to share a recipe from Jackie Sobon's new cookbook, Vegan Yack Attack's Plant-Based Meal Prep. If you remember last year, I offered up this Portobello Fajita Salad from her previous book, Vegan Yack Attack On The Go. And this time around I'm presenting some Dill-Roasted Chickpeas with Potato Wedges—a really flavorful entree that takes no time at all.
There are over 100 recipes in this new book and so far I've made two of them—this one and another for Instant Pot Creamy Broccoli Soup—and both have been really delicious. Jackie's recipes are always easy to make, but they taste like they should require more effort. As a lazy cook, I can't ask for much more! And in addition to recipes, Plant-Based Meal Prep offers a really helpful guide to batching and setting up your food for an entire week. This is something I've been trying to do more of lately, so this book is perfect for me. I can't wait to dive a little deeper and fill my fridge with some pre-made meals. Since I'm training for the Big Sur Marathon right now time is pretty limited. A book like this one is super helpful in freeing up some room in my schedule during the week so I spend less time in the kitchen and more of it running.
This particular recipe is calorie dense and full of protein (21g per serving)—also very helpful to my training—so it's really filling. I made it for lunch, but it'd also be ideal for a weeknight dinner (or several if you're batching!). And except for the sauce, it's all made on sheet pans in the oven, which is my favorite thing in the world. I love putting great ingredients into the oven and letting it do all the work for me. Then, just pull it all out, assemble and enjoy.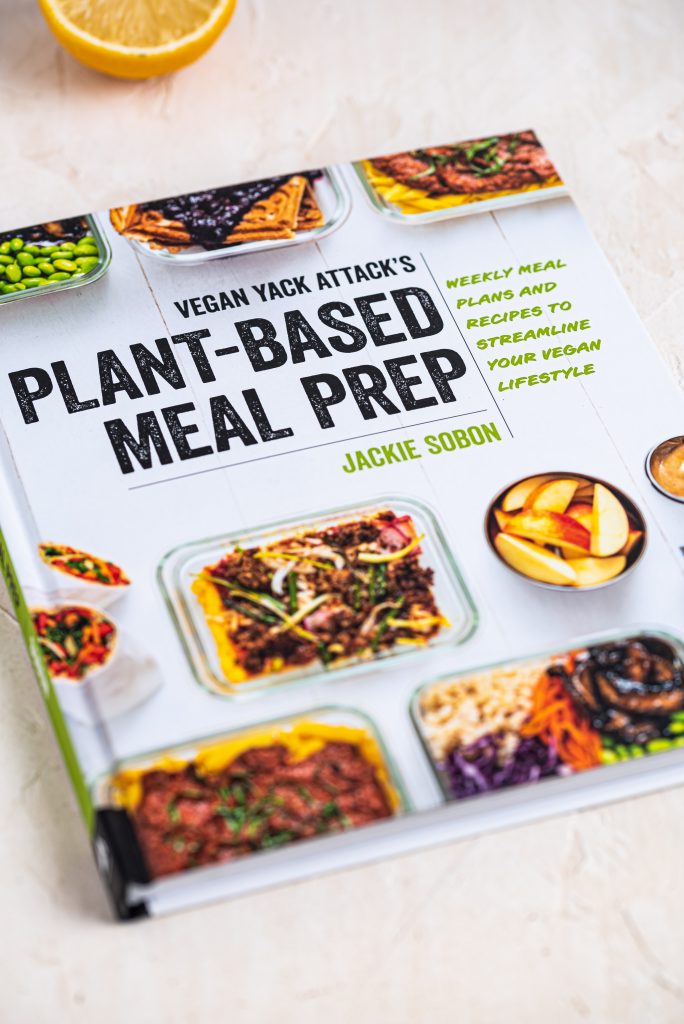 I think you're going to love these Dill-Roasted Chickpeas with Potato Wedges, and you'll definitely want to grab a copy of Vegan Yack Attack's Plant-Based Meal Prep for your own kitchen. It's an essential reference, whether you're into batching your meals or just want some amazing recipes for one meal at a time.
Tell Me What You Think
This is where I usually tell you to leave a comment below or tag @nutfreevegan in your social posts with your thoughts on this recipe—and I'd definitely love it if you still did that. But it'd also be great if you tagged #VYAplantbasedmealprep, too. That way Jackie can see how much you're loving these new recipes!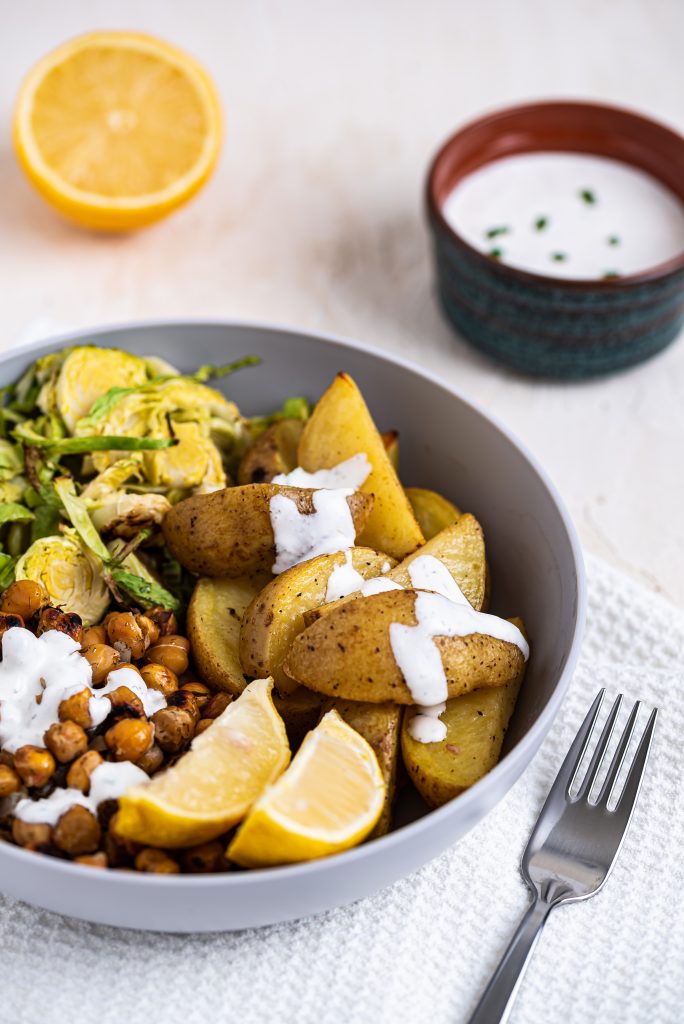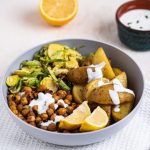 Print
Dill-Roasted Chickpeas with Potato Wedges
These Dill-Roasted Chickpeas with Potato Wedges come from the new Vegan Yack Attack's Plant-Based Meal Prep book. They're simple to make and full of amazing flavor.
Materials
FOR THE CHICKPEAS

2

15-ounce [425 g] cans chickpeas, drained and rinsed

1/3

cup

45 g diced yellow onion 2 teaspoons (10 ml) sunflower oil 1 teaspoon dried dill
1⁄2 teaspoon salt
1⁄2 teaspoon garlic powder
1⁄4 teaspoon black pepper



FOR THE POTATOES

1

pound

455 g Yukon Gold potatoes, cut into wedges

2

teaspoons

10 ml sunflower oil 2 teaspoons (4 g) lemon pepper 1⁄2 teaspoon paprika
Pinch salt

12

ounces

340 g Brussels sprouts, shaved



FOR THE ASSEMBLY

1

⁄2 cup

110 g Sunflower Sour Cream

2

tablespoons

30 ml water
1 tablespoon (3 g) minced chives 2 teaspoons (10 ml) lemon juice 1⁄4 teaspoon dried dill
Pinch salt
4 lemon wedges
Instructions
To make the chickpeas: Preheat the oven to 400oF (200oC, or gas mark 6) and line two baking sheets with parchment paper. In a bowl, combine the chickpeas, onion, oil, dill,
salt, garlic powder, and pepper, tossing until evenly coated. Spread the mixture out on one of the baking sheets.
To make the potatoes: In a bowl, combine the potatoes, oil, lemon pepper, paprika, and salt, tossing until evenly coated. Spread the wedges out on the other baking sheet in a single layer. Place the baking sheets in the oven and roast for 20 minutes. Flip the potatoes and move the chickpeas to one side of the baking sheet. Spread the Brussels sprouts next to the chickpeas. Put the sheets back in the oven on opposite racks and roast for another 20 minutes.
To assemble: Meanwhile, whisk together Sunflower Sour Cream, water, chives, lemon juice, dried dill, and salt. Refrigerate the sauce until ready to serve. To serve, divide the chickpeas, potatoes, Brussels sprouts, and lemon wedges between 4 bowls or storage containers. Drizzle with sour cream sauce just before serving. The sauce and the dishes can be stored separately in the refrigerator for up to 7 days.
Nutrition
Serving:
1
g
|
Calories:
442
kcal
Reprinted with permission from Jackie Sobon and Fair Winds Press, an imprint of Quarto Publishing Group USA Inc. © 2020