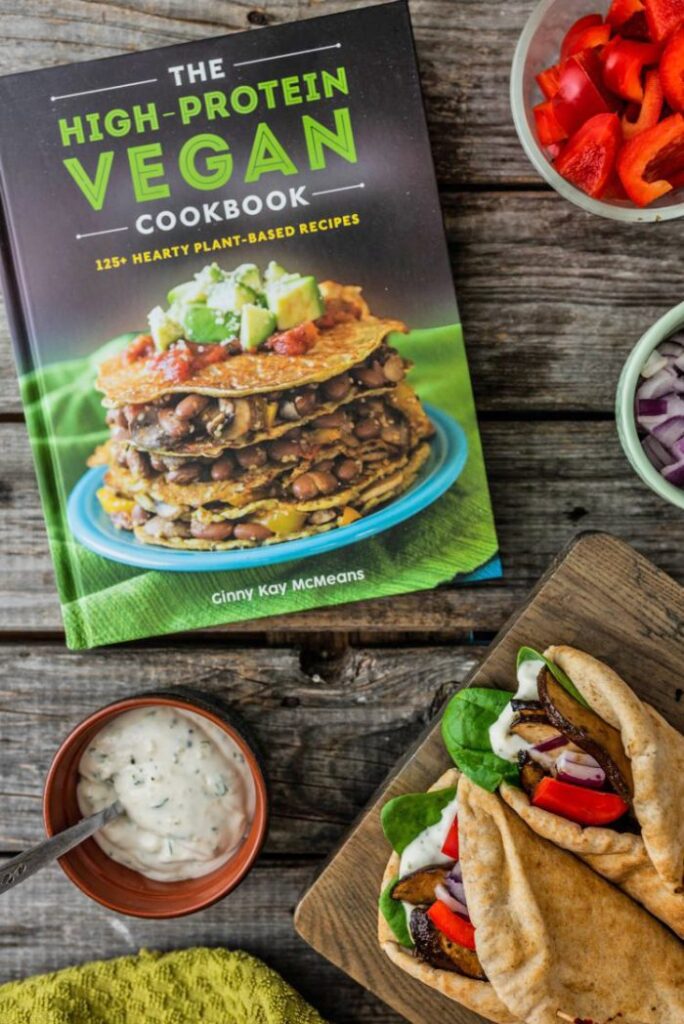 Where do you get your protein? That's the big question vegans are constantly asked. And the answer is a simple one: from any number of tasty sources. It's not really a concern. But if that's not a suitable response, now there's a go-to resource that's all about how to deliver plant-based proteins through over 125 delicious recipes.
The High-Protein Vegan Cookbook is a brand new title from Ginny McMeans, founder of the popular plant-based recipe blog, Vegan in the Freezer. And just like the site, this book is full of amazing dishes. There are variations on some staples—like Chocolate Strawberry Chia Seed Pudding and Kale White Bean Soup—as well as some new and fun things like the stunning Chickpea Tortilla Fajita Stack that's shown on the cover, and Superpower Stuffed Poblano Peppers, which I've made and absolutely loved. Plus, there's a whole section in the back on seitan variations that's really helpful for mixing things up in your dishes.
At first I was worried there would be a lot of nut-heavy recipes in this book. And while there are some, there definitely aren't enough to deter anyone with a nut allergy from picking up a copy. Most of the places where nuts are used, they can be omitted, or a nut-free butter like Sunbutter can be swapped in. So, nut-free friends, there's no need to worry!
Another recipe that I'm crazy about is the Portabella Mushroom Gyros. I made these for dinner last week and my wife and I devoured them super quickly. They're really easy to make and packed with a ton of different flavors (not to mention 16 grams of protein!). Whether you're short on time or just want a really great handheld meal, these are for you. And Ginny has given me permission to share the recipe with you! It's posted below, so I hope you give it a try and fall in love with these gyros and this book like I have.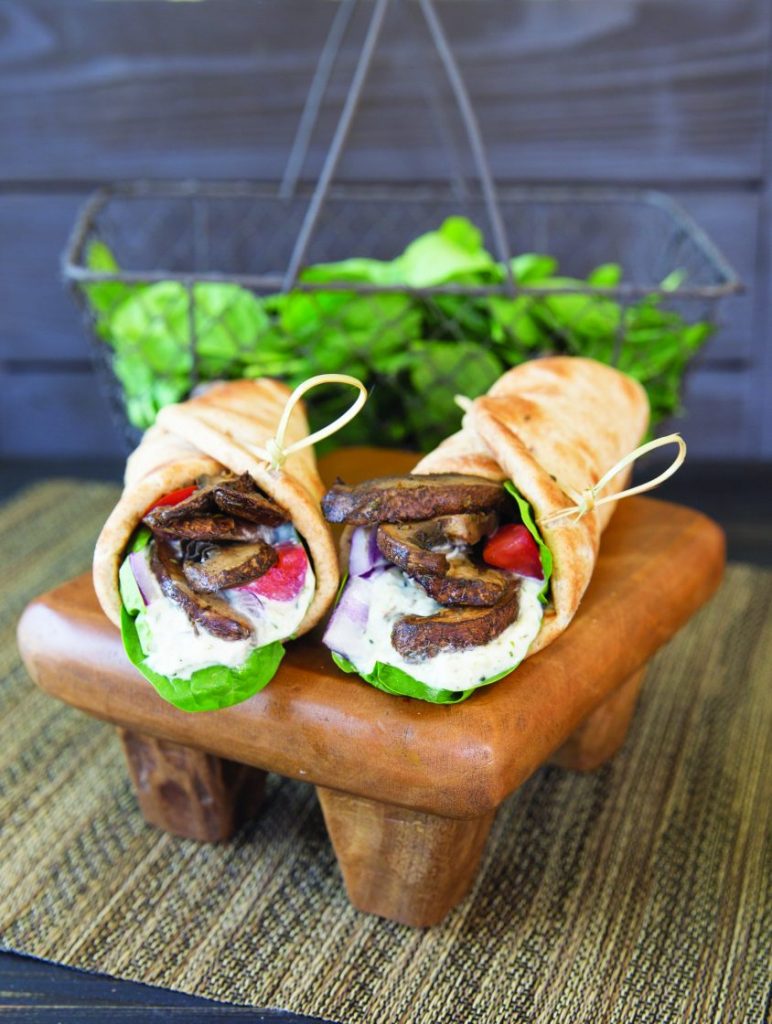 There are a few other recipes from The High-Protein Vegan Cookbook online at other blogs, too:
Three-Layer Tacos with Kale Slaw
Fried Tofu with Hoisinand Peanut Sauce Noodles
Lemon Stawberry Protein Muffins
Pineapple Rice Bowl with Sweet and Sour Sauce
Tell Me What You Think
As always, I'd love to hear your thoughts on this recipe if you make it. So drop me a comment below, and be sure to tag @nutfreevegan on social media if you're posting photos. It's always super fun to see these dishes out in the wild!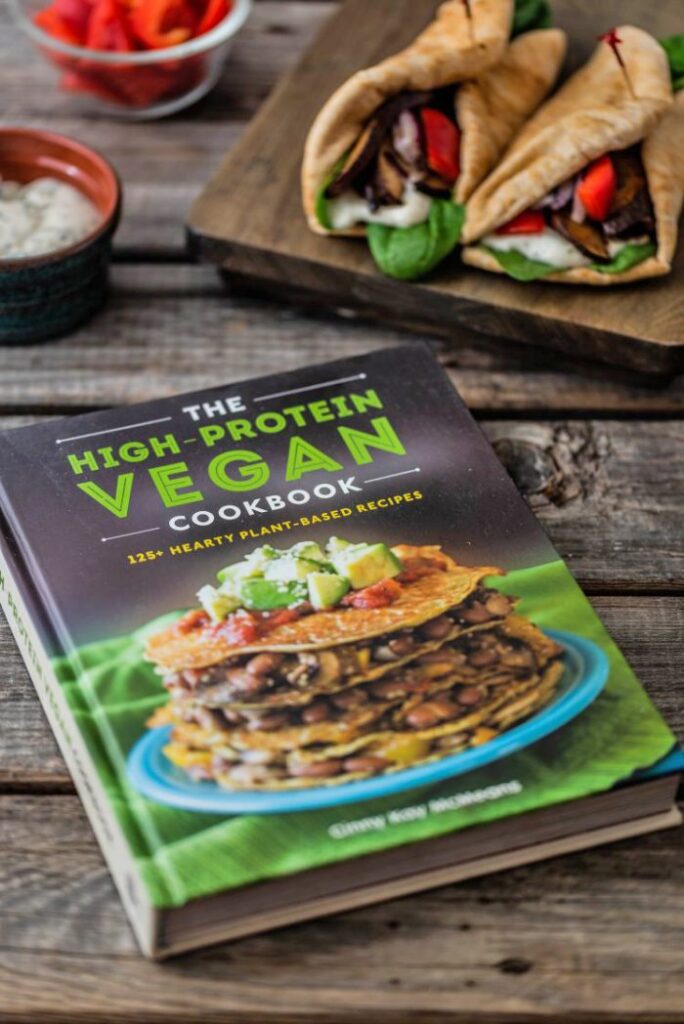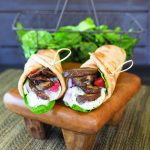 Print
Portabella Mushroom Gyros
Big fat marinated portabellas are what dreams are made of. Dripping with flavor and nestled in spinach, just add the best white sauce ever.
Materials
2

large portabella mushroom caps

2

tablespoons

vegan Worcestershire sauce

1

teaspoon

ground cumin

1

teaspoon

maple syrup

½

teaspoon

dried oregano

1

tablespoon

coconut oil

¼

cup

diced red onion

½

red bell pepper

diced large



Fresh White Sauce

½

cup

vegan mayonnaise

¼

cup

raw shelled hempseeds

1

tablespoon

lemon juice

¼

teaspoon

dried mint

¼

teaspoon

dill weed



To Assemble

2

pita flatbreads

1

ounce

baby spinach
Instructions
Remove the stems from the mushrooms and also remove the gills with a spoon. Discard. Slice the mushrooms into thick strips.

Mix the Worcestershire sauce, cumin, maple syrup, and oregano in a medium bowl. Lay the mushroom slices in the marinade and let marinate for 10 minutes.

Heat the oil in a large skillet over medium-high heat. Add the onion and bell pepper and sauté for 10 minutes. Add the marinated mushroom slices and sauté for 5 more minutes. Remove from the heat and let cool.

Mix all of the Fresh White Sauce ingredients in a small bowl and set aside.

Lay out a layer of spinach leaves on each flatbread. Spoon the Fresh White Sauce down the center. Lay the mushroom and bell pepper mixture on top. Fold each flatbread to overlap and secure with decorative picks.