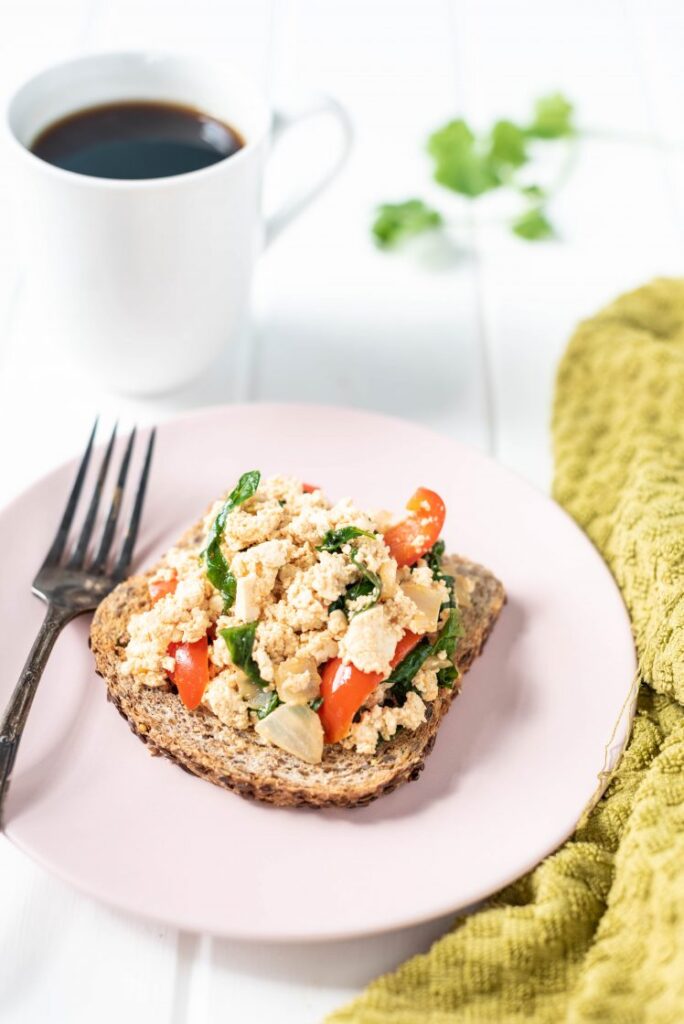 I didn't post a recipe last week. I've missed a scheduled day here and there over the past year and a half, but never a whole week. Part of the reason is because I've been spending a lot of time running. This is a sport that's new to me again after making modest attempts at it every summer for the past five years. In the past I've stuck with it for a few months, running once or twice per week. But eventually I'd give up and blame my asthma. This time, for whatever reason, it's stuck and I've been outside every other day for the past month, running at least three miles at a clip, and sometimes even six or seven. Last weekend I traveled to my hometown of York, Pennsylvania, to run competitively in a 5K trail run. I think I came in 77th out of about 200. As someone who's always had trouble breathing, this is something I could've never imagined—and my abilities are improving every week. It's amazing what regular exercise and a healthy diet can do for you.
Another aspect of why I missed last week is because I think I just needed a break. I spend nearly every single weekend in the kitchen, testing recipes, setting up photo shoots, and trying to get everything right. I think I kind of burned out on that schedule. So taking a week off was kind of a vacation that I desperately needed. It allowed me to get a little perspective and when I came back into the kitchen this weekend I was really excited to be making food for the site again! I guess everyone needs a break once in a while.
I'll be traveling in Europe for two weeks next month, but I'm embracing this rekindled love of recipes to get ahead so I won't miss another post. I think I can do it and I'm excited to share with everyone all of the recipes I'm working on right now—starting with this red curry tofu scramble.
One of the first dishes I posted on this site was for a Basic Mexican Tofu Scramble that has been a go-to of mine for years. But this one heads a little farther east and incorporates a whole different flavor profile. It's still spicy, but this time there's also coconut, ginger and kaffir lime. It's just as easy to make as the Mexican Tofu Scramble and is also pretty healthy. It contains a lot of whole protein (the kind that includes all the amino acids you need) and iron—both things folks on a plant-based diet are always looking for.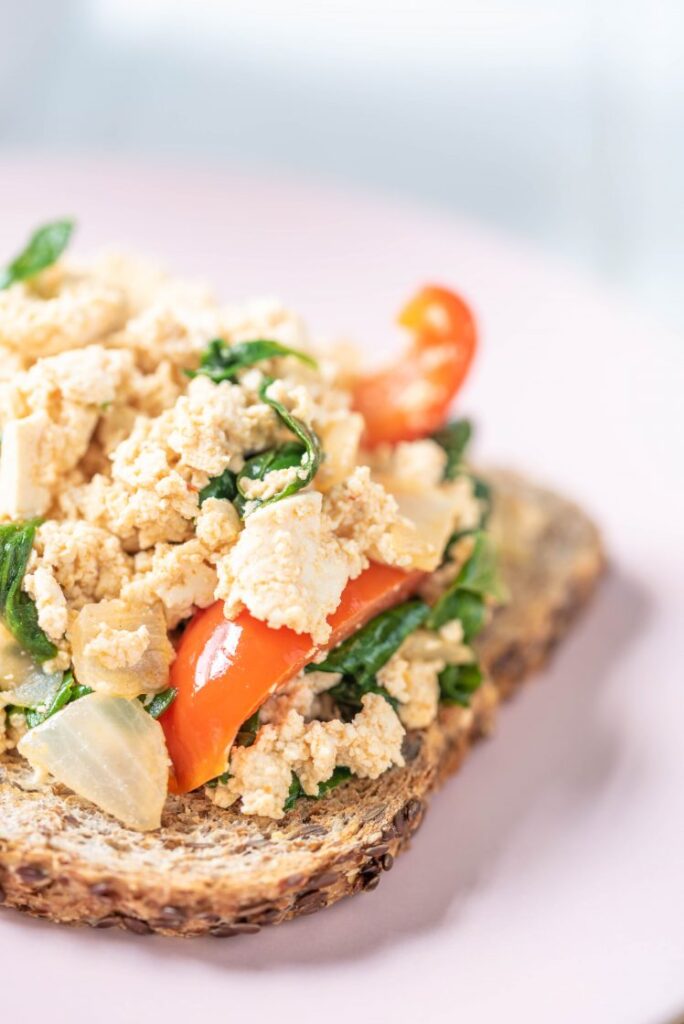 So give this simple and delicious recipe a try for breakfast and I think you'll find it's exactly what you need to start your day off on the right foot. Let me know how it goes on social media by tagging @nutfreevegan in your post about it, too!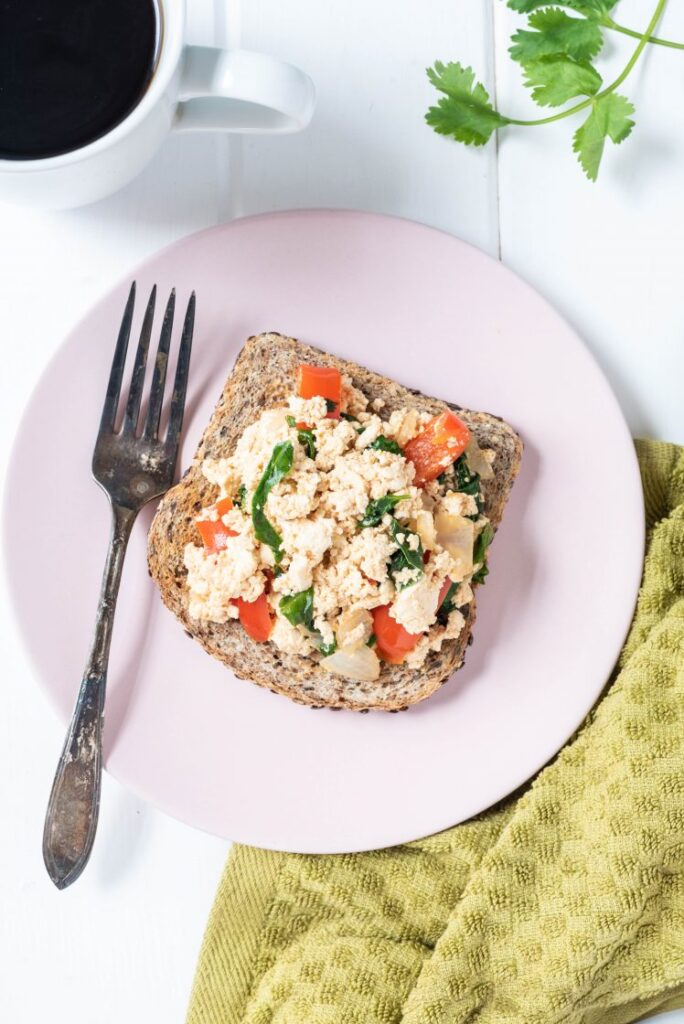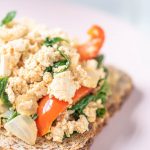 Print
Thai Red Curry Tofu Scramble
Start your day off with a little kick! This Thai Red Curry Tofu Scramble is protein- and iron-rich, and full of Eastern flavors and spices that will get you moving in the morning.
Materials
1

Tbsp.

oil

½

white onion

chopped

1

red pepper

sliced into strips and cut in half

2

cloves

garlic

minced

1

block

14 oz. tofu, drained and broken into crumbles

½

cup

coconut milk

2

Tbsp.

red curry paste

½

cup

cilantro

chopped

1

cup

baby spinach or other leafy green

chopped
Instructions
Heat oil in a large skillet over medium heat. Add onions, pepper and garlic. Cook until onions become translucent, about 5 minutes.

While the vegetables cook, mix coconut milk and red curry paste together in a small bowl.

Add tofu to skillet and pour the coconut milk mixture over top. Reduce heat, cover and simmer for 5 minutes.

Remove cover and cook for another 5 minutes or until liquid is nearly all gone.

Add cilantro and spinach and stir for 1 minute. Serve immediately over toast or in a bowl.
Notes
This recipe is gluten-free.
Nutrition