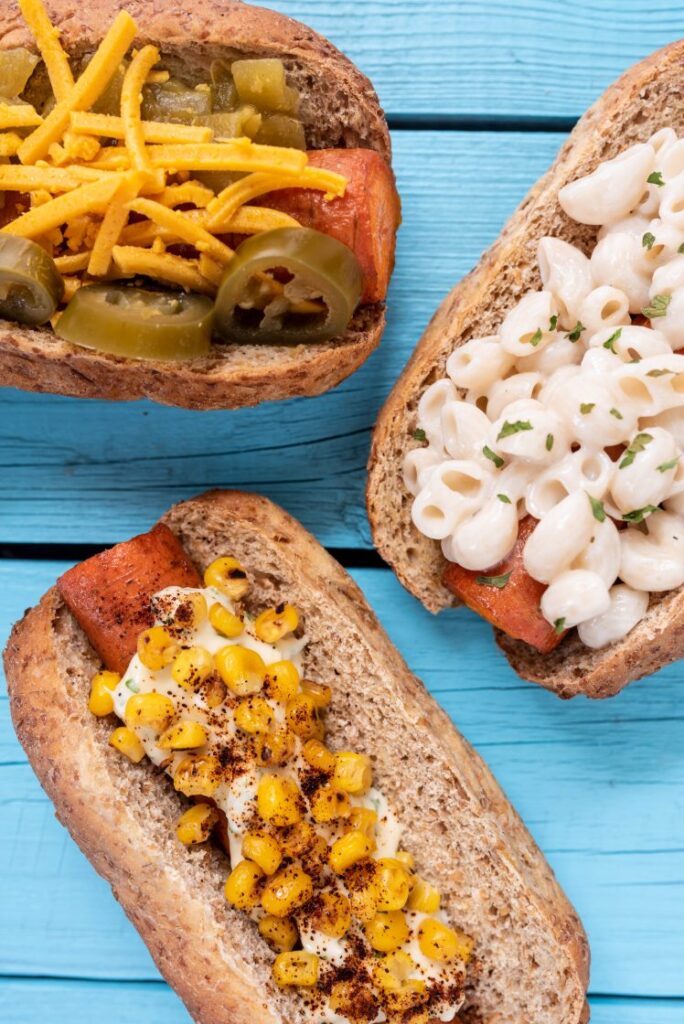 Last year in the lead-up to the Fourth of July I posted a recipe for All-American Hot Dogs, Three Ways. The base was a Field Roast Frankfurter, and each dog was topped with a different concoction from around America. Readers really seemed to like the idea, as it remains one of my most-viewed and most-pinned posts to this day. With that in mind I figured I'd start a tradition and share some more this summer, but with a few twists.
Since I'm a big baseball fan I decided that this year, instead of posting hot dog recipes from cities around the country, I'd go with favorites from various stadiums throughout America. And, since I've changed my diet to a much healthier one and I want to pass that along through this site, I've replaced the hot dogs themselves with roasted carrots. Did I lose you there? Don't worry, you'll come back when you see what's on top of those carrots.
I'm not sure who the chefs are at these ballparks, but it seems like their intention is to create the most outrageous, most heart attack-inducing recipes allowed by law. Many include piles of meat and/or gallons of cheese sauce, which made it tough for me to figure out what I wanted to post here since that's the opposite of what I want to share with my readers. So I tracked down a few of the least offensive dogs and turned them into something at least slightly healthier. But don't worry, they're all still a lot of fun and still pretty indulgent. Take a look: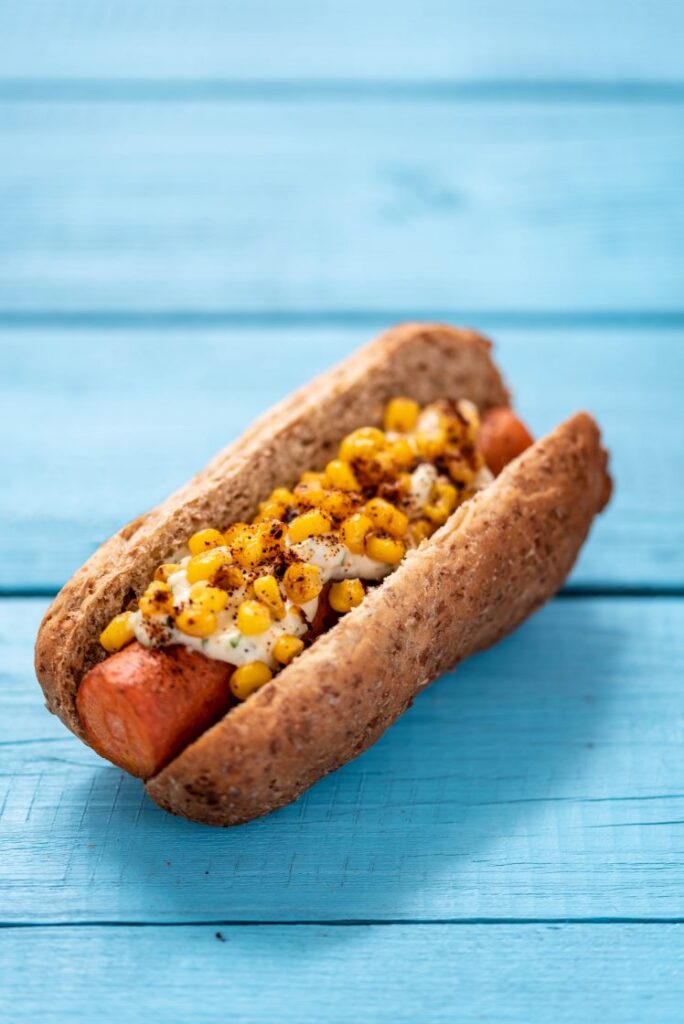 Pilsen Dog, Wrigley Field (Chicago Cubs)
I think this one might be my favorite of the three. It comes from Chicago (man, Wrigley Field as a ton of hot dog options!) and is a little more "gourmet" that the others. The Pilsen Dog is topped with a cilantro-lime aioli, roasted corn and chili powder (at the park it's Tajin seasoning, but after researching I found that chili powder isn't very far off and will work just fine). A carrot with aioli might sound a little strange, but trust me, it's delicious. And I'm sure it tastes way better than aioli on a hot dog!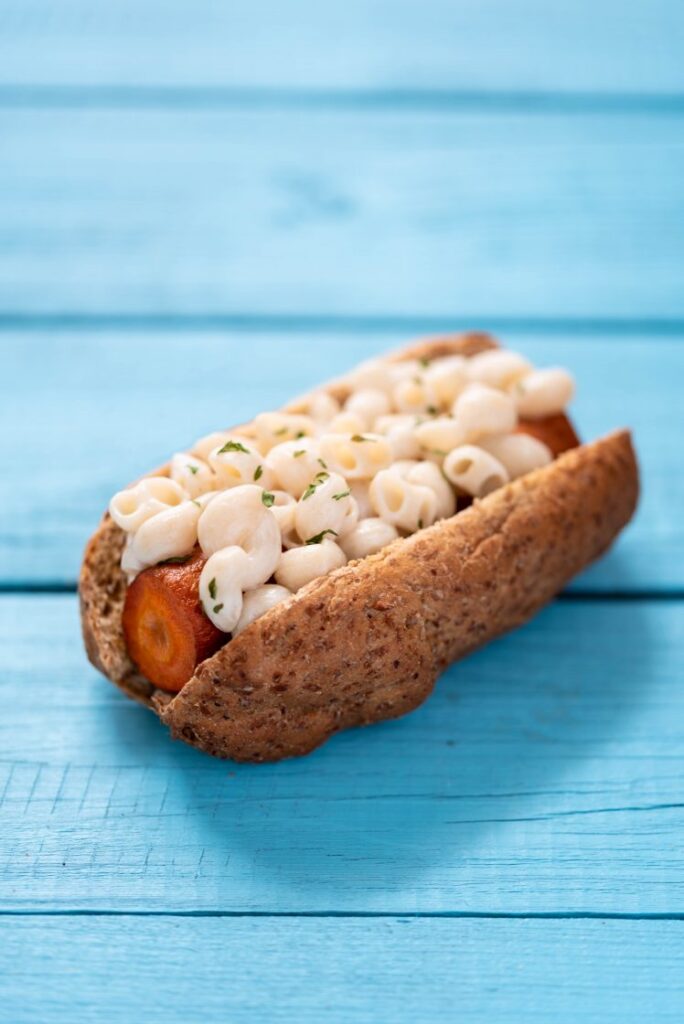 Mac and Cheese Dog, Citizens Bank Park (Philadelphia Phillies)
This one is pretty straightforward. It's mac and cheese. If you're lazy like I am, you can go ahead and use Daiya Foods's Cheezy Mac. Or if you're a little more ambitious and want a whole bunch of mac and cheese for everyone, I suggest this recipe for Slow Cooker Mac 'n' Cheese I posted a few months back.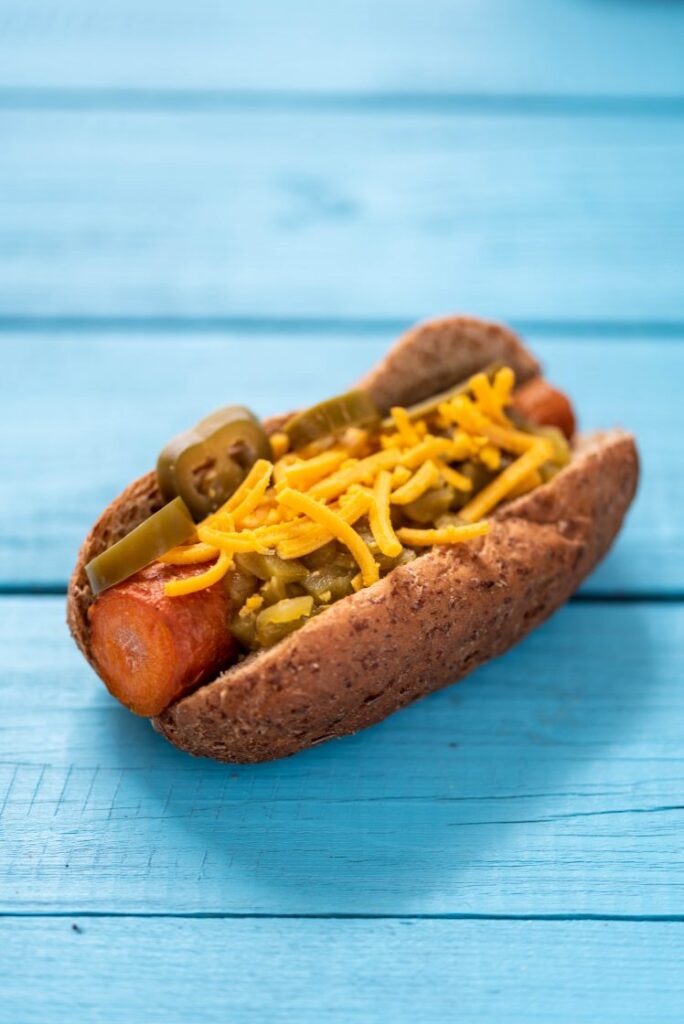 Denver Dog, Coors Field (Colorado Rockies)
The spiciest of the three, this one comes from the Mile-High City and evokes a bit of Mexican flair. The topping consists of green chiles, vegan cheddar cheese and jalapeños. I used the pickled slices you can find in the grocery store, but you could also go raw if you want a little more heat. What I used was hot enough for me.
There you have it, three fantastic ballpark creations from around America, just in time for the Fourth of July. If you're not keen on the carrots—but you should be, because they're awesome—you can certainly opt for Field Roast's delicious Frankfurters. After all, what's underneath is really just a delivery system for the toppings, right?
Have a fun and safe Fourth of July, friends. And if you have a favorite ballpark hot dog recipe that isn't one of these, let me know what it is in the comments below!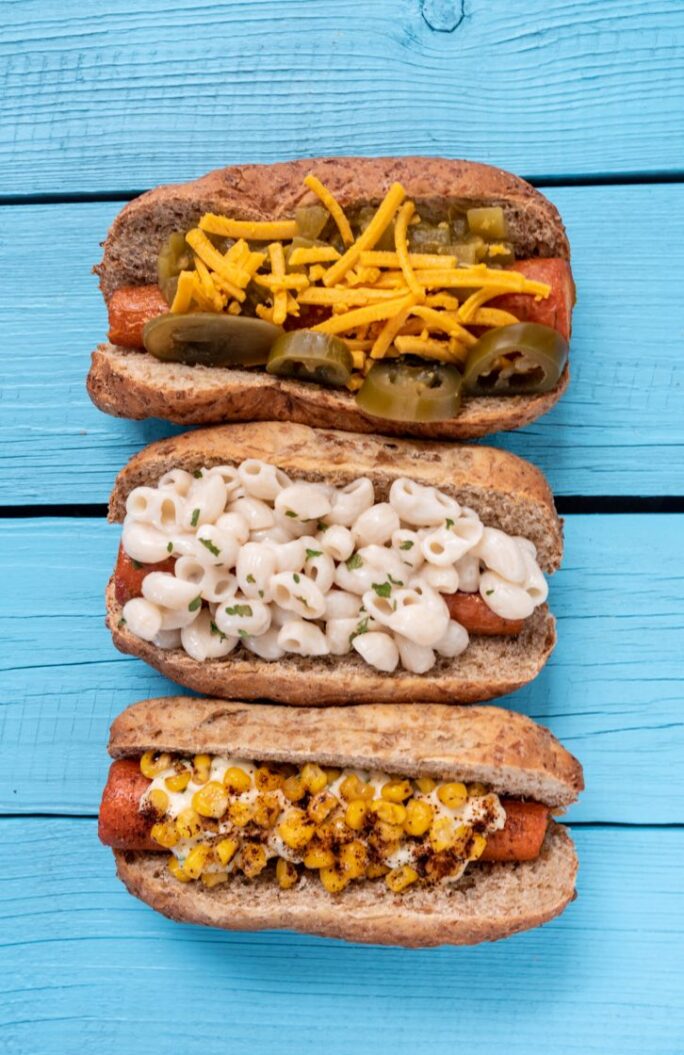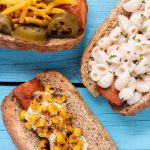 Print
Ballpark Carrot Dogs, Three Ways
Take a slightly healthier trip around America's baseball stadium with these delicious carrot dogs. They're tasty and a little healthier than a regular hot dog, and the toppings are incredible.
Materials
For the carrots

6

carrots

washed and cut to "bun length"

2

Tbsp.

olive oil

1/2

tsp.

cumin

1/2

tsp.

paprika

1/2

tsp.

garlic powder

6

vegan hot dog rolls



For the Pilsen Dog

1

ear of corn

1/2

cup

Vegenaise

1/4

cup

cilantro

chopped

Juice from one lime

1/4

tsp.

chili powder for topping



For the Mac and Cheese Dog

1

box Daiya Foods Cheezy Mac or a batch of my Slow Cooker Mac 'n' Cheese


For the Denver Dog

1

can

4 oz. Hatch green chiles

1/2

cup

Daiya Foods Cheddar-Style Shreds or other dairy-free cheddar shreds

10

pickled jalapeño slices
Instructions
For the carrots
Preheat the oven to 400 degrees.

In a large bowl add olive oil, cumin, paprika and garlic powder. Mix well.

Add carrots to bowl and coat them with the liquid mixture. Let marinate for 15 minutes.

Place carrots on a baking tray and heat in oven for 20 minutes or until soft.
For the Pilsen Dog
Add corn to pan with carrots and heat for 20 minutes.

Add Vegenaise, cilantro and lime juice to a food processor to make the aioli. Pulse until blended smooth, about 30 seconds.

Once corn is done, place it flat on a cutting board and use a knife to remove the kernels. Rotate the ear and repeat until the ob is bare.

Top carrot with aioli, corn and chili powder.
For the Mac and Cheese Dog
Prepare mac and cheese according to instructions and top carrot with it.
For the Denver Dog
Top carrot with green chiles, cheddar shreds and then with jalapeño slices.
Notes
These can be made on the grill, too. Just steam the carrots for about 15 minutes before marinating, and then cook over medium heat on the grill until soft.
Nutrition