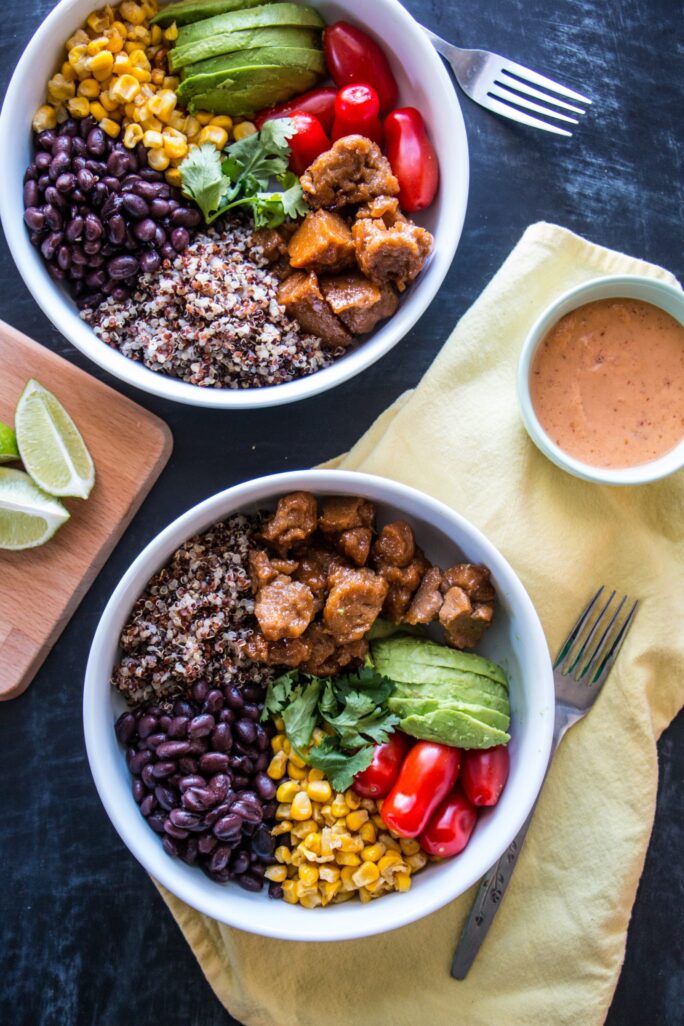 What is a Buddha bowl? Well, I don't know if there's a literal definition, but according to this article at Healthyish, it's a "nourishing meal with little bites of everything." That seems about right. All the ones I've eaten have been a mishmash of super yummy ingredients that were pretty healthy and very vibrant. I tried to keep that in mind with my take on it: The Southwest Buddha Bowl with Agave Lime Seitan (it has chipotle ranch dressing though, so maybe the healthy part wasn't as important to me as the vibrant part…).
This idea came to me because A) Buddha bowls are everywhere, and B) I've been planning a trip to New Mexico for the past few weeks, so that Southwest flavor is on my mind. My wife and I got married in Santa Fe last May, and we're headed back for our one-year anniversary. I'm looking forward to exploring that town again, and also eating up a lot of regional cuisine. There are such good ingredients in Southwestern food, and I tried to incorporate them in this dish.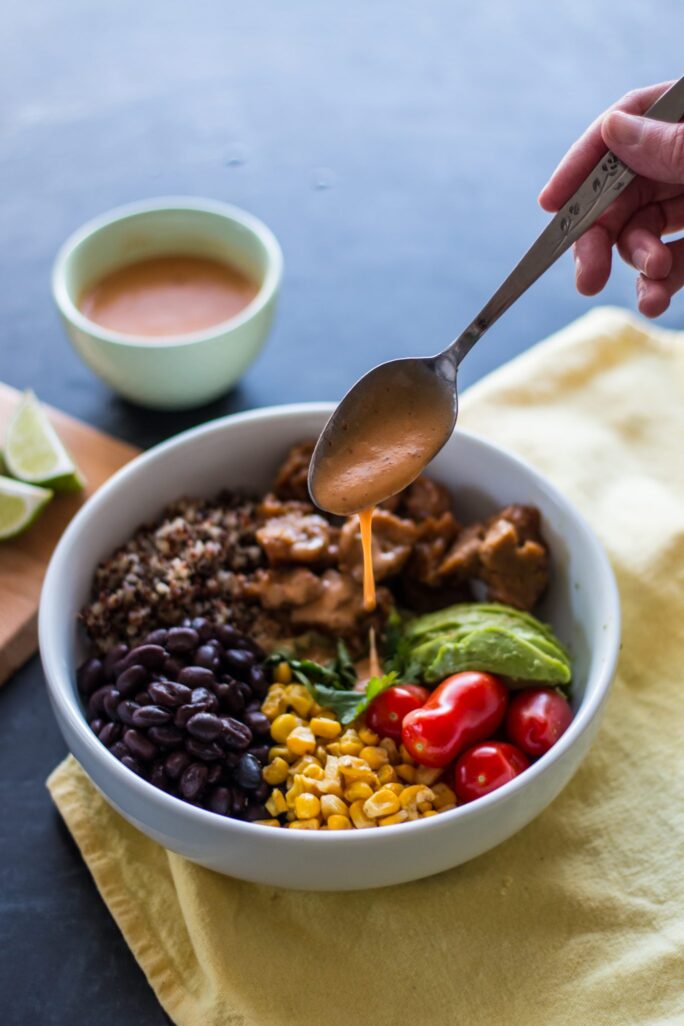 Have you ever been to the Southwest? If not, you really should go. It's one of the most amazing places I've ever visited—especially Santa Fe. And if you have been, let me know what you think of this recipe and how close I came to honoring the regional flavors. I really wanted to do it justice because I love it so much. Reach out on social media at @nutfreevegan and let me know!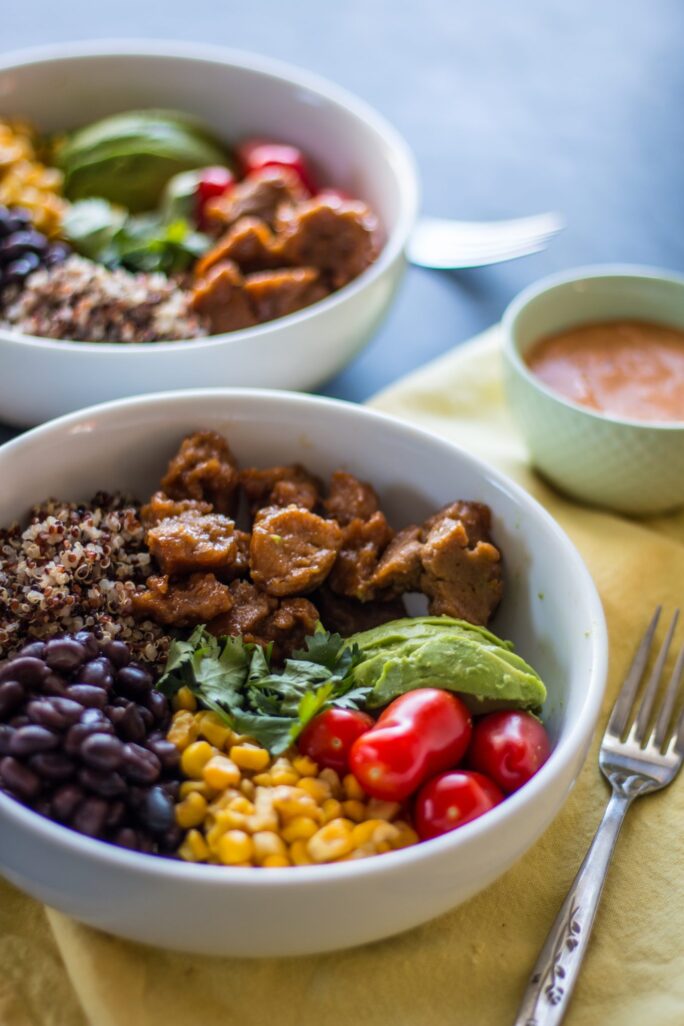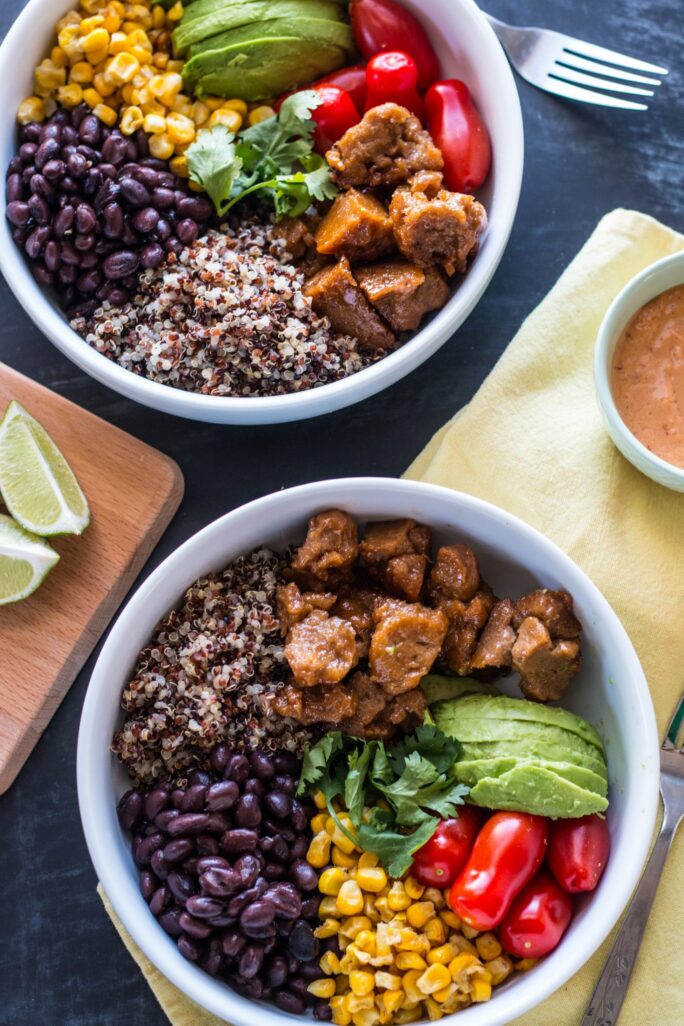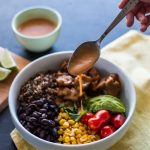 Print
Southwest Buddha Bowl with Agave Lime Seitan
This hearty Buddha bowl is a nod to the cuisine of America's Southwest.
Materials
1

cup

cooked quinoa

1

cup

grape tomatoes

1

avocado

sliced

Cilantro for garnish

if desired



Spicy Corn

½

tsp.

cumin

tsp.

cayenne

ground red pepper

1

cup

corn

½

tsp.

oil

separated



Black Beans

15

oz.

black beans

cooked

1

Tbsp.

cilantro

chopped

c.

water

½

tsp.

cumin

1

Tbsp.

lime juice

½

tsp.

oil



Chipotle Ranch Dressing

1

cup

unsweetened coconut milk

1

tsp.

garlic powder

1

Tbsp.

lemon juice

2

tsp.

apple cider vinegar

1

tsp.

onion powder

½

tsp.

sea salt

¼

tsp.

ground black pepper

1

tsp.

chipotle/adobo sauce from canned chipotle peppers



Seitan

2

Tbsp.

lime juice

2

Tbsp.

oil

1

Tbsp.

agave

Salt and pepper to taste

1

batch "Tastes Like Chicken" Seitan
Instructions
Preheat oven to 400°F.

Mix Spicy Corn ingredients in mixing bowl.

Place parchment paper over baking sheet and add Spicy Corn; cook 10 minutes.

Mix Black Beans ingredients, then heat on stove over low-medium heat 10 minutes or until beans are soft and most water's evaporated.

Mix Chipotle Ranch ingredients in mixing bowl and set aside.

Mix lime juice, oil, agave, salt and pepper in mixing bowl and marinade Seitan for 10 minutes, then cook in sautée pan over low-medium heat until cooked through, about 10 minutes.

Place all ingredients together in bowl. Top with dressing and cilantro.
Nutrition
Serving:
1
g
|
Calories:
1200
kcal