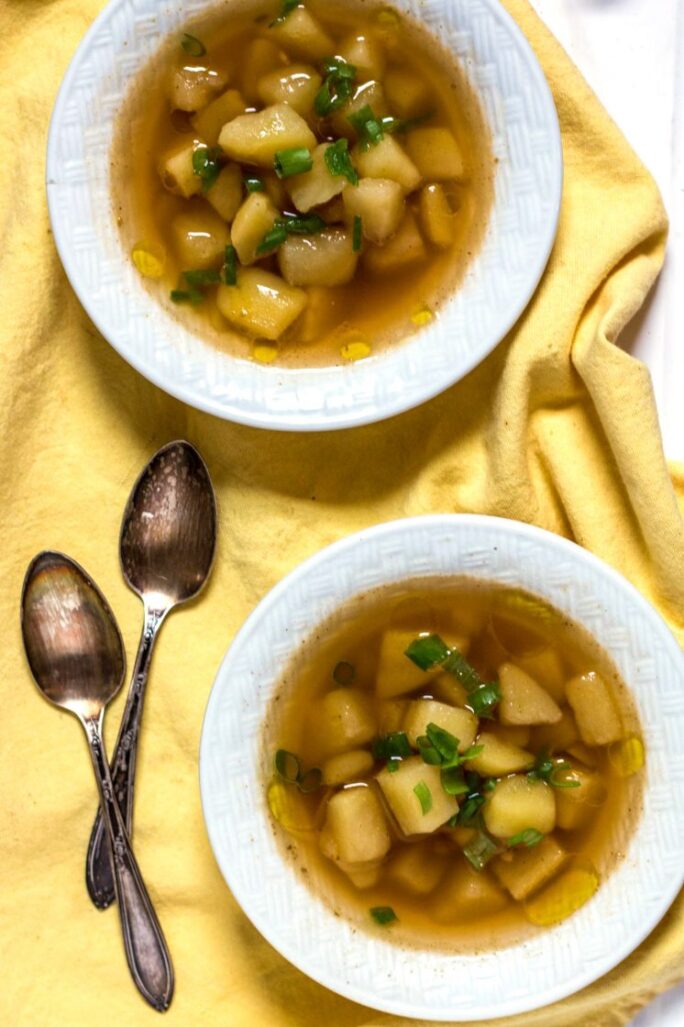 For the better part of a decade, Laura's brother lived in Somerville, a neighborhood just outside of downtown Boston. It's a very cool area with lots of really good restaurants and bars and an old vaudeville theater-turned-cinema called, appropriately, the Somerville Theater. We saw several films there over the years, and it was always a good time. Another place right down the street was a good time, too, but for a different reason. Mr. Crepe is a great little neighborhood restaurant that specializes in, as its name suggests, crepes. Unfortunately, though, they didn't have any vegan crepes for me to enjoy.
So why would this be a place I enjoyed so much? Well, because of its potato soup. Yes, I went to the crepe joint to get a bowl of potato soup.
I'd guess that about 90% of the restaurants that offer potato soup serve you a creamy bowl of goodness that no vegan could eat with anything but their eyes. Mr. Crepe's recipe, though, was broth-based! I don't think I even knew clear potato soup was a thing until my first visit there. But I instantly fell in love—and not because it was the only thing on the menu I could have. This soup was so seemingly simple—maybe four ingredients, tops—and yet packed a real flavorful wallop.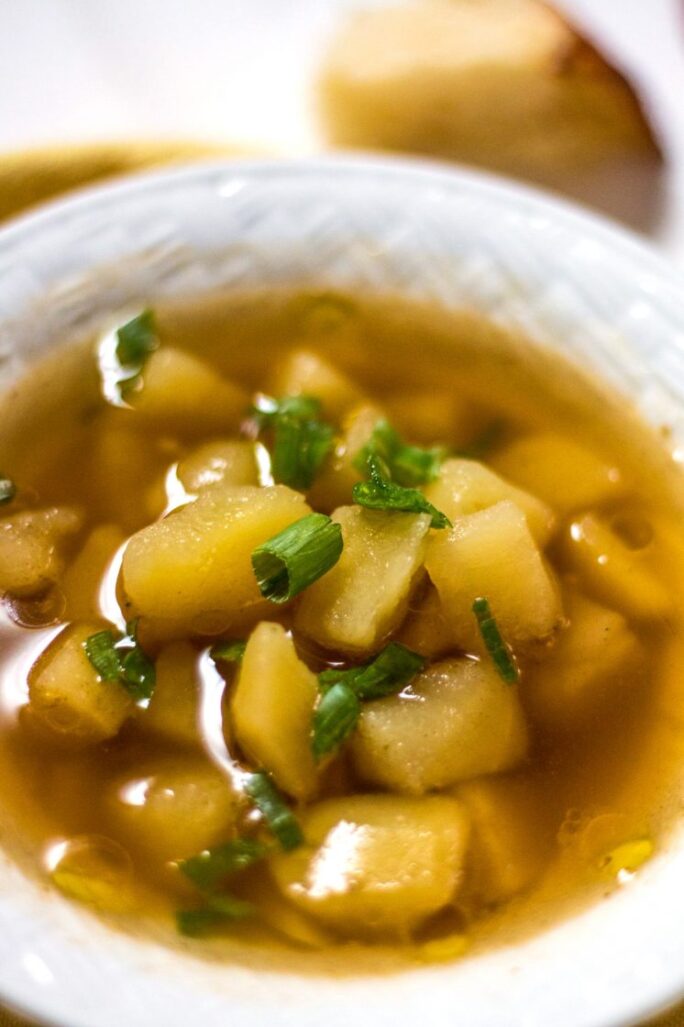 Laura's brother moved from Somerville to Salem, so we don't go to Mr. Crepe anymore. But I'm always thinking about that potato soup, so what I've done here is try my best to recreate it based on my memory of its flavor. I did try to add a few things I doubt were in that restaurant version, but much like my New Mexico Green Chile Stew from last month, this one is still a very simple recreation. And while I do still love a cream-based potato soup—this amazing one from Vegan Huggs comes to mind—this lighter one really hits the spot.
I'd love for you to give this one a try. And if you do, please snap a photo and tag #nutfreevegan on social media so I can check it out!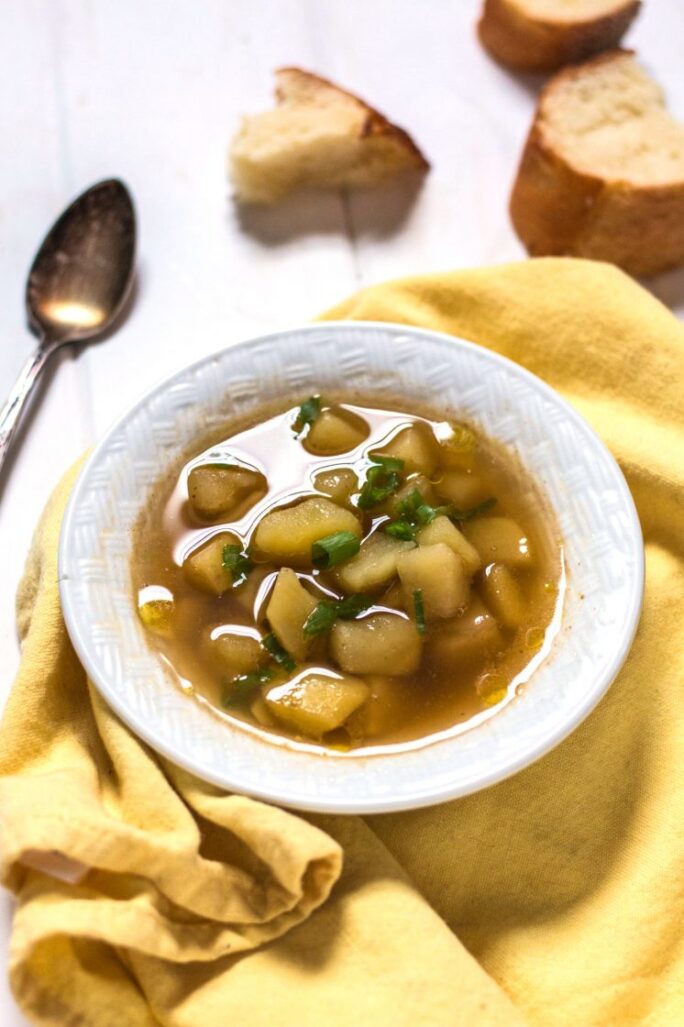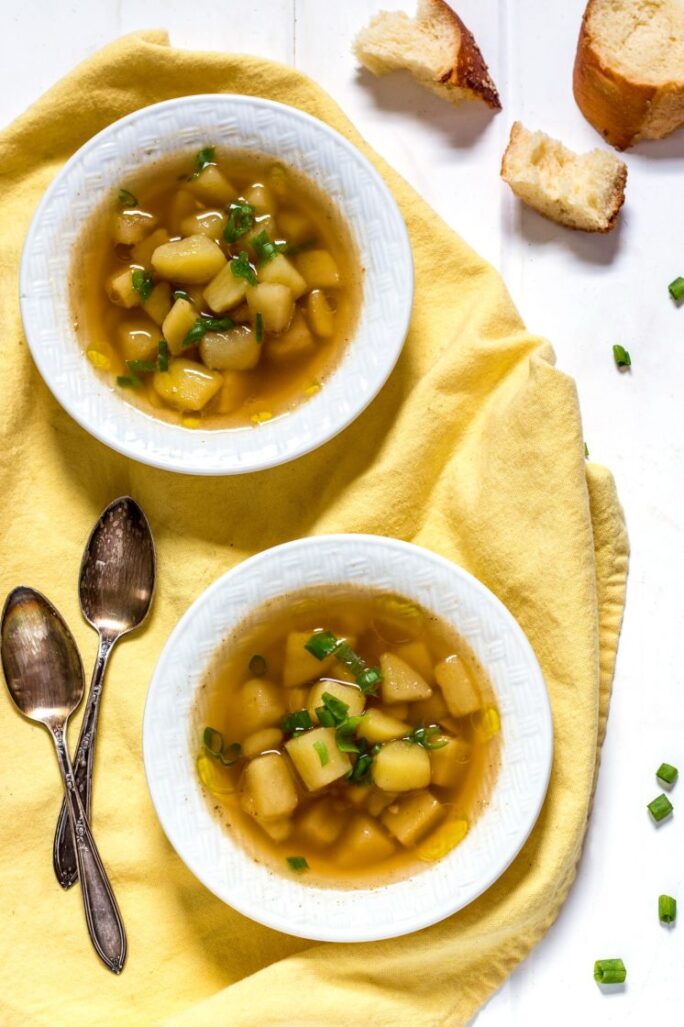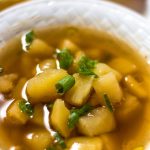 Print
Yukon Gold Potato Soup
Simple and elegant broth-based potato soup with a ton of flavor.
Materials
64

oz.

vegetable stock

5

medium golden Yukon potatoes

diced

1

Tbsp.

thyme

1

tsp.

sage

1

tsp.

garlic

minced

1

Tbsp.

vegan butter

1

tsp.

salt

1

tsp.

pepper

Oil and chopped scallion for garnish
Instructions
In a Dutch oven or deep pot, bring vegetable stock to a boil and reduce to a simmer.

Stir in potatoes, thyme, sage, garlic, butter, salt and pepper.

Cover and simmer until potatoes are soft.

Drizzle olive oil and add scallions; serve.
Notes
This recipe is gluten-free.
Nutrition