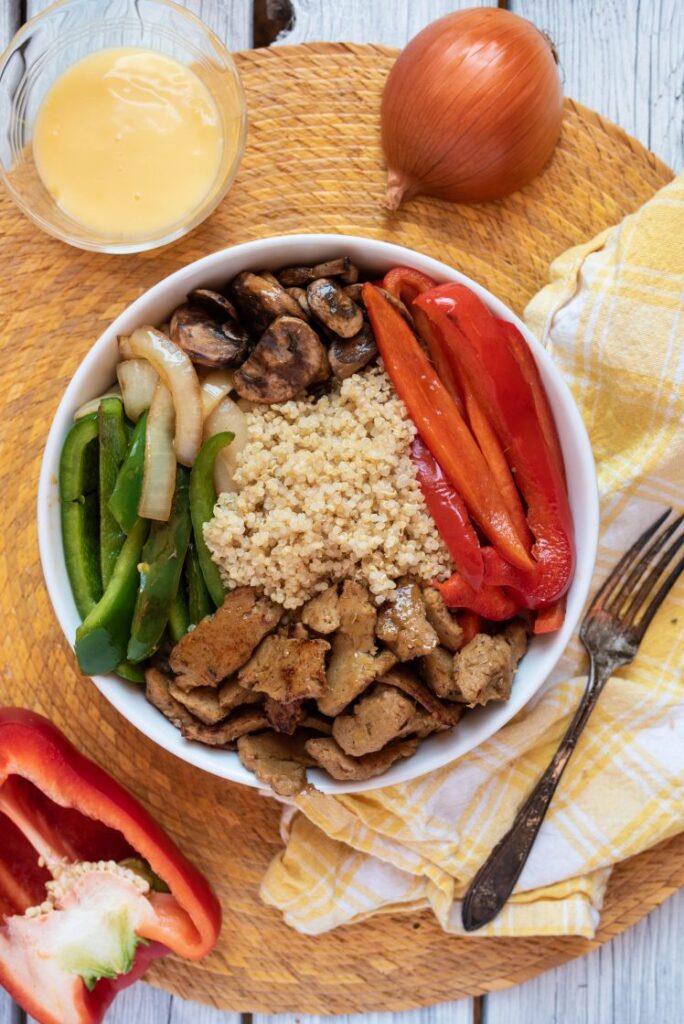 It seems like this website has become a bit of a travelogue lately, and I'm totally OK with that. I'm writing this post from Fort Myers, Florida, where I've spent the past few days taking a break from everything—especially the chilly northeastern weather—and recharging. It's been fantastic.
But unlike my recent post for Migas Breakfast Tacos, which were directly inspired by my trip to Austin, Texas, this one come from a little closer to home. Philadelphia, to be exact.
Growing up near the City of Brotherly Love, cheesesteaks were kind of the official food. Since turning vegan seven years ago, though, I haven't had one. That's why I try to post recipes that are a nod to this local favorite (see: Philly Cheesesteak Mac 'n' Cheese); so I can still enjoy it but in a compassionate way.
This recipe is a Philly Cheesesteak Bowl, which incorporates all the fine ingredients of the sandwich, but over a bed of quinoa instead of on a roll. And of course there's no meat; there's seitan, grilled up and seasoned with oregano and paprika. Add some melted Provolone (I used Daiya Foods slices) and you'd think you were down on South Street!
The Philly Cheesesteak Bowl is really easy to make and way healthier than what you'd get at Pat's or Gino's. So give it a try and let me know how it goes by tagging @nutfreevegan on social media.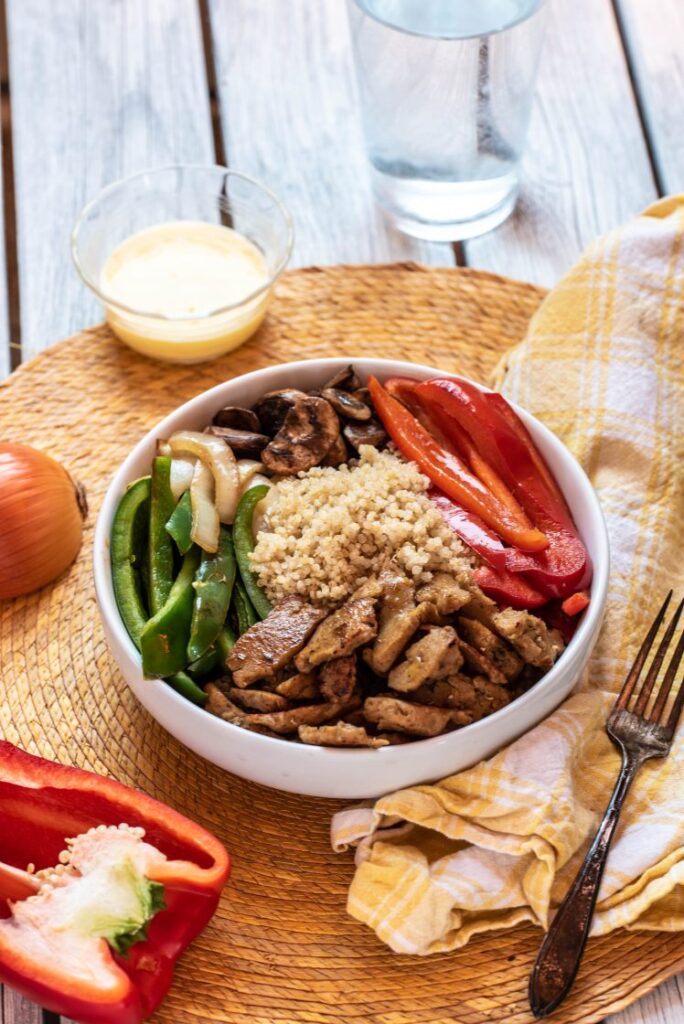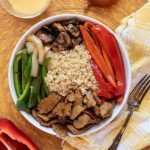 Print
Philly Cheesesteak Bowl
You'll enjoy this vegan version of the classic Philadelphia cheesesteak. It subs the roll for a bed of quinoa and seitan for the meat. Low-calorie and delicious!
Instructions
Heat 1 tablespoon of oil in skillet over medium heat. Add peppers and onion. Heat until they start to soften, about 5 minutes. Add mushrooms and cook for another 2 minutes. Set aside.

Clean pan and add second tablespoon of oil. Add seitan, oregano and paprika. Cook, stirring frequently, until the seitan browns on both sides, about five minutes.

While seitan is cooking, add provolone slices and water to a saucepan and cook over low heat, stirring continuously, until it becomes liquified.

Put quinoa in a bowl and top with seitan and vegetables. Spoon cheese sauce on top and serve immediately.
Notes
You can also microwave the provolone and water for 25 seconds and then stir.
Nutrition