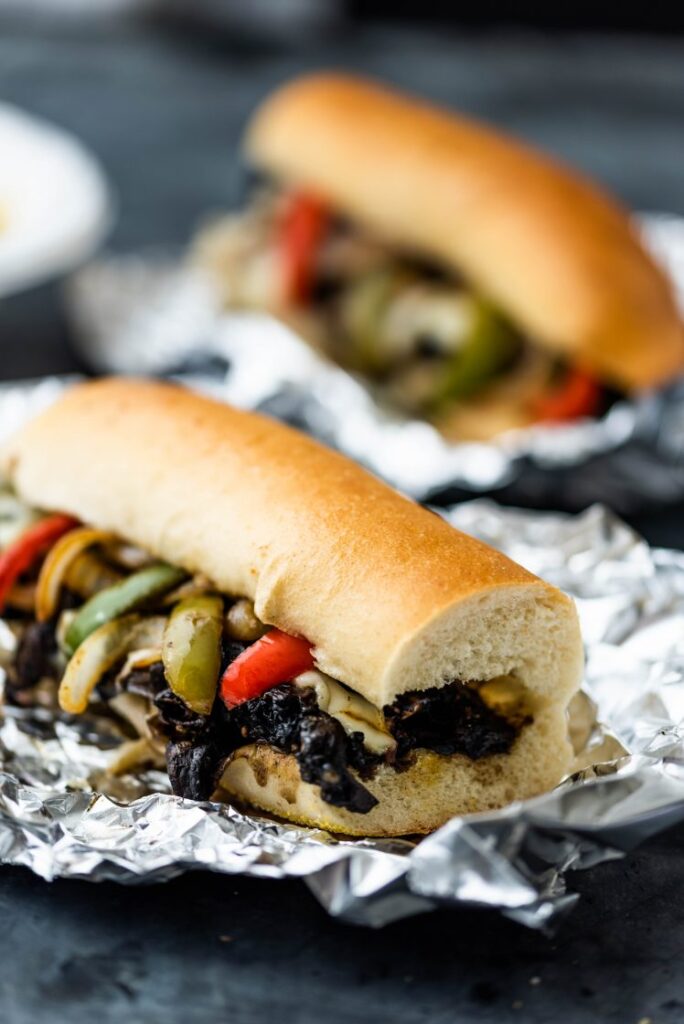 2018 was a terrific year. It saw more people all over the world adopting a vegan diet than ever before, and if predictions are correct that will continue into the new year. Places like Whole Foods and Uber Eats are anticipating a rise in not only veganism on the whole, but in specific areas like plant-based meat snacks and pea milk (I guess oat milk is already so ubiquitous that it's not a trend anymore). Last year I tried to get healthy by changing to a primarily whole foods plant-based diet about mid-way through (I also started running very seriously) and I wanted this site to reflect that. So you might have noticed the dishes on here moving in that direction for the most part. I still like to have an indulgence every now and then, though.
To kick off 2019 I'm sharing a recipe that lies somewhere in the middle between healthy and indulgent. It's a variation on a sandwich that was near and dear to me when I was growing up not too far from Philadelphia. Any guesses? Of course it's the iconic Philly cheesesteak.
This classic sandwich is a favorite all over the world, even though most pale on comparison to those you can get around South Street and the Italian Market in the city of brotherly love. But I haven't had one of those in decades, so it seemed like a good time to try to veganize the recipe. (I also created a mac and cheese variation of it here.)
I've had seitan cheesesteaks (in Philly, in fact, at Blackbird Pizzeria), but I wanted to make one that aligned with the healthy path I've been on recently. So foregoing some kind of manmade meat substitute, I fancied up the meat of the fungi world, the portobello. This mushroom is perfect for the Philly cheesesteak because of its thickness and texture. And unlike seitan and other meat substitutes, it's really low in calories and has a ton of health benefits like cancer-fighting nutrients and thyroid regulation to name a few. Plus, this recipe is only about 500 calories per sandwich!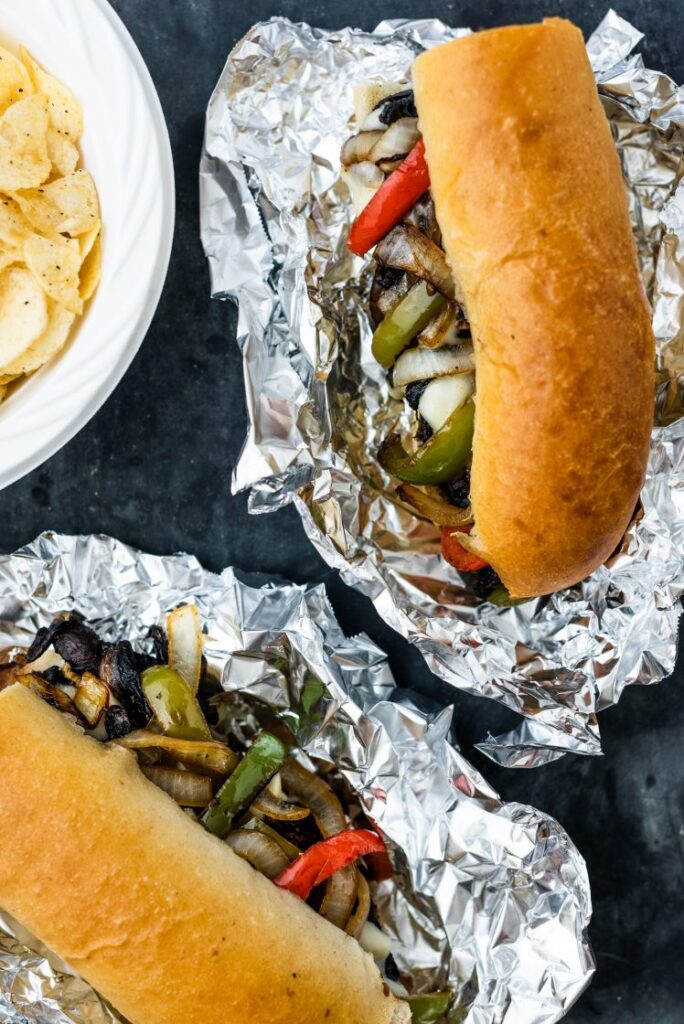 This Portobello Philly Cheesesteak will be your new go-to sandwich for a quick dinner or a hearty lunch. It has all the flavor and way more nutrients than anything you'll find at Pat's or Geno's. So give it a try and let me know what you think in the comments below. I think you're really going to love this one.
I hope you all have an amazing and prosperous 2019. I think it's going to be a great one for all of us. Happy new year, friends!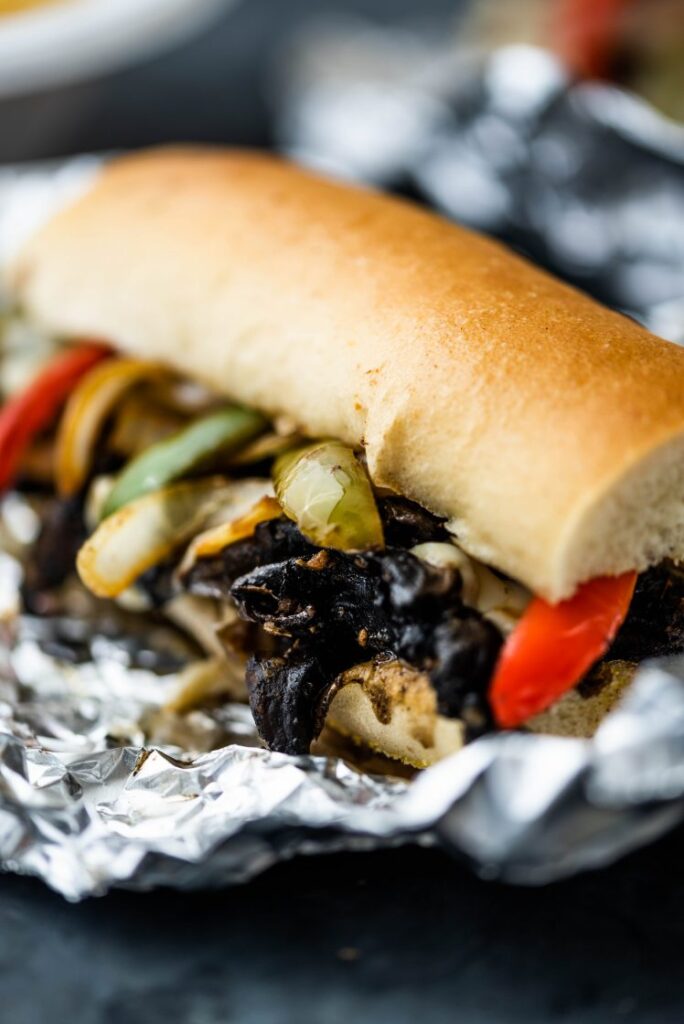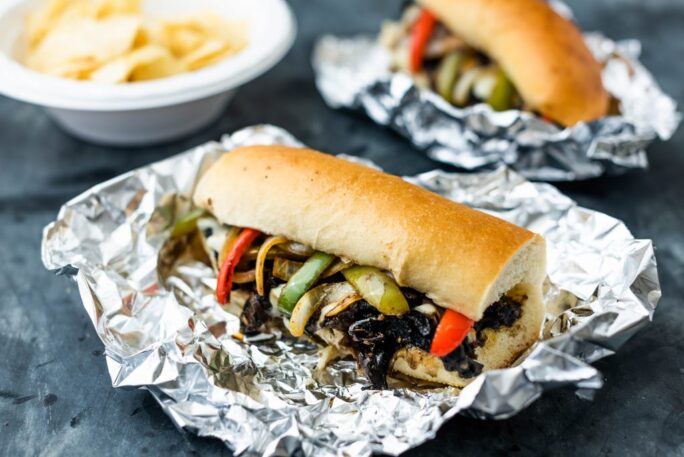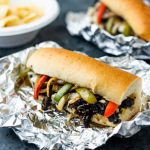 Print
Portobello Philly Cheesesteak
This healthier take on the classic Philly cheesesteak replaces the meat with super flavorful portobello mushrooms and eliminates about half the calories.
Materials
1

Tbsp.

olive oil

1

medium yellow onion

sliced

1

red bell pepper

sliced

1

green bell pepper

sliced

1

Tbsp.

vegan butter

3

large portobello mushrooms

sliced into thin strips

3

cloves

garlic

minced

1

Tbsp.

worcestershire sauce

1

Tbsp.

soy sauce

1

tsp.

oregano

1/2

tsp.

salt

1/2

tsp.

pepper

4

slices

vegan provolone

I used Follow Your Heart brand

2 6-

inch

baguettes

2

tsp.

vegan mayonnaise
Instructions
Heat oil in skillet over medium heat. Add onions and cook for two minutes.

Add peppers and reduce heat to low. Cook for 10 minutes.

While the onions and peppers cook, melt butter over medium heat in another skillet.

Add mushrooms and garlic, stirring to incorporate the butter. Cook for 2 minutes.

Add worcestershire sauce, soy sauce, oregano, salt and pepper and stir to thoroughly mix. Reduce heat to low and cook for 3 more minutes.

Spread mayonnaise on each baguette and add half the mushroom mixture. Place 2 slices of provolone on each sandwich and top with onion and pepper mixture.
Notes
This recipe can be made gluten-free by omitting the bread or using a gluten-free version.
Nutrition