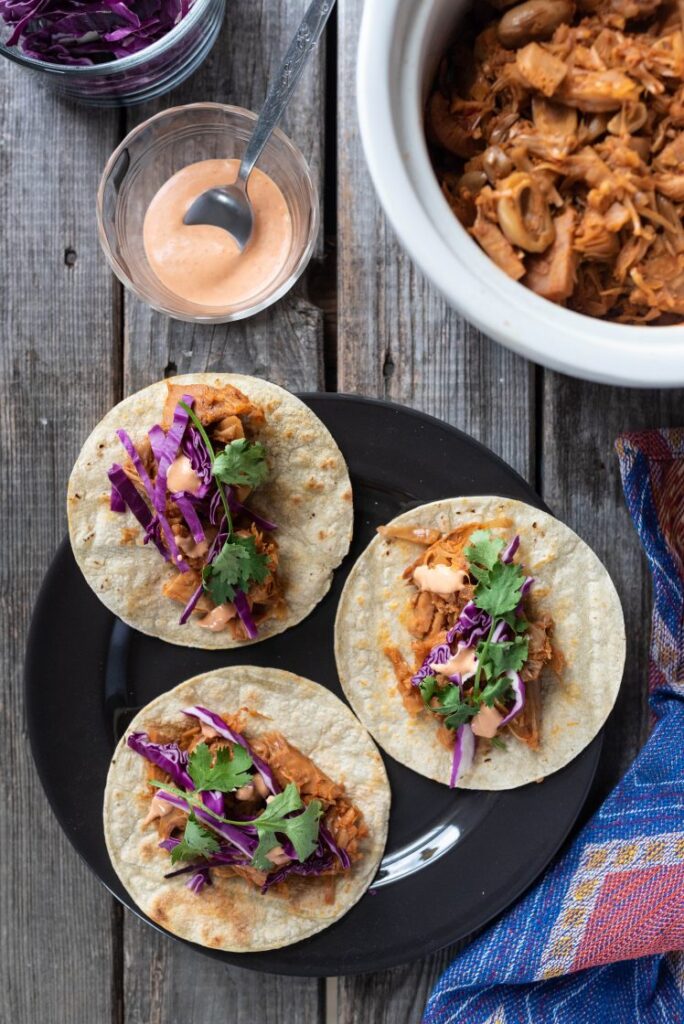 There are a lot of great Asian cuisines out there that aren't Chinese or Japanese. Phở from Vietnam is one of my favorite dishes, for example. And of course Indian and Thai foods fall under this umbrella as well.
Another Asian country which offers up some really delicious plates is South Korea. Its popular dishes like kimchi, bibimbap and japchae are all either vegan or easy to adapt, and they're full of amazing flavors. Some keys elements to this food are chili peppers, sesame oil and grilled meat. Those are all interesting to me except the last one, of course—both because it involves animal products and it's probably not quite as healthy as it could be. So I set out to revamp a traditional recipe local to the country with a little healthier—and more compassionate—spin.
These Slow Cooker Jackfruit Bulgogi Tacos are the reimagining of a dish that usually consists of fried beef. That's obviously not going to work here, so I tweaked to make it vegan-friendly while staying as close to the original concept as I could—the sweet, savory and spicy tastes remain intact. Simmering in a slow cooker makes it more like a pulled pork than a crispy beef, but that consistency makes it easy to put onto a tortilla and enjoy on the go. You can also enjoy it over rice or noodles. Part of what's so great about this recipe is that it's very versatile.
If you're a big fan of street food I think you'll really enjoy this dish. It's really simple to make and super delicious. So give it a try and let me know what you think in the comments below. And if you want even more Korean-inspired fare, check out these Korean Tempeh Lettuce Wraps!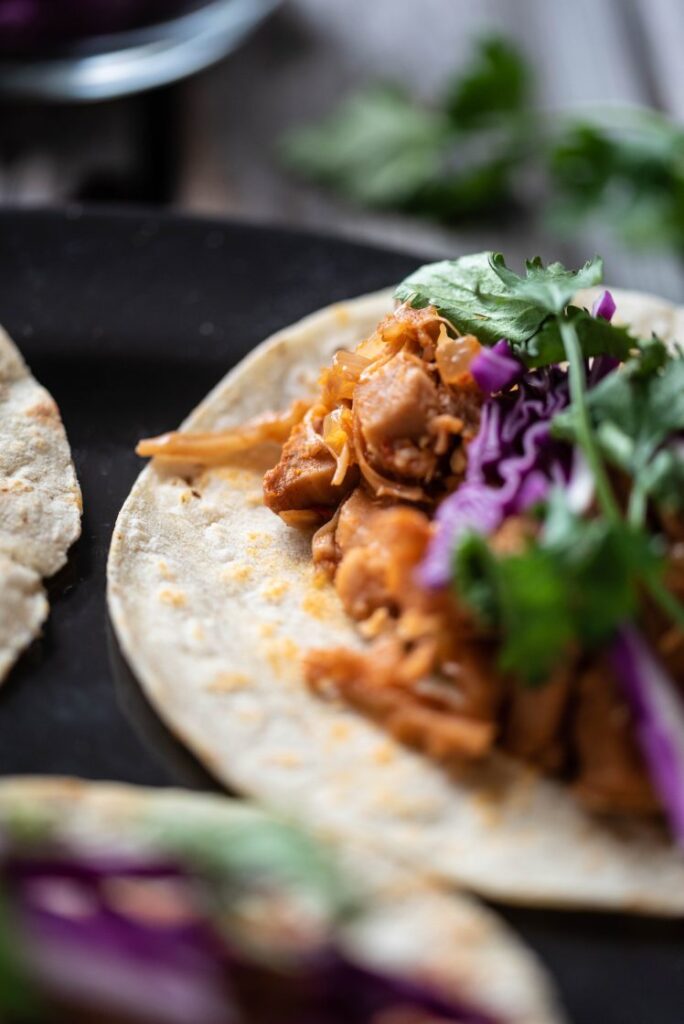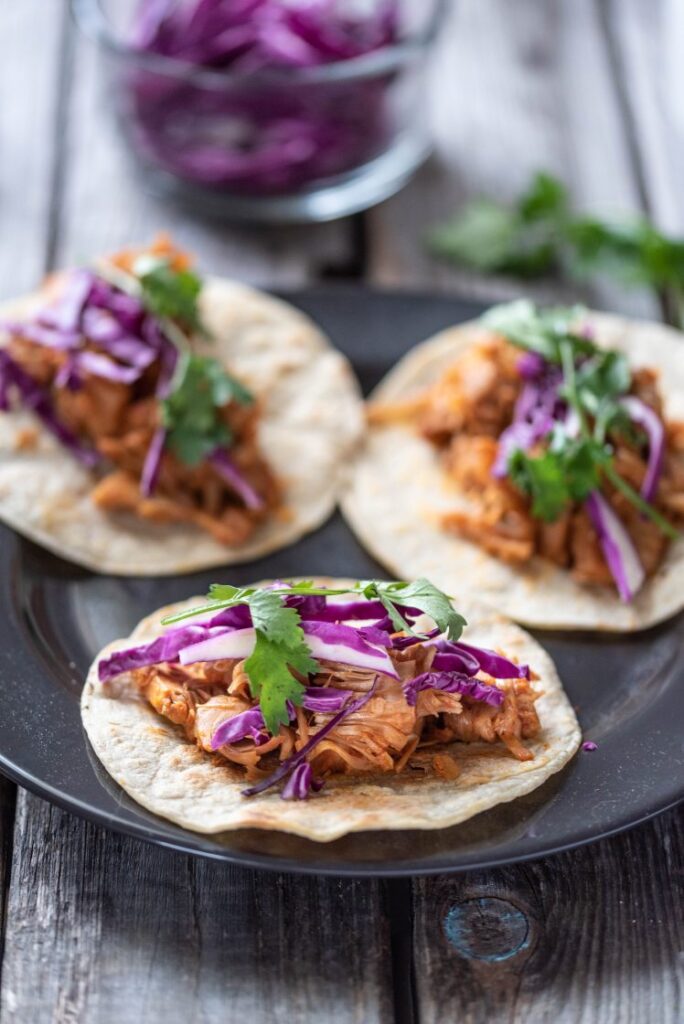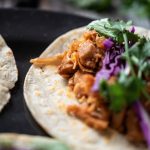 Print
Slow Cooker Jackfruit Bulgogi Tacos
These Slow Cooker Jackfruit Bulgogi Tacos are a delicious, compassionate take on the traditional South Korean fried meat delicacy.
Materials
2

tsp.

Gochujang paste

or Thai red chili paste if you can't find this

1

Tbsp.

sesame oil

1

Tbsp.

soy sauce

1

Tbsp.

fresh ginger

minced

2

Tbsp.

brown sugar

1

tsp.

garlic

minced

¼

pear

pureed

½

white onion

minced

2

packages

10.6 oz. Upton's Naturals Original Jackfruit (or 2 ½ cups fresh jackfruit)

1

cup

vegan mayonnaise

2

Tbsp.

sriracha

1

tsp.

lemon juice

8 to

rtillas

1

cup

shredded purple cabbage

1

cup

cilantro

chopped
Instructions
In a large bowl, mix together all ingredients except jackfruit. (You can puree the pear ahead of time or just mash it into the bowl mixture like I did).

Add jackfruit and mix thoroughly. Refrigerate and allow to marinate for at least 20 minutes (or up to an hour).

Put marinated jackfruit into crockpot and cook on high for 2–3 hours or low for 4–5 hours.

Mix together vegan mayonnaise, sriracha and lemon juice (add more sriracha if you want more heat).

Add bulgogi to tortillas and top with purple cabbage, cilantro and sriracha mayonnaise. Serve immediately.
Notes
With the right tortillas this recipe can be made gluten-free.
Nutrition